Coastal Fish Habitat Partnerships
The mission of the National Fish Habitat Action Plan is to protect, restore and enhance the nation's fish and aquatic communities through partnerships that foster fish habitat conservation and improve quality of life.
This mission is achieved by supporting 19 fish habitat partnerships, mobilizing support, setting goals and measuring progress, and conducting outreach on the importance of fish habitats to our economy, natural resources, and quality of life.
Of the 19 fish habitat partnerships in existence in the United States, many are focused on coastal fish habitat issues. These partnerships include: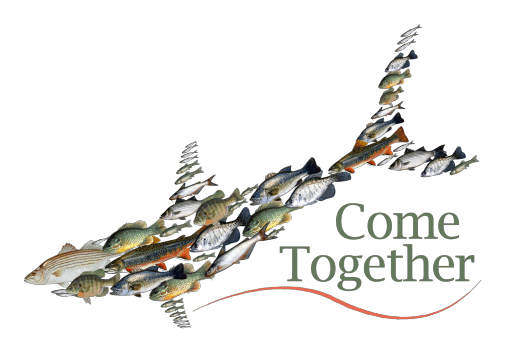 Atlantic Coast Communities Receive Funding for Restoration Projects
by Emily Greene, ACFHP Coordinator

Each year, the US Fish and Wildlife Service (USFWS) partners with the Atlantic Coastal Fish Habitat Partnership (ACFHP) (www.atlanticfishhabitat.org) to provide funding to on-the-ground fish habitat restoration projects. The ACFHP solicits applications, evaluates them, and sends a ranked list of project applications to the USFWS, which then considers the projects for funding. Each year from 2010-2013, ACFHP submitted between 6 and 10 eligible project applications, for funding consideration. With limited funding, the USFWS has been able to cost share on the top two or three projects each year (from 2010-2013). Unfunded projects remain in a USFWS database, with the potential for being picked up for funding through other USFWS sponsored programs – and in 2013, two projects were funded in this way.
On October 24, 2013, Secretary of Interior Sally Jewel announced the Department of Interior would be awarding $162 million dollars to 45 restoration and research projects that will better protect Atlantic Coast communities from future powerful storms. Funds will go towards restoring marshes, wetlands and beaches, rebuilding shorelines, reducing flood hazards through dam removal and stream restoration, and researching the impacts and modeling mitigation of storm surge impacts. You can read the full press release here. Included in those 45 projects were two projects that ACFHP had submitted to USFWS for 2013 funding consideration: the Shady Lea Dam Removal in Rhode Island and the Hughesville Dam Removal on the Musconetcong River in New Jersey.
The Shady Lea Dam removal project, led by Save the Bay – Narragansett Bay, RI, will remove an obsolete dam and its associated hazard and restore a 0.7 mile stretch of the Mattatuxet River to more natural characteristics, including high quality habitat for river herring and American eels, a formerly abundant and commercially harvested species. The restored channel will help the river be resilient to flood flows and reduce the potential damage caused by floods in the future.
Under the Department of the Interior announcement, this project will be funded in conjunction with two additional dam removals (White Rock and Bradford Dams) and one fish ladder installation (on Potter Hill Dam) spear-headed by The Nature Conservancy and the Wood Pawcatuck Watershed Association on the Pawcatuck River in Rhode Island and Connecticut. In addition to restoring connectivity and enhancing fish passage, these projects are expected to reduce the risk of flooding during future storm events. Their combined socioeconomic benefit is estimated at over $10 million dollars. The Hughesville Dam Removal project, led by the Musconetcong Watershed Association, will restore free flowing conditions and river habitat upstream of the dam, benefitting resident and migratory fish. This project will be funded in conjunction with a second New Jersey project seeking to restore the Wreck Pond Inlet and Dune in Sea Girt and Spring Lake, by replacing a box culvert that will provide seasonal passage of fish, and adding nesting habitat for piping plovers. In addition to benefits to fish, flood resilience in NJ will be improved through these projects; removal of the Hughesville Dam will reduce risk of dam failure and upstream flooding while protecting human safety, and the Wreck Pond project will provide storm surge-dune protection for the two towns noted. The total socioeconomic value of these two projects is estimated at $3.5M.
Congratulations to Shady Lea and the Hughesville Dam removal project teams, and a big thanks to the DOI for its continued support of on-the-ground habitat restoration efforts, because what's good for fish habitat is good for human habitat!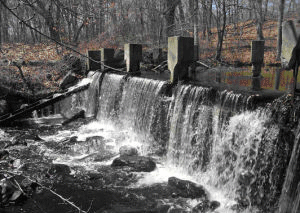 The Shady Lea Mill dam off Shady Lea Road in North Kingstown is set to be removed.
Photo credit: USFWS
---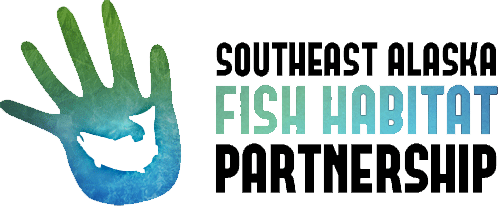 Southeast Alaska Fish Habitat Partnership Recognized by National Fish Habitat Board
by Ryan Roberts
On Monday, March 10 during the second day of the National Fish Habitat Board's spring meeting the Southeast Alaska Fish Habitat Partnership (SEAKFHP) was granted full recognition status. Fish Habitat Partnerships are the primary work units of the National Fish Habitat Partnership and take the lead in bringing partners together to put conservation projects "on-the-ground" that make a difference for fish and their habitats across the nation. These partnerships are formed around important aquatic habitats, distinct geographic areas, "keystone" fish species or system types. With the recent board action, there are now 19 of these highly productive partnerships working across the nation to build strong coalitions dedicated to protecting, restoring and enhancing America's fish habitats.
The Southeast Alaska Fish Habitat Partnership spans the entire southern panhandle of Alaska including the dynamic watersheds and waterways that make up the Alexander Archipelago. This region ranks as one of the largest, most complex, and intact estuarine and temperate rainforest on earth, and is filled with many small, vibrant communities with economies and ways of living linked closely to fish and fishing. In addition, this diverse coastal archipelago from its icefields to its estuaries supports a unique diversity of fish. The mission of the Southeast Alaska Fish Habitat Partnership is to support cooperative fish habitat conservation, restoration, and management in freshwater, estuarine and marine ecosystems across Southeast Alaska with consideration of economic, social, and cultural interests of local communities in its endeavors.
"We are delighted with the recent approval from the Board; this recognition will assist us in our efforts to foster cooperative fish habitat conservation across the many watersheds and waterways that make up the southern panhandle of Alaska." Deborah Hart, SEAKFHP Coordinator.
"We are pleased the Board formally recognized the Southeast Alaska Fish Habitat Partnership as a member of the national network of Fish Habitat Partnerships. The Southeast Partnership along with other partnerships in Alaska and across the nation greatly expands the capacity of the Service and our state partners to conserve and restore habitat for the benefit of fish and aquatic species and the American public." Geoffrey Haskett, Alaska Regional Director, USFWS.
Below is a list of partners cooperating in on-the-ground conservation with the Southeast Alaska Fish Habitat Partnership:
USFWS, Juneau Habitat Restoration Team

US Forest Service, Alaska Region/Tongass National Forest

NOAA-NMFS, Alaska Region, Habitat Conservation Division

Alaska Department of Fish and Game

Alaska Department of Environmental Conservation

Central Council Tlingit and Haida Indian Tribes of Alaska

City and Borough of Yakutat

Southeast Alaska Watershed Coalition

The Nature Conservancy

Trout Unlimited

Sitka Conservation Society

Alaska Coastal Rainforest Center

University of Alaska Southeast GIS Library
More information on SEAKFHP can be found on their website: http://www.seakfhp.org.

---
---

Little St. Simons Island's Living Shoreline

by
Lindsay Gardner, SARP Program and Communications Manager Thomas Bliss, Director, Shellfish Research Laboratory, Univesity of Georgia Marine Extension Service
Little St. Simons Island, a Georgia Coast Golden Isle, is one of the best examples of ecologically intact wilderness along the South Atlantic coast of the United States. First settled by Native Americans harvesting oysters as early as 700 AD, it was then settled by Europeans in the 1700s, with sporadic occupation until the early 1900s. Since that time, there has been permanent occupation on the island, which is privately held and open to the public by appointment only. As such, it maintains 10,000 acres of pristine, wild habitats, ranging from maritime forest, salt marsh, and scrub, to the sea, that are home to a wide array of plants and animals. Maintaining the natural ecological state of the island is at the forefront of the owners' conservation vision and goal to "provide appreciation for the environment while protecting and preserving its resources." In considering options for replacing a failing bulkhead at the primary entrance to the island on Mosquito Creek, Little St. Simons expressed interest in the construction of a living shoreline. While the installation of living shorelines in Georgia is on the rise, the practice is still fairly limited. This project afforded a valuable opportunity to evaluate the ability of this technique to provide an alternative hard structure for oyster spat to adhere to, provide essential fish habitat, help water quality through increased filtration capacity, decrease the rate of coastal erosion, and encourage the ability of the shoreline to carry out natural processes.
Through partnership with coastal scientists and restoration experts at Little St. Simons Island, University of Georgia Marine Extension Service, Georgia Department of Natural Resources: Coastal Resources Division, Sapelo Island National Estuarine Research Reserve, The Nature Conservancy, Hoffman Environmental Services, Coastal Civil Engineering, and support from the SARP/NOAA Community-based Restoration Program (CRP), the living shoreline project was successfully completed in September 2013. The steep slope of the bank and the wave energy from frequent boat traffic along this stretch of creek at the site added to the complexity of the design. Nearly 80 volunteers from AmeriCorps, Coastal Wildscapes and TNC's Leaders in Environmental Action for the Future donated more than 5,000 hours of time assembled the more than 11,000 oyster bags and planted the 1,820 marsh grasses and upland plants (18 different native species) that contributed to the success of the project and the construction of approximately 297 feet of living shoreline. A total of 2,748 specimens comprising four species of crustaceans and 20 species of fish have been collected to date in only two sampling periods (summer and fall), a notable increase in pre-construction species numbers and diversity.
To learn more about the Little St. Simons Island Living Shoreline Project, click here or contact Thomas Bliss, University of Georgia Marine Extension Service at tbliss@uga.edu or Scott Coleman at Little St. Simon's Island at scottc@littlestsimonsisland.com.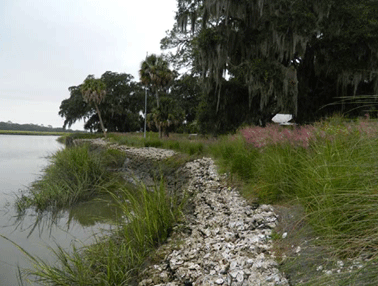 West side of living shoreline, September 2013.
Photo credit: Thomas Bliss, UGA MAREX.
---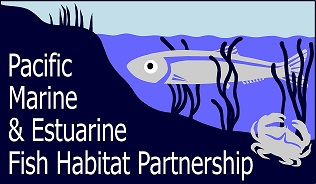 PMEP to launch survey to inform three West Coast fish habitat assessments
by Lisa DeBruyckere

On April 2, 2014, the Pacific Marine and Estuarine Fish Habitat Partnership is launching a survey to synthesize available data on fish and shellfish species that use estuaries for all or a portion of their life cycle. The survey will be sent to fisheries scientists in California, Oregon, and Washington to inform the PMEP Nursery Assessment, a Nearshore Forage Fish Assessment, and the NFHP National Estuary Assessment. This initial survey will help PMEP identify existing efforts, and will be followed up with targeted one-on-one interviews with fisheries scientists to obtain metadata and other detailed information about their datasets. Ultimately, much of this information and data will be used to:
Better understand the role of estuaries in sustaining native species of fish and shellfish, including those most important to people;

Identify nursery habitat for fish and shellfish in estuaries, and inform restoration priorities;

Identify and evaluate key threats to fish habitat in estuaries; and

Demonstrate how conserving and restoring juvenile fsh habitat in estuaries contributes to the overall ecological health and economic sustainability of commercial and recreation facilities.
The survey can be found here.

Click here for a PREZI presentation on all three assessments.
---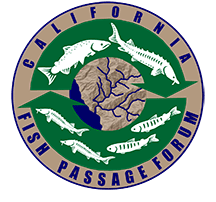 California Fish Passage Forum Completes White Paper on Climate Change and Fish
by Lisa A. DeBruyckere

The California Fish Passage Forum recently completed a white paper that synthesizes information on climate change effects on fish and fish passage management considerations. The paper, "Optimizing Fish Passage Barrier Removal in California While Considering Climate Change Effects," describes the compounded effects of climate change, noting the strong local adaptation to habitats salmonids occupies makes them more susceptible to climate change effects than other species.

Click here for a link to the paper.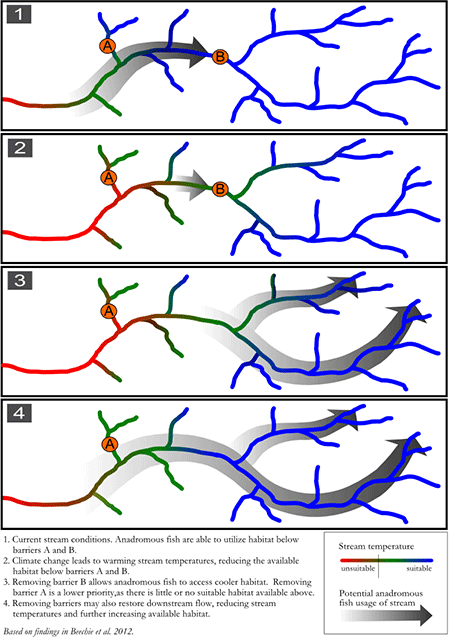 Removing fish barriers may restore downstream flow, reduce stream temperatures, and increase available habitat. Graphic credit: Robin Carlson
---