NOW ENROLLING!
Midland Tots Preschool Program
The Midland School's Preschool (Midland Tots) is part of The Midland School's Department of Education approved private special education program. The Midland School celebrates nearly 60 years of experience serving children and adolescents with intellectual and developmental disabilities. Specially crafted for children ages 3 and 4, Midland Tots is designed to meet the needs of early learners during this critical stage in their cognitive, social, and emotional development.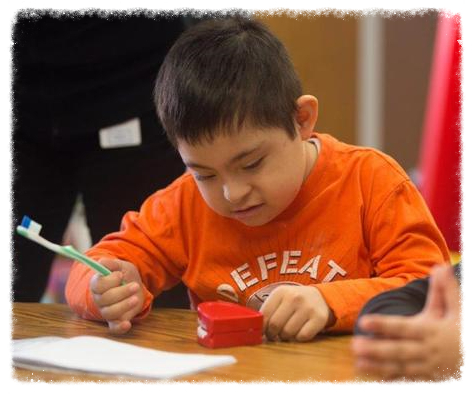 Program Features
Midland Tots Preschool offers a full-time program which operates 210 days of the year, including a six-week Extended School Year (ESY) program. Tuition is paid by the sending school district through an approved, out-of-district placement.
Preschool curriculum aligns with all NJ Core Curriculum Content Standards and uses a mix of traditional school subjects and cutting-edge educational programs to best serve each child. Specialized programs we offer include:
Handwriting Without TearsTM

Feeding/Oral Motor Program (for sound production and eating skills)

Sensory Integration Program (for brain organization and multi-sensory interpretation)
For questions and more information please contact Kristen Zizelmann, Principal at 908-722-8222, extension 101. To learn more visit our Midland Tots web page.