ACoB E-Bulletin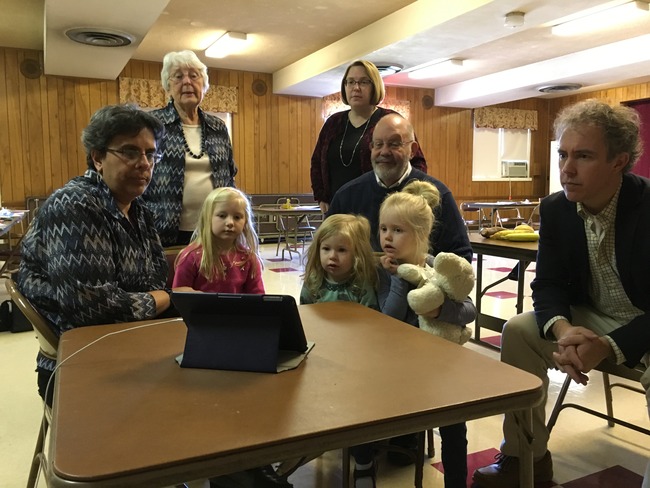 Because Service Doesn't Stop on Sundays.

Friend, you are a unique, gifted child of God
and a blessing to our vital faith community.

This e-update is just one way we connect with each other as
together, we live for the glory of God and our neighbor's good.

---
Iglesia de Restauracion Pacto Eterno, 7-9 pm
Syrian Refugee Resettlement Info Meeting, 7-9 pm in Hyattsville, MD,

more details
Bell Choir Practice, 7 pm
Kaizen Karate, 6:30 - 7:30 pm
Community Choir Practice, 7:30 pm at AFUMC
Children's Play Group, 10:30 - 11:30 am in church nursery
Ecumenical Advocacy Days, through Monday,

more details
Brownies, 1 pm in youth room
Iglesia de Restauracion Pacto Eterno, 5-9 pm
Refreshments, after worship
April 21 - DC Young Adults Gathering
April 23 - Church Work Day,
more details
April 24 - One Great Hour of Sharing
April 28 - Breakfast Bunch
May 2 - All Board Function Groups Meet
May 7 - AFAC Service Saturday
May 7 - MAD Disaster Response Auction,
more details
May 8 - Combined Sunday School with Doorways,
more details
May 13 - ACoB Young Adult Gathering
May 21 - Dranesville CoB Yard Sale + Fish Fry Benefiting CoB in Nigeria
May 22 - Big Sunday School + Worship Outside,
more details
June 5 - Biking for Peace,
more details
Online Calendar | arlingtoncob.org/calendar
To look further ahead, the church calendar is linked above and posted on our website under the "Resources" menu tab. Contact the office for help in navigating it or for a link to embed it into your own e-calendar.

Big Bulletin | Debut Issue is Out
The new bi-monthly newsletter was inserted in today's paper bulletin! Check it out by clicking through today's date on this archive page. For help accessing the pdf online or to get a paper copy mailed to your home, contact the church office. And don't forget to send the office your responses to the Big Question for inclusion in the next issue due out mid-summer.

Youth + Young Adult Opportunities | Bethany Theological Seminary
Bethany Theological Seminary is sponsoring three upcoming events for youth and young adults. Get in tune with God's Spirit by hearing leading music ministers perform and talk about a range of styles, April 15-16 on their campus in Richmond, Indiana. Explore your call at a free retreat, July 15-25 on campus. For Junior Highs, learn about yourself and more about Jesus, June 22-27 in Elizabethtown, PA at a Bible immersion program.

Food Ministries Coordinator | Brethren Nutrition Program Job Opening
Washington City CoB is seeking an individual to direct overall operations at their lunch program for those in need on Capitol Hill. To apply, send a cover letter and resume to bnp@washinigtoncitycob.org.

MAD Disaster Auction Booklet | Pick up in narthex
The Mid-Atlantic District (MAD) Disaster Response Auction raises money to help victims recovering from disasters around the world. ACoB supports the auction by purchasing ad space in the auction booklet. Other ways to support include prayer, event volunteering, and donating auction items including handicrafts like quilts, comforters and wall hangings; special items like quality woodwork, artwork, antiques and other collectables; gift baskets; a gift certificate from your business; or food and plants valued over $10. Contact the office for more details on donating and don't forget to save the date, May 7, to attend.

Combined Sunday School with Doorways | Sun., May 8
All are welcome to this special presentation by Doorways on Mother's Day. A representative from the organization will join us during the Sunday School hour to talk about the problems faced by women and children escaping domestic violence and the services provided by Doorways to such families.

Worship Audio | Online
In case you miss a Sunday service, sermon audio along with a selection of hymns and readings is posted online or subscribe on iTunes
Advocate.
Ecumenical Advocacy Days |
Fri., April 15 - Mon., April 18
Speak truth to power with faith partners from across the country. This year's theme is "Lift Every Voice: Racism, Class and Power" guided by Luke 18:1-8. Through prayer, worship, advocacy training, networking and mobilization with other Christians, participants will face the reality of racism, class and power impacting politics and policies and advocate for the liberty of "Every Voice!" - all culminating with a Congressional Lobby Day on Capitol Hill. Keynote speakers include "Moral Monday founder, The Rev. Dr. William Barber, The Children's Defense Fund founder, Marian Wright Edelman, and IMA World Health executive, The Rev. Amy Gopp. Register at
advocacydays.org
Syrian Refugee Resettlement Info Meeting |

Tues., 7-9 pm in Hyattsville, MD
Some research into sponsoring a family fleeing violence has turned us towards Lutheran Immigration and Refugee Services working in our area. No commitments have been made and information is still being gathered. To be a part of that effort, contact Debbie to go to the information meeting this week or another meeting scheduled in May. Please also give prayerful consideration as to how you may be involved and think about people in your lives who may be encouraged by an opportunity to contribute in some way.
Prepare Meals |

Tuesdays and Fridays
Ongoing health appointments make prepared dinners a big help for the Walkin-Haskes at this time. If you can provide a meal but can't deliver it, you can leave it in the church kitchen. The Deacon Care Team will make sure it's delivered. Contact Silena if you can help.

Church Work Day | April 23, 9 am - 1 pm
Contribute to making our church look welcoming and enjoy fellowship while you work. Projects are available for all ages and all levels of activity and you can choose whether to work inside or outside. A thank you lunch will be provided for volunteers.
Outdoor Sunday |

May 22
Help plan our anual Big Sunday School and Worship outdoors. Let Pastor Nancy know you want to help and share your ideas.

Volunteer to Host Bikers for Peace | June 5
Michael Himlie and David Jones will bike 100 miles each day for 50 consecutive days in all 50 states to raise $100,000 for organizations devoted to active non-violence and peacemaking. They will be in our area on June 5 and need a place to stay that evening. Volunteer to host 2-4 people who have a local speaking engagment that night and need to rise early (4 or 5 am) the next morning. And save the date for that speaking engagment. Our Service to World function group is currently helping to coordinate it.
Refreshments |

Sign-up in Narthex or Contact Church Office
Once a month we gather together in the library after worship. Volunteer to bring simple refreshments to fuel the fun! Sign-up for any Sunday in the month.

Arlington Food Assistance Center | Variety of Volunteer Opportunities
AFAC currently has a wide range of volunteer needs including event support, second language help with client surveys, drivers to pick up farmer's market donations, gardeners to start vegetable seedlings, and runners for a 5K obstacle race fundraiser. Contact 703-845-8486 or communications@afac.org to get more information and sign up.
Ryan,

17 year old neighbor of Alma and fan of the Soup + Pie Bazaar, in the hospital
Virginia's Family + Friends

, mourning her passing at age 99
Minnie

, in the hospital being treated for complications following a fall
Jeff,

in the hospital recovering from major surgery
Charlotte,

Nancy W.'s mom, thriving and settled in a new home
Briana

, supporting her parents through serious health concerns
Karolina

, receiving treatment for bone cancer
Rich Haske, Karolina's husband, Briana's father, home recuperating

Jummai Paul, kidnapped Chibok girl and others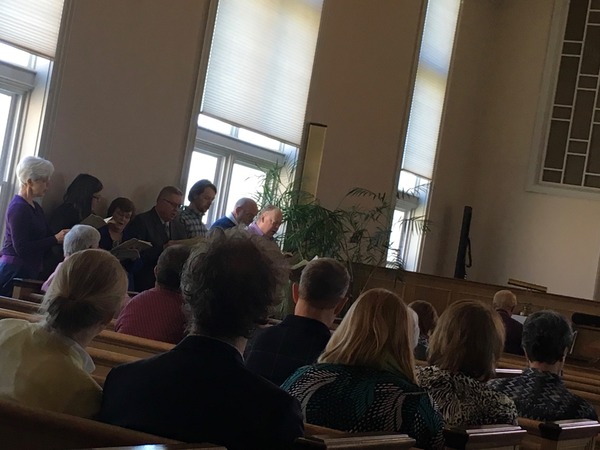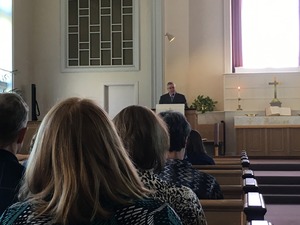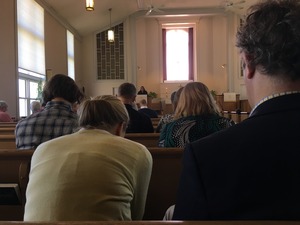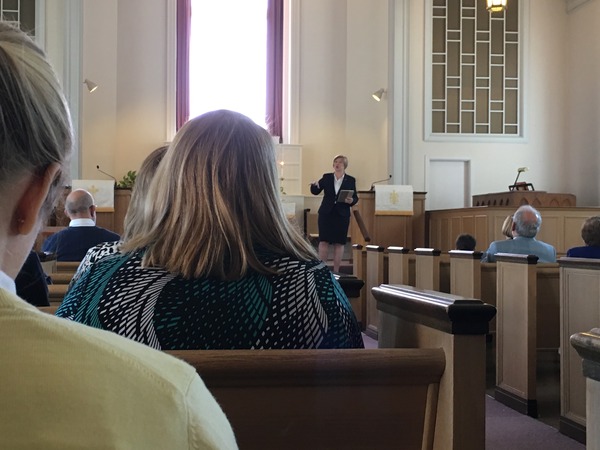 Revelation indicates the book was written to people suffering. Christianity in John's day felt like underdogs underground. As we resist the temptation of comfort and wealth to just go along with the empire of our day, we too feel marginalized. When people feel alienated, we tend to get tribal. This can be an encouraging response when we support each other to be strong and stay faithful. Think about John's vision in Revelation about people gathered from every nation, tribe, people and language. We aren't guaranteed protection from the struggle, but we are promised that with each other in Christ, we can stay the course.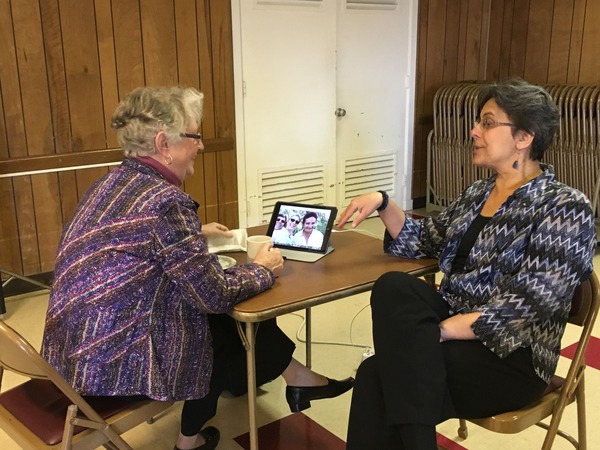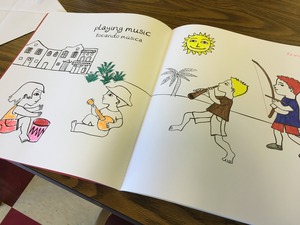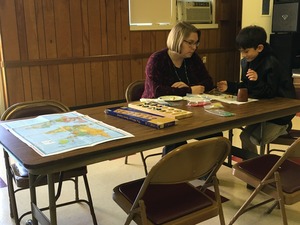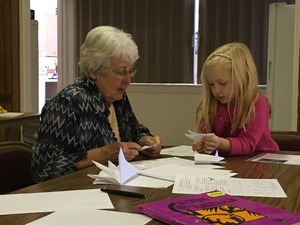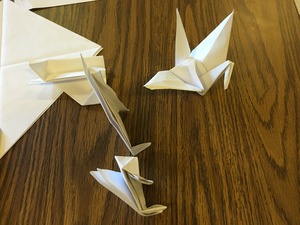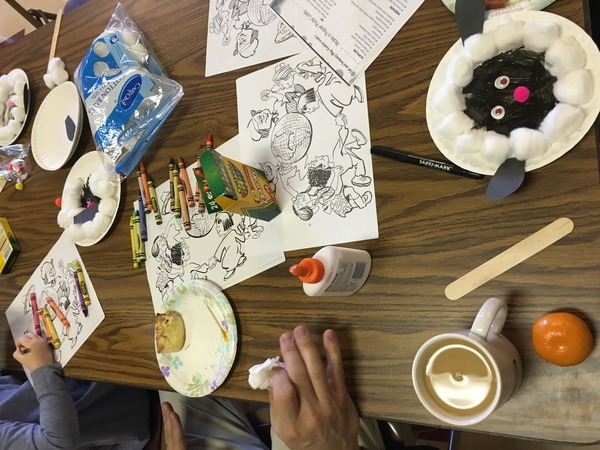 This Big Sunday, we talked about God's promise to one day gather all people of all nation's to God's self. This theme runs through both the old and new testaments of the Bible. If God will do this, then we should get to know other people and cultures better and to appreciate the variety on earth for which God creates and cares. It was a fun morning of exploring the beautiful diversity of our world!
Arlington Church of the Brethren

Office Hours

Wednesday

|

6:30 - 9:30 pm

Saturday |

8:00 - 11:00 am

Contact

Tel: 703-524-4100

Mobile (call anytime): 571-243-5344
Fax (call ahead): 703-524-4109
ACoB@ArlingtonCoB.org