"The hearts of all people's faiths must now unite in believing we can change the path we are now on. We, from heart of Turtle Island, have a great message for the world to unite for our children's future. Already we have witnessed many nations of life are now dying because of contamination: those that swim, those that crawl, those that fly, the plant nation, the four legged, and now the two legged.
This is a very serious time we are in. I know in my heart there are millions of people that feel this is long overdue. It is time that all of us become leaders to help protect the sacred upon Mother Earth. She is the source of life and not a resource.

In a Sacred Hoop of Life, where there is no ending and no beginning."
Chief Arvol Looking Horse,
19th Generation Keeper of White Buffalo Calf Pipe Bundle,
Spiritual Leader of the Lakota, Dakota, and Nakota Nations
From an invitation to a Dec. 4 Interfaith Prayer Service at Standing Rock to protect the Water of Life
---
•

Board Meeting

, 7:30 pm in library




• BMCA Meeting

, 7:30 pm in Fellowship Hall



Tuesday

.
•

Iglesia de Restauracion Pacto Eterno, 7-9 pm



•

Brethren Voices

, 11 am,

more details




•

Yoga

, 5:45 pm,

more details




•

Handbell Choir Practice

, 7 pm




• On Earth Peace Post-Election Organizing

, 7 pm,

more details



Thursday

.

•

Kaizen Karate, 6:30 pm


• Community Choir Practice

, 7:30 pm at AFUMC
Saturday

.
•

Theresa McCary's Birthday Party
, noon - 4 pm,
more details
• Iglesia de Restauracion Pacto Eterno, 5-9 pm
Sunday

.

•

Big Sunday School

, 9:45 am
•

Dunker Punks Podcast Lunch

, noon


•

Brethren Voices, 6:30 pm,

more details



Mon., Dec. 12 - Shepherd's Spring Holiday Banquet, noon + 6 pm
Tues., Dec. 13 -
On Earth Peace Post-Election Organizing
, 12:30 pm,
more details
Thurs., Dec. 15 - Breakfast Bunch, 8 am at Bently's (6654 Arlington Blvd)
Thurs., Dec. 15 Congregational Life Ministries Webinar, 2:30 pm
Sun., Dec. 18 - Bell Choir Playing, 11 am
Sat., Dec. 24 -

Christmas Eve Service

, 6:45 pm,
more details
Sun., Dec. 25 - Christmas Worship at AFUMC, 10 am *Note Earlier Time
Sat., Jan. 1 - Volunteer at AFAC, 8:30 am
Sun., Jan 8 - Big Bulletin Distributed
Sun., Jan. 8 -

Soup + Pie Meeting

, noon
Thurs., Jan. 9 - Congregational Life Ministries Webinar, 2:30 pm
Fri.-Sat., Jan. 20-21 - All Church Retreat, at Shepherd's Spring
Theresa McCary's 103rd Birthday Party | This Sat., Dec. 10, noon – 4 pm
Theresa's family invites you to help celebrate her 103rd birthday! Email her son
Richard
to RSVP and also let him know of any food allergies. Contact the
office
if you're interested in carpooling.
Beginner Yoga |
This Wed., Dec. 7, 5:45 pm
Join others in the fellowship hall for simple, gentle beginner yoga, especially designed to include folks 55+. Wednesday night yoga will continue throughout December. Saturday morning yoga on the 2nd and 4th Saturdays will resume in January. $9.00 per session. Contact Pastor Nancy with questions.

Christmas Eve Worship | Sat., Dec. 24, 6:45 pm
Come enjoy beautiful harp music by John on Christmas Eve as we gather for our annual candlelight service. Worship will begin at 7 pm and will include communion.

Ecumenical Advocacy Days | April 21-24, 2017
Registration is now open for the annual national gathering of Christian for just and peaceful policy. This year's theme is, "Confronting Chaos, Forging Community: Challenging Racism, Materialism and Militarization." Save the date and register here: http://bit.ly/EAD2017

More Details | arlingtoncob.org/calendar
For more information on neighboring church and non-profit events listed, check the calendar at the above link or contact the office.
---
Volunteer + Donate.
Dunker Punks Podcast Lunch | This Sun., Dec. 11, noon
Join the young adults after worship for a light lunch and short program about ACOB's Dunker Punks Podcast. You'll be invited to support the project whose mission is to connect young adults across the country to walk the Jesus way together. Contact
Pastor Nancy
or
Suzanne
with questions.
Doorways Gift Cards | Donate through this Sun., Dec. 11
Donate gift cards for women and families in Doorways Shelter in $25 denominations to grocery stores, Target, TJ Maxx, Marshalls and Old Navy. Your gift will help with emergency needs, work and interview clothes, and household goods. Doorways has found that the gift cards are also helpful in building their clients' confidence in budgeting. See
Marcia
with your gift card donations.
Calendar Drive | Through the End of the Year
Help us collect 2017 wall calendars for the Sunrise Retirement Community. Put them in the basket in the hallway. We'll donate them to Sunrise before the new year. They are much appreciated by the residents. Contact
Marcia
with questions.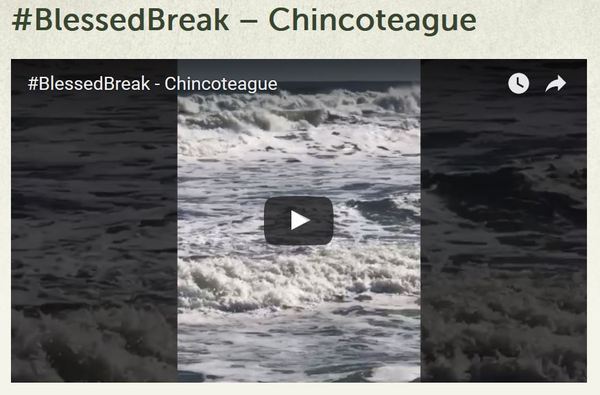 #BlessedBreak | New Devotion!
http://bit.ly/BlessedBreak36
The latest video devotional was inspired by yesterday's water-themed advent in creation service. Watch the video and read the accompanying scripture and prayer at the above link.
Worship Audio |

Online
Listen again to this week's sermon, catch a sermon from a Sunday you were out or peruse the archives. Each Sunday message along with a selection of hymns and readings is posted online or subscribe on iTunes.

Dunker Punks Podcast | http://bit.ly/DPP_Episode19
The latest episode, "Holy, Wholly," features a conversation with a church planter who leads a community of faith that prioritizes accessibility so people of all abilities and gifts can contribute and participate. Listen by clicking the above link or subscribing on
iTunes
.
---
Pray. Call. Write. Give.
Carol Smith

, Going to Nigeria to help start a preschool

Jean Hagenberger

, District Exec, Struggling with sickness

Rida

, Friend of Gary S., facing challenges of corrpution and deception at his work in the Middle East

Susan + Family

, Silena's superviser, whose father John passed away after battling cancer​

​

Julie

, yoga group member, undergoing emergency gallbladder surgery

​

Pastor Gilberto + Family

, mourning the passing of his father

Carole Compton + Family

, following the death of her sister Darlene's son

All affected by Hurricane Matthew

, consider donating to Brethen Disaster Ministries respone in Haiti

here

.

Marina, Mark + Wes

, adjusting to ongoing health treatments for Marina

Pastor Mike

, continuing to deal with liver failure and awaiting transplant

Charles Tuck

, Hazel's son, treatment for cancer

Minnie

, Goodwin House, Rm 248, visitors welcome

Walkin-Haske Family

, ongoing health treatments

Jummai Paul

, kidnapped Chibok girl and others

Church of the Brethren in Nigeria (EYN)
---
Worship Notes.
John the Baptist reminds us that we have both a responsibility and role to play. We must not seek only the peaceful calm, but also the peace that comes with justice. Seeking justice is noisy and dangerous and the water we encounter might be water cannons trying to wash us away. Let us bravely ride the waves as we head to the margins with John the Baptist to speak truth to power and stand on the side of justice for God's people and God's earth.
L

isten to yesterday's sermon here
:
http://bit.ly/ACoBMessage4Dec16
---
Prince of Peace, you taught us that living water is the refreshing, restoration we need. Help us not to forget our need for the fresh water of the earth. Let our thirst for you be quenched by the renewal of life found in our most precious of the stories of your birth. Amen
From yesterday's Opening Prayer