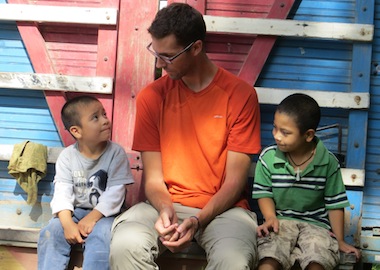 Dear Shoulder to Shoulder Supporters:

Over the last several months, we have improved the way we share with you. We redesigned our website, updated our Facebook, Twitter, and YouTube pages, and have visited with brigades to share Shoulder to Shoulder's vision: to work shoulder to shoulder with our communities to create and operate sustainable health, nutrition, and education services with equitable access for everyone in the rural frontier of Honduras.

Our annual giving campaign, the Virtual Fiesta, occurs between now and September. The Virtual Fiesta is Shoulder to Shoulder's major fundraising drive. The donations you give allow us to provide much-needed services for the rural poor of Honduras. We do not ask for your time or to attend an event. Instead, this Virtual Fiesta is a celebration of your generosity in supporting Shoulder to Shoulder and the people of Honduras. This virtual event allows your donation to have the maximum impact. Your donations provide drinking water to communities that do not have access to clean water, they fix clinics' leaking roofs in the rainy season, fill our motorcycles' gas tanks so our home health teams can visit nearly-impossible to reach patients, and send patients to receive specialized care at advanced clinics hours away.

Between now and September, we will be updating our website and Facebook pages and e-mailing you with stories of how your donation makes a difference. We look forward to you joining us in this Fiesta of support. To give, please visit our website's donation page. If you have any questions about our programs, how your donations are utilized, or how you can give, please feel free to contact me at scott@shouldertoshoulder.org.

Yours very truly,

Scott Reinstein
Scott Reinstein
Communications Director
---
The Evolution of Shoulder to Shoulder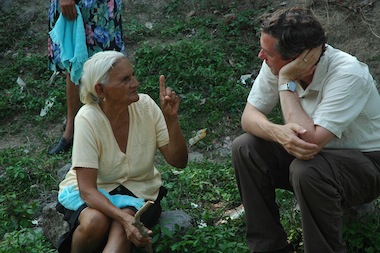 Dear Shoulder to Shoulder Supporter:
Twenty years ago a handful of friends and colleagues and I began working in southern Intibucá, a remote region of rural Honduras. Our vision for the future for the region was forged together with a similar handful of committed local citizens. Now, over twenty years later, the vision is closer than ever to being realized thanks to the help of over 3000 volunteers, all of whom are colleagues, friends and family and somehow connected together through our common experience in Honduras.
If sufficiently supported, the next five years will herald the completion of this long term vision of Shoulder to Shoulder to demonstrate a model system of health care delivery for rural areas in poor countries that narrows the gap between health care in poor communities and wealthy communities. It will bring 21st century management and quality improvement practices and low cost technologies to provide services that are both cost effective and comprehensive. The resulting system of care will be reproducible in any poor community in the world and deliver comprehensive primary care, maternal child care, public health and emergency services for under $80 per person per year. Considering the cost of care in the U.S. this is a remarkable accomplishment.
Twenty years ago, going to rural Intibucá seemed like going to the far side of the moon. Poverty and premature death was so common, that it seemed like the norm. Now it is less so, in fact uncommon. Then we needed the funds to supply basic relief, now we can envision self sufficiency and local empowerment leading to a model of foreign aid that has a happy ending. That final step still requires support, especially education and leadership training based on organizational integrity and community self interest. We are close, but still need continued support to make it happen effectively and sustainably. Thanks for sticking with the Honduran communities we have been serving this past two decades.

Sincerely,

Jeffery E. Heck, MD
Founder, Shoulder to Shoulder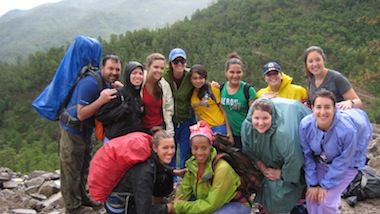 Between June 11 and 22, a medical brigade from Virginia Commonwealth University joined Shoulder to Shoulder in the Pinares area of San Marcos de la Sierra. Since 2006, VCU has regularly visited this area. They visit three times annually, and generally include medical students, family medicine residents, and family medicine faculty. Over the years, they have brought dentists, sociologists, pharmacists, nurses, public health workers, and interpreters with them.

For two weeks, this group of physicians, medical students, pharmacists and PharmD candidates, MPH candidates, nurses, a paramedic, and student-translators from the bilingual school in La Ceiba engaged the community in the established Children's Health Initiative (CHI) at local schools and treated patients at the Pinares clinic. The brigade also took in the U.S.A.-Honduras World Cup qualifier event, crowding into a small pulperia with most of the local community to watch the game. Aside from a few bruised egos, the American win did not cause any international incidents.

Every day, the brigade split into two teams. One group treated patients at the Pinares clinic, treating farming injuries, providing prenatal check-ups, pregnancy exams, and more. The CHI group hiked to a different school each day and set up health stations to address all areas of the children's health. These included measuring height and weight, taking their hemoglobin, eye exams, fluoride rinses, and visits with physicians.

During one home visit, the brigade examined a 31-year-old patient who had been experiencing abdominal pain. The man had not eaten or drank anything for over a day, and hadn't moved in two days. Entering the darkened home, the brigade was greeted by a prayer group who had been standing vigil over the sick man all day. The brigade members evaluated the man and determined he needed hospital treatment. As a team, the brigade carried the patient up the steep slopes to the road and drove him to the hospital.

The Pinares and outer communities in San Marcos de la Sierra are very remote and mountainous. Away from the main road to La Esperanza, many locals must walk for hours to receive medical attention. VCU's CHI group enabled them to evaluate and treat a large volume of geographically diverse group of needy children in the schools. Throughout the year, Shoulder to Shoulder's health promoters and home health medical teams visit these remote communities and homes to ensure that children, elderly, pregnant, and high-risk patients are receiving the attention they deserve.

Thank you to VCU for your tremendous team effort and support of the Pinares and San Marcos de la Sierra communities.
---
Delivering Clean Water to Tablones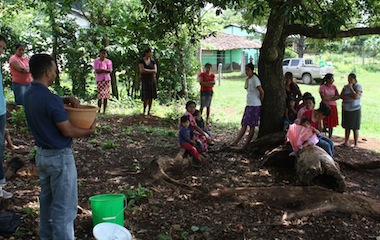 In April, we described the history of Shoulder to Shoulder's clean water program. In Intibucá, poor water system infrastructure allows contaminated surface water to enter the water supply. The water in our area contains high amounts of parasites, bacteria and viruses. Nearly every home in our network area lacks direct clean water.

We focus our water filter donations in communities that do not have access to running water, and must walk great distances to unclean wells or streams. In June, we delivered Potters for Peace water filters to the community of Tablones, in the mountains above Santa Lucia. There is no running water in Tablones, it does not have access to clean drinking water, and the thirty families in the community are low-income families. With the help of Rotary Club International, we provided water filters to 28 of the 30 families in Tablones.

Milton Villanueva, lead health promoter for the municipalities of Santa Lucia, San Antonio, and Magdalena, and Kate Holbrook, head of the Santa Lucia Maternity, Birth, and Emergency Clinic, met with every family receiving a filter. They instructed the families on filter maintenance, clean eating and drinking habits, and how to use the filters. We will continue to monitor the Tablones families and expect to see reduced incidence of diarrhea, parasites, and water-borne diseases.

Our ultimate goal is to provide a filter to any family in our region who wants clean drinking water. You can provide a family with clean water for two years with a $45 donation. For more information on how you can help the project and updates on our distribution and monitoring efforts, please visit our website.
Changing the Way People View Education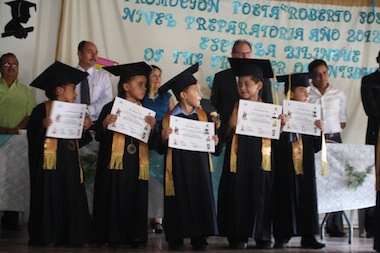 In this part of Honduras, every accomplishment is worthy of celebration. On May 18, fourteen kindergarten students received their diplomas in the first graduation ceremony for the Frontier Bilingual School of Intibucá in Camasca, Honduras. In just its first year, the bilingual school has received accolades from the local community and from national educators.

The bilingual school is the first of its kind in the rural Honduras frontier. It provides the indigenous population, many of whose families live on less than two dollars a day, with a high-quality bilingual education. The school plans to add a grade each year as the students advance.

The 100 person-strong crowd and the leaders in attendance demonstrated the significance of this initiative in the Honduras frontier region. Shoulder to Shoulder President Wayne Waite, representatives from the Honduran Ministry of Education, and the mayor of Camasca attended and spoke during the celebration. The ceremony was played on national television in the days following graduation, further emphasizing the significance of this seemingly small accomplishment.

At the ceremony, the students, faculty, and community of Camasca expressed their gratitude to Shoulder to Shoulder and the Good Shepherd Community of Cincinnati for believing in the school and for helping make their dreams a reality. Shoulder to Shoulder director of Education Profesora Iris Villanueva told the crowd: "With this initiative, we have provided a beacon of hope for children in this region and set a precedent for others to follow elsewhere in the country."
Watch a kindergarten graduate thank supporters - entirely in English!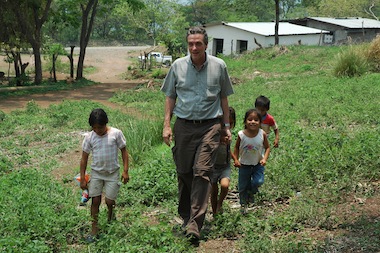 A Message from Dr. Jeff Heck
Dr. Heck describes the history - and the future - of Shoulder to Shoulder, and how your support strengthens the organization and helps thousands of rural Hondurans.
---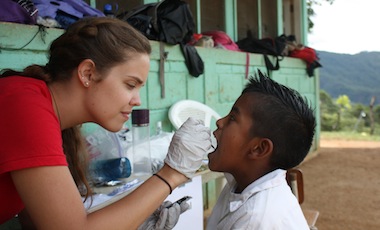 Virginia Commonwealth University brought a mixed brigade of students, educators, and professionals to the Pinares, San Marcos de la Sierra area. They conducted Children's Health Initiative well child stations, examined patients at their clinic, and hiked all over the rugged mountains of
Intibuc
á
.
---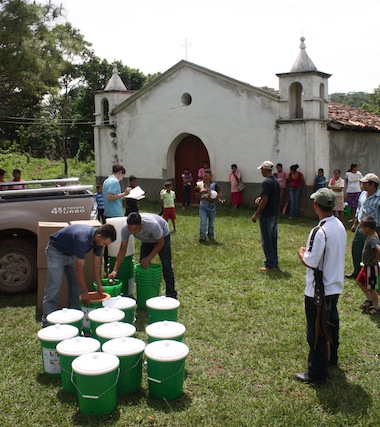 In June, we delivered water filters to nearly the entire community of Tablones.
---
Bilingual School Graduation
The Camasca Bilingual School of the Frontier of
Intibuc
á
celebrated its first graduating class this year. The town, students and parents, and Shoulder to Shoulder could not be more proud.
---
May and June By the Numbers
Patient Encounters (
Concepci
ón
): 549
Home Visits (
Concepci
ón
)
: 171

Clinic Births: 35

Obstetric Emergencies: 32

Emergencies (children under 5): 11

Emergencies (over 5 years): 26
---
Ministry of Health Evaluation
Every quarter, the Honduran Ministry of Health audits Shoulder to Shoulder's two main emergency and birth clinics (CMIs) and the 11 outer clinics we supervise and administrate. We continue to see improvement in the outer clinics. This quarter, our network averaged 91%, well above the 85% government goal.
Concepci
ón
CMI: 94%
Gestor (administration): 100%
Magdalena Cesamo: 81%
San Jose Cesamo: 75%
Santa Lucia CMI: 100%
Santa Lucia Cesamo: 83%
---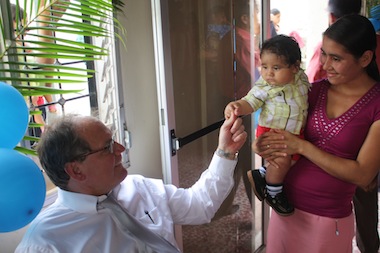 Shoulder to Shoulder President Wayne Waite greets a future bilingual school student.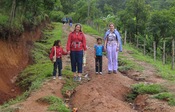 VCU brigade members accompany students down the hill after CHI.



Bilingual school students recite the pledge while holding the Honduran flag.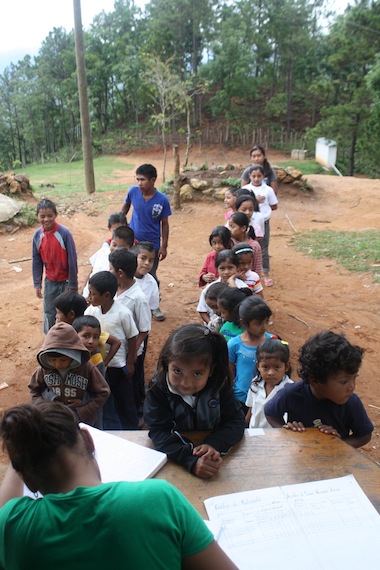 Students wait to be registered for the day's CHI clinic.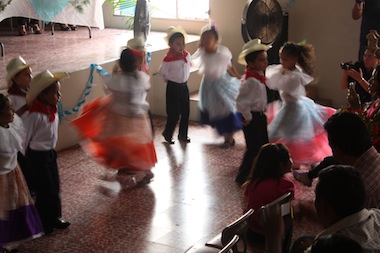 Students of the Camasca Bilingual School partake in a local dance for those in attendance.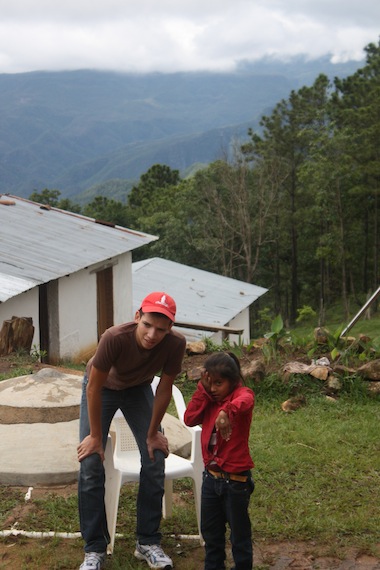 A translator from the La Ceiba bilingual school supervises a local girl during her eye exam at CHI.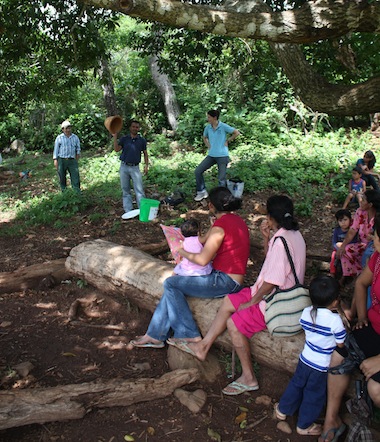 Milton Villanueva discusses clean water and hygiene to the Tablones community.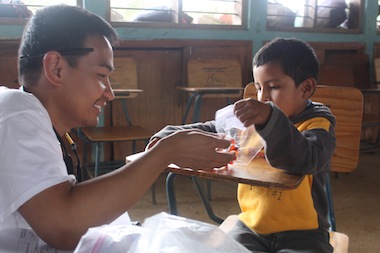 A VCU pharmacist receives help in dispensing multivitamins during CHI.



A young boy is helped by his sister and a friend during his eye exam.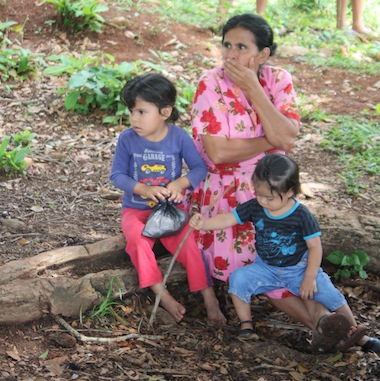 A Tablones family learns about water filter maintenance and good hygiene.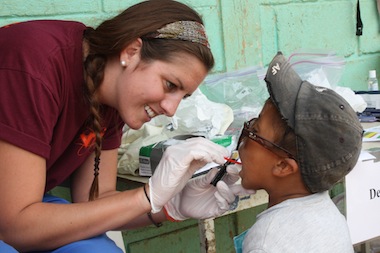 A VCU pharmacist assists with fluoride treatments.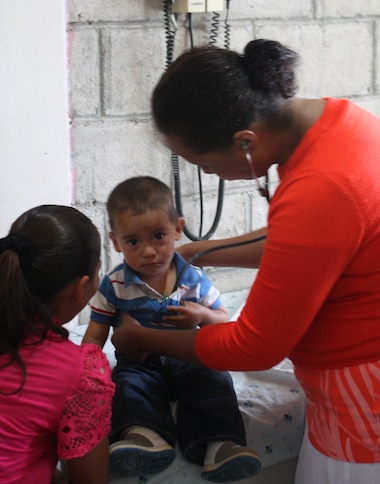 Dr. Stevens examines a child in VCU's Pinares clinic.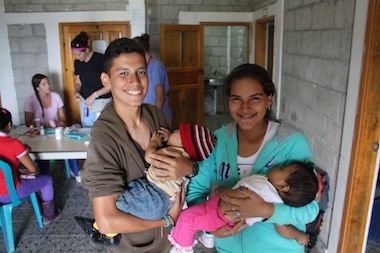 VCU's translators from the La Ceiba bilingual school pull double duty in translating and taking care of young patients.