Baseball fans will be transported to Colonial-era New Jersey on Wednesday, July 12, 2017 as the Somerset Patriots celebrate Revolutionary Spirit night during the 2017 All-Star Game at TD Bank Park in Bridgewater. This event combines America's pastime with the spirit of independence!
Attendees at the game will be welcomed to step into the past with hands-on demonstrations and conversations with George Washington, Ben Franklin, Elizabeth Schuyler-Hamilton and other costumed reenactors representing several New Jersey historic sites and interpreter groups. Fans will also be greeted by a Revolutionary troop encampment and cannon demonstration as they arrive at the ball park.
The evening event is co-hosted by the Somerset Patriots and Crossroads of the American Revolution National Heritage Area.
Demonstrations and hands-on exhibits will also include:
A Revolutionary War Encampment featuring reenactors in full uniform from the 2nd NJ Regiment, Mott's Artillery, the Queens Rangers, and Heard's Brigade
Musket fire drills on the ground and on horseback
Revolutionary War Cannon Demonstrations by the Sons of the American Revolution and Mott's Artillery
Fife and Drums of the Old Barracks
Practitioners of Musick
Hearth Cooking Demonstrations by NJ History Alive
Spinning Wheel Demonstrations by Monmouth County Historical Association
Medicine/Hospital Tent with Doug Aumack
Colonial games and activities with exhibitors from Morristown NHP, Liberty Hall Museum, Heritage Trail Association, Washington Crossing Park Association of NJ, Washington Crossing Historic Park, Lamb's Artillery, East Jersey Old Town Village, Princeton Battlefield Society, Children of the American Revolution, the Snyder Academy, the Indian King Tavern, the Jacobus Vanderveer House, Daughters of the American Revolution, and the Miller-Cory Museum who will have costumed interpreters representing the Lenape Indians.
Visit The Friends of The Jacobus Vanderveer House & Museum booth to put your own
John Hancock on The Declaration of Independence and make your own quill pen!
Tickets for the game are available through the Somerset Patriots website www.somersetpatriots.com, or by calling (908) 252-0700.
Archaeology Camp - July 24-28 - 1 to 5 p.m.
For Students in Grades 3-7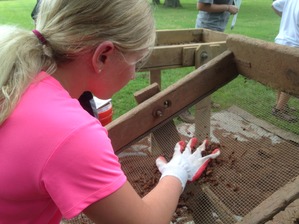 Dig in! This week-long, one-of-a-kind enrichment experience held in collaboration with The Friends of the Jacobus Vanderveer House and sponsored in part by Investors Bank Foundation, offers students a unique opportunity to explore and investigate the world of archaeology as it relates to local history dating back to the American Revolution.
Participants will work alongside professional archaeologists from Hunter Research on site at Bedminster's historic Jacobus Vanderveer House, circa 1772. Campers will learn about the science of archaeology and how to measure, plot, dig, sift, sort, wash and categorize artifacts found. Through recovery and analysis, campers will be challenged to think critically about the material remains found, and discuss how the items were used, or even created. By analyzing the objects they discover, students will gain a better understanding about our local past.
During the week, campers will also learn more about Colonial life during a field trip to East Jersey Olde Towne Village in Piscataway, and through activities such as basket weaving, ice cream making, and a mock artillery drill.
Archaeology Camp will meet at the Jacobus Vanderveer House & Museum located at 3055 River Road, inside Bedminster's River Road Park. Transportation to Archaeology Camp will be provided daily from Camp Bedminster for Camp Bedminster registrants only. All others will need to be dropped off directly at the Vanderveer House. Parents are to pick up 5 pm promptly at the Jacobus Vanderveer House & Museum.
Please be sure campers are dressed comfortably and appropriately for a day outdoors (e.g. hat, sunscreen, sneakers, boots, shorts, t-shirts, etc.) Be prepared to get dirty! NO OPEN-TOED SHOES!
Registration is limited to students entering grades 3-7. The fee for this memorable camp experience is $185 and includes all supplies. Register on-line or by phone. Contact the Bedminster Township Recreation Department, One Miller Lane, Bedminster, NJ 07921 Telephone: (908) 212-7014 www.bedminster.us

Lend A Hand In Raising Our Dutch Barn
Click HERE To Purchase Nails, Paint,
Windows, Doors, Cabinets & Gutters