It's been an incredibly busy month here at OREC and we have lots to tell you.

This sunshine we've been getting is great news for patio-lovers and OREC investors alike, since our panels are producing so much energy
—even
more so
since
we recently connected
two new solar projects
to the grid.
Speaking of new projects, we made some important announcements at the Solar Soirée. Thanks to the
over 200 of you
who came out; it was a milestone for OREC in many ways. This our biggest and best event yet, and w
e took the opportunity to announce that we are officially co-owners of a new 250kW project in Dunrobin, and have a new
exciting
partnership with Bullfrog Power
that will help us get more projects up and running.
In addition to the informative presentations they gave at the Soirée, our European visitors and representatives of OREC were also the guests of honour at a dinner with the German Ambassador and
met with several MPs on Parliament Hill
.
We kicked off the month with a tour of two of our latest projects before getting down to business at our special members' meeting, where members approved important bylaw changes that will enable us to grow and diversify.

Last but not least, sincere and special thanks to many OREC members for their support over the past month: Mike Hodgins for designing the new logo you see above; Nicholas Hanschke for designing the pamphlets many of you picked up at the Soirée; Nick Lepan and Colin Drysdale for their work on the new business plan and offering statement; Barrie Ashworth for his amazing spreadsheets, Andrew Sare, Vadim Belotserkovsky, Dan Seth and the whole Technical Team for their engineering expertise on solar projects; and so many more! With the help of this amazing team, we will soon have a new offering statement and new website. Stay tuned!

---
Help us Find a Roof in Vanier/Overbrook!
We have an opportunity to install a 75 kilowatt solar system on a rooftop in Vanier/Overbrook (
see map here
), but we need a roof! Ideal rooftops are 15,000 square feet in size and will be under stable ownership for 20 years.
If you have an idea of a building we should contact, please tell Janice at
janice.ashworth@OttawaRenewableEnergyCoop.ca
or
613-748-3001 ext 240
.
---
Latest Projects - Presland North, Presland South, & Dunrobin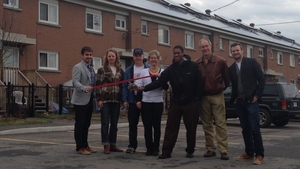 Our ribbon cutting at the new Presland South project!
Left to right: Antoine (Visio Energy), Janice (OREC), JP (resident), Kim (resident), Chad (LSM Housing Services), Dick (OREC Board), and Guillaume (Visio Energy).
We have two new 10 kW projects feeding solar energy into the grid at OCISO (Ottawa Community Immigrant Services) Non-profit Housing on Presland Road. The photos from our connection at Presland South project are available on our
Facebook page
.
OREC investors are now benefiting from the Co-op's largest project to date: a 250 kW installation of 1140 panels on the roof of a large boat storage
facility
in rural west Ottawa, which will help power the nearby high school and subdivision.
OREC owns 26.6% of the two-million-dollar project in partnership with the Windmill Development Group.
The storage facility is a 20,000 square foot building constructed in the fall of 2012. As it was contracted under the FIT 1.0 contract rates, we are paid $0.713 per kilowatt hour for the electricity produced at the Dunrobin project. This rate in combination with the project development experience gained with this larger-scale project makes it a great investment for OREC members and an important milestone in OREC's path to continued growth.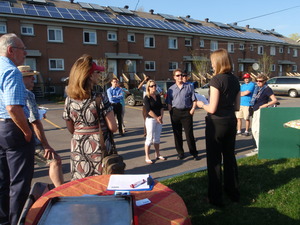 OREC Board member Joan Haysom led the tour of the projects, and explained to the crowd how the technology works to produce green power for the grid.
Solar Project Site Unveiling & Special Members' Meeting
The evening of Thursday May 2nd, we led a tour of our two solar sites at Presland Non-Profit Housing for residents and OREC members, followed by a special members' meeting at the Overbrook Community Centre. We had over 40 members attend the meeting, where we discussed current projects, the future of OREC, and a few amendments to the by-laws and Articles of Incorporation, which will allow us to have multiple classes of shares, and accept financing from entities other than financial institutions.

All the amendments passed with an overwhelming majority and all the cupcakes were eaten! Meeting minutes will be circulated to members shortly.


---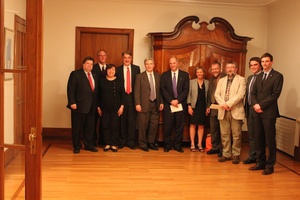 Just after our meeting with several MPs on Parliament Hill.
From left to right: Mauril Bélanger (MP, Ottawa-Vanier), Dick Bakker (OREC Board), Catherine Belanger (wife of Mauril), Werner Wnendt (German Ambassador), Shawn McCarthy (Globe and Mail), Greg Clarke (Energy Ottawa), Deb Doncaster (Community Power Fund), Johan Hamels (OREC Board), Dirk Vasintjian (EcoPower), Roric McCorristin (Heinrich Böll Foundation), and Andreas Weig (German Co-op Association)
OREC & European Guests Met with German Ambassador, MPs
While our guests from EcoPower and the Heinrich Boell Foundation were in town, we were dinner guests of the German Ambassador, Werner Wnendt, who is very supportive of renewable energy, and renewable energy co-operatives in particular. Representatives from Energy Ottawa, Community Power Fund, The Globe and Mail, and the federal government also attended the dinner.

The day of the Soirée, we had a lunch meeting with 4 Members of Parliament to discuss what could be done in the renewable energy co-op sector in Canada to support growth across the country, accompanied by representatives of Desjardins, Canadian Cooperative Association, Federation of Community Power Co-ops, Community Power Fund, local solar installers.

MPs at the lunch included Mauril Bélanger (Liberal Advocate for Co-operatives and member of OREC), Megan Leslie (Official Opposition Environment Critic), Anne Minh-Thu Quach (Official Opposition Deputy Environment Critic), and Earl Dreeshen (Conservative MP representing Red Deer). The brief we presented is available here.
---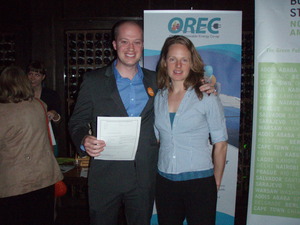 Graeme Cunningham of Bullfrog Power with

Janice Ashworth,

OREC's Operations Manager at our Solar Soirée.
Bullfrog Power Lends Generous Support to OREC
At our Solar Soirée, Graeme Cunningham of Bullfrog Power got up on stage and spoke about the importance of community ownership in the renewable energy movement, and
announced a new partnership
between us to achieve our common goals.
Through this unique partnership, Bullfrog will be supporting the growth of renewable energy in the Ottawa region by providing much needed financial support to OREC as they grow their membership and seek out additional renewable energy development opportunities in the community.
---
Catch Us at This Upcoming Event: