Happy Earth Month, dear supporter!
Read on for more details on what we've been up to.
---
Solar Project Site Unveiling & Special Members' Meeting - May 2nd
Since we're a co-operative, we make decisions together, and we're having a special meeting because we have some decisions to make! If you're not yet a member of OREC, you can learn more about the benefits of membership and sign up here. All membership fees are put towards supporting our operational costs, so whether or not you plan to invest in our next shareholder offering, you can still support putting more renewable energy on the grid in Ontario.

If you sign up by Thursday, May 2nd, you can take part in a tour of two of our latest solar projects as well as participate in the members' meeting and meet others involved in the OREC community.
---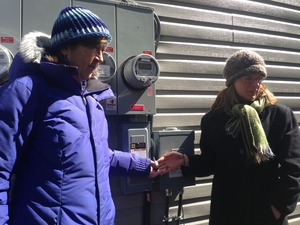 Hélène Laurin, of Co-opérative Lafontaine, and Janice Ashworth, OREC's Operations Manager, prepare to flip the switch.
Connection of Project at Lafontaine Housing Co-op +2 more by month's end!
As some of you may have read in the Ottawa Citizen last week, or heard about on CBC's Ottawa Morning on Monday, we've connected a new solar project to the local electricity grid. (Photos are up on our Facebook page, here.) The project at Co-opérative Lafontaine in Gloucester was connected on Wednesday, April 3, and is now producing up to 10 kilowatts of electricity for each hour the sun is shining -- that's 1 kW of solar power per 6 minutes!

Projects at Presland North and South, both also 10 kW projects, will also be connected in the coming weeks. Work on the rooftops is currently underway.
---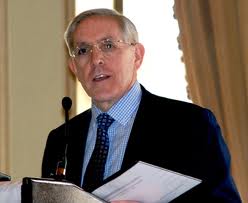 Ontario Minister of Energy, Bob Chiarelli
Our Meeting with Ontario Energy Minister Bob Chiarelli
Last Tuesday, we met with Minister Chiarelli to underline the importance of the continuity of renewable energy policies in Ontario. More detailed information is available in this brief we presented to him.

The Minister was genuinely interested in learning about how OREC was formed, how it works, its membership, share offering, and projects. He congratulated us for our achievements to date, and is clearly supportive of the idea of a simplified open FIT program with a focus on small and micro-sized systems.
---
Beau's "solar brew".
Solar Soirée - Monday, April 29th

Monday, April 29th, 7:00-9:00 p.m.
Lagos Bar & Grill (at the Dows Lake Pavillion).
We have
European experts in community power
coming to
tell us about their experience with renewable energy
through
a panel discussion and Q&A, followed by a reception.
Various solar installers will be there as well to answer questions about home systems and technical matters.
At the reception we'll be serving up samples of
Beau's All Natural's soon-to-be-solar-powered microbrew, kindly donated as part of Beau's Green Futures Project.
---
Catch Us at These Other Upcoming Events: