Welcome New and Thanks to Outgoing Directors, AGM Highlights, and Upcoming Events
Dear OREC Supporter,
November was a big month for the Ottawa Renewable Energy Co-op (OREC). Last week OREC members participated in co-operative democracy at the Annual General Meeting where they elected
new directors
, recognized
outgoing directors
, and had their say on other
business decisions
for the next year (read more below). Also this month, OREC has opened an Offering Statement and raised over $230,000 so far! Details on the offering can be found on our
website here
or by attending one of the
upcoming information events.
The first project that will be funded through this offering is a 75kW project on Samuel Genest High School. Finally, this month OREC applied under the third window of the Feed-In Tariff program for a handful of new projects, which will be awarded in Spring of 2014.
---
Welcome New Directors
OREC is pleased to welcome Kim Scott, Stewart Fast, and Stephen Michell as new directors. The members of OREC elected them at the AGM last Wednesday. Kim is a public health professional, performance measurement specialist, and lifelong supporter of solar energy. Stewart brings social science research expertise on public interaction with renewable energy combined with an environmental marketing background to OREC. Stephen is active in information technology standards, problem solving, and building consensus. All three will contribute to OREC's capacity to better serve its members and grow in 2014. Welcome!
The Directors for 2013/2014 are: Dick Bakker, David Cork, Stewart Fast, Johan Hamels, Joan Haysom, Laura Leet, Stephen Michell, Roger Peters, Kim Scott, Keith Shackleton, and Nancy Wasserman. Bios for all directors can be found
here
.
Big Thanks to Outgoing Directors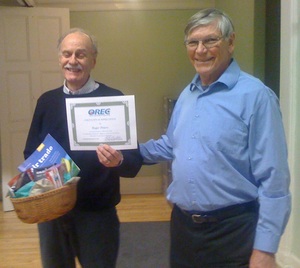 A warmhearted thanks is extended to all the directors for their incredible commitment over the past year, but particularly this year we recognize Roger Peters for his contributions over the past 4 years to OREC and the whole community power movement in Ontario. Roger's vision, diligence, and dedication to excellence have made OREC the success it is today. Roger is stepping down from his position as President but has thankfully agreed to remain on the Board for one more year!
OREC also thanks Don Ball for his contributions as a director and wishes him luck in his next volunteer pursuits animating engineering to a public school audience.
---