Read on for more information on local projects, the provincial scene, and the greenhouse gas roundtable the City of Ottawa is holding on March 23. And please share your feedback so we can continue improving our communications and outreach. We really want to hear from you. (Especially if you're a graphic designer with a big heart and some spare time.)
---
Potential New Projects Under FIT 2.1
The second round of Feed-in Tariff (FIT) applications has now closed, and OREC has submitted applications for 4 solar rooftop projects with 51% community ownership:
a 75 kW project on a horse barn;

an 80 kWproject on a LEED-certified office building; and

2 projects on telecommunications buildings, which would generate 54kW and 97kW, respectively.
The FIT 2.1 program has been overwhelmingly popular, and received over 800 MW's worth of applications when only 200 MW's worth will be accepted. (As you can see from this table showing the total of small FIT applications in Ontario.) The good news is that community-owned projects are being given priority in this competition, so the odds are in our favour.

We expect to hear back on the status of our applications in May or June.
---
Our Efforts to Shape the Future of Renewable Energ
y in Ontario
OREC is a Steering Committee member of the Federation of Community Power Cooperatives (FCPC), which represents 5,000 members of community power co-operatives in Ontario and over $100 million in projects across the province.
The FCPC sent a letter to all MPPs and Ontario Liberal Leadership Candidates asking for continued support for the Green Energy Act and community power in particular.
We sent another letter to all MPPs asking that the procurement targets for the Small FIT be lifted in recognition of the incredible number of applications submitted to the Small FIT window, which demonstrates a lot more capacity to produce green power in Ontario than anticipated by the Ontario Power Authority.
---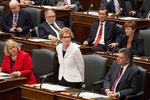 New Premier Supports Community-Owned Renewable Energ
y
Shortly before her election as Ontario's new Premier, Kathleen Wynne recently expressed her support for community-owned renewable energy, and we were glad to hear it:
"we really need to have more community buy-in [...] We need a better process to create that buy-in, whether it's co-ops, or whether it's better consultation, so, I'm willing to look at how we can get that community buy-in, so that we've got willing hosts for that green energy, and also so that we can have communities participating in the production of renewables."
The full interview is available on the NewsTalk 1010 archives, but the excerpt we're referring to is available here. We think this support from the Premier is invaluable to the growth of the renewable energy sector in Ontario.
---
City Invites Participation in Developing New Emissions Reduction Strategy
The City of Ottawa is hosting its first Greenhouse Gas (GHG) Roundtable to consult residents on
the development of the next phase of the
Air Quality and Climate Change Management Plan (which expired in 2012)
, with a focus on community greenhouse reduction targets.
The meeting is open to the public, and we plan to participate.
9:00 a.m. - 2:00 p.m.
Saturday, March 23rd, 2013


Jean Pigott Place,

City Hall, 110 Laurier Avenue West
If you're interested in attending, RSVP to
Enviromarch23@ottawa.ca by Wednesday, March 20th.
More details on this Facebook event page. Please feel free to pass the word along to others who may be interested.
Perhaps we'll see you there!
---
Calling All Graphic Designers!
OREC is looking for a fresh new look, starting with a new logo.

If you're interested in helping us out, please contact Celeste Côté, our Communications and Marketing Associate, at comms@ottawarenewableenergycoop.ca.