Summer is finally here, and with that comes lots of activity here at OREC.
We are starting our
membership drive
, with incentives for
new members
and prizes for members who refer new members. On July 6th we celebrated the
International Day of Co-operatives
, with fun games and great food.
We are proud to tell you that our
new website is up and running!
Please go check it out and send it to those who might be interested.
www.OttawaRenewableEnergyCoop.ca
Check out our first blog post on our new website by valued OREC member, Mitchell Beer, on
Unburnable Carbon.
Finally, this Fall the EnviroCentre is looking for homeowners who have done green renovations on their homes to participate in their
green homes tour
.
With the sun shining, we wish you all an enjoyable summer and look forward to seeing you!
---
Refer new members for your chance to win!

In July and August we are running a summer membership drive with some fantastic partners!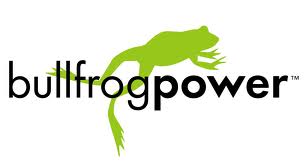 Any new member will receive a $25 coupon to Bullfrog Power and Bullfrog Gas
.
Bullfrog Power
, Canada's leading green energy provider, makes it
easy for homes to choose 100% renewable energy. By choosing Bullfrog Power's green energy, you can reduce your environmental impact, support the development of new renewable energy generation in Canada and help to create a cleaner world for tod
ay and tomorrow.
Once you become a member, you are eligible to win another great prize.
The member who refers the most new members will win a year membership for VRTUCAR's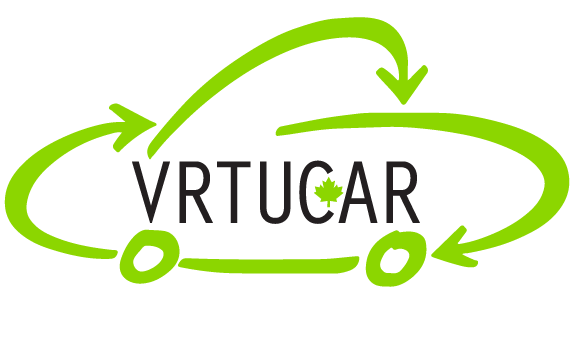 Green Driver Regular Plan (Value of $620).
As a member of
VRTUCAR
car sharing, you'll get convenient access to a fleet of fuel-efficient vehicles in your neighbourhood and across the c
ity. Once you become a
member you can reserve cars 24/7 and pick them up at convenient locations around the city. Carsharing helps to reduce harmful em
issions into the environment by over 50% per member.
Become a member today by
signing up online
and receive your Bullfrog coupons. Once you are a member, refer new members to be entered to win a year membership to VRTUCAR.
---
2nd Annual International Co-op Day Celebration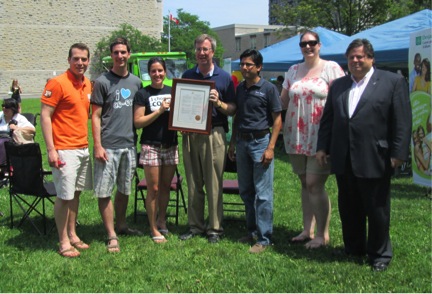 From Left to Right: Councillor Mathieu Fleury, Andre, Tanya Gracie of CCA, Mayor Jim Watson, MPP Yasir Naqvi, Céline Carriere of CHASEO, and MP Mauril Bélanger.
(Photo courtesy of Laura Leet)

We had a fabulous time at the 2nd Annual International Co-op Day Celebration this past Saturday.

The sun was shining as Mayor Jim Watson proclaimed July 6
th
to be "Co-op Day" in Ottawa. Ottawa-Centre MPP Yasir Naqvi and Ottawa-Vanier MP Mauril Bélanger — both proud OREC members — attended the festivities and each said a few words about cooperatives working together and supporting each other as a community.
At our booth, both kids and adults alike took time to assemble and race some miniature solar cars, graciously provided to us by
SUNLAB
, a solar cell research project housed at the University of Ottawa's Centre for Research in Photonics.
It was a great to put faces to names, meet more people who are active in Ottawa's co-operative scene and brainstorm more ways that co-operatives in Ottawa can work together.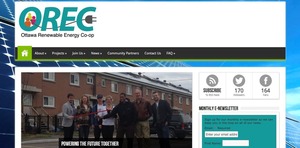 Our New Home Page - www.ottawarenewablenergycoop.ca
New OREC
Website
At long last,
our new website
is live! We hope you'll find it more user-friendly and informative. We now have the ability to blog, and can share photos and information about our projects more easily. (Make sure to check out the interactive map on the Projects page!)
If you have an idea for a blog post, have a question to add to the FAQ (Frequently Asked Questions) section, spot a typo, or have any other feedback on the website,
please be in touch
. It's a work in progress we're always looking to improve!
We're also always on the lookout for visuals to share, so if you are ever attending an OREC event and would be willing to take photos or video, or have graphic design skills you'd be willing to contribute,
please let us know
. We'd greatly appreciate it!
by Mitchell Beer
With oil companies sitting on huge energy reserves they can never use without triggering runaway climate change, discussion of "unburnable carbon" is adding new urgency to OREC members' interest in clean, local renewable energy development.
At a June 4 presentation for Climate Reality Canada, OREC member David Rhynas cited population growth, technology development, and public attitudes as three factors driving growth in the greenhouse gas (GHG) emissions that cause climate change. The evening featured a screening of Do The Math, a new film by 350.org that brings the climate crisis down to three numbers:
2° Celsius: The global target for limiting the increase in global temperatures due to climate change

565 gigatons: The carbon dioxide humans can afford to pump into the atmosphere through mid-century if we want a four in five chance of meeting the 2° target

2,795 gigatons: The carbon contained in the world's proven oil and gas reserves.
---
Green Homes Tour
This Fall the EnviroCentre is hosting their second Green Homes Tour. The tour is an interactive and exciting event showcasing green renovations to prospective buyers and homeowners. Last year, they visited four homes and participants were able to see firsthand the benefits and advantages of green renovations. Attendees also participated in Q&A sessions with green technicians and professionals.

This year, we are looking for volunteers to showcase their green renovations open-house style as a stop on our tour. If you are interested in participating, please contact Rabita Sharfuddin at rabita.sharfuddin@envirocentre.ca or call 613-656-0100 ext. 124 for more details
---
Catch Us at These Upcoming
Event: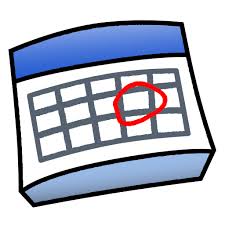 Saturday, July 20th – Sunday, July 21st, 9:00 a.m. - 5:00 p.m. at the Museum of Science & Technology -
E
nergy Days