As we kick off the month of June, all our projects are connected to the grid and we look forward to having the summer sun shine down on our panels to produce more renewable energy.
This month we have an
update for you on the
projects
we have invested in, and
exciting news from the province
in support of the FIT program.
This summer, we're looking to grow our membership and could use your help, so consider
getting involved with OREC
. In celebration of our partnership with Eileen Tallman Housing Co-op we're co-hosting a
Solar Carnival on June 15th
, where Minister Chiarelli and Member of Parliament Mauril Belanger will come say a few words.
Our Communications and Marketing Associate, Celeste Côté, has done an amazing job on our new website, which is set to launch soon. As part of our new website and marketing plan, we are looking to include more photos on our site, social media networks, and e-newsletters to help showcase what we do and the community we're part of. If you you'd prefer not to be in pictures that appear online, please let us know.
Click here
to sign up to become a member of the Ottawa Renewable Energy Coop.
---
Summary of Project Investments

As of mid-May, the remaining funds raised during last summer's share offering have been invested into solar projects. We increased our investment in the Dunrobin project to 29.5% (from 26.5%) and have already been compensated for that portion of the electricity produced since February.

All of the money raised in our Preference Share Offering last summer has been invested, the business plan stated that $50,000 would be used for project development and the remainder would be invested in projects.

Our project investments to date are:

Eileen Tallman Housing Co-op Solar Project - $70,000
Better Living Housing Co-op Solar Project - $70,000
Lafontaine Housing Co-op Solar Project - $45,000
Presland North Solar Project - $68,500
Presland South Solar Project - $80,000
Dunrobin Solar Project - $607,500 for a 29.5% share
---
Province Announces Commitment to Fit Program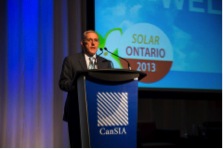 Minister Chiarelli addressed the attendees of the Solar Ontario conference in Niagara Falls on May 30th.
(Photo courtesy of CanSIA)
At the Solar Ontario conference in Niagara Falls on May 30th, Minister of Energy Bob Chiarelli announced that the province would be opening a new application window for Small FIT contracts for 70 MW this fall, followed by openings for 150 MW annually for the next 4 years. See the
details of his announcement here.
This message came after 77% of applicants to the 2012 Small FIT program, including OREC, were informed their applications had been screened out. For OREC, this means the timeline for some of our projects is delayed until the fall; however, we continue to pursue projects with existing contracts. Also, we can now start developing new projects for the application windows this fall and next year. As such, we are asking our members and supporters to help us connect with building owners who have large, sunny rooftops.
While we are disappointed that we were not awarded any projects in this round, we are pleased that the Government and the OPA are providing the industry with predictability and consistency going forward. The fact that there will be regular procurement windows enables us to take the time to develop strategic relationships and build our own projects. The program gyrations of the past three years have been very difficult for the entire industry, the next few years should be much more stable and predictable.
Please send us your rooftop suggestions to
info@OttawaRenewableEnergyCoop.ca.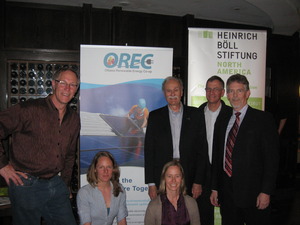 Board Members Dick Bakker, Roger Peters, Don Ball, David Cork, Joan Haysom and Operations Manager Janice Ashworth at our Solar Soirée on April 29th
(Photo courtesy of Kim Scott)
Getting Involved with OREC
With summer events around the corner and looking for new projects on the agenda, we are always looking for volunteers to get involved with OREC. If you are interested in volunteering at events and/or joining on of our volunteer teams please email
info@OttawaRenewableEnergyCoop.ca
to get involved.
We are also about to start our summer membership drive, and could use your help! If you have any friends, family, or colleagues in the Ottawa area who you think would be interested in becoming a member, you can pass along
this brochure
to help spread the word and help us get more renewable energy on the grid. Or you can direct them to fill out our
online membership form.
After last year's success, we'll be promoting our kitchen table parties again this summer. If you can gather 5-10 friends at your house, we will come and do a presentation for your group explaining OREC and what we do.
We now have over 170 members and are hoping to more than double this over the year. The greater our membership the more influence we will have with developers and the politicians. All the 70+ renewable energy co-ops in Ontario have similar growth plans. This growth will strengthen our investments. Anything you can do to help increase membership would be wonderful!
---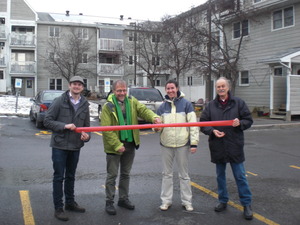 Ribbon Cutting at Eileen Tallman on Dec 14th
From left to right: Guillaume Bouchard (Visio), Johan Hamels (OREC - Treasurer), Cynthia Mitchell (Eileen Tallman), Roger Peters (OREC - President)
(Photo courtesy of: Johan Hamels)
Solar Carnival - June 15th
One of the housing co-ops we have had the pleasure to partner with is Eileen Tallman Housing Co-op in Bells Corners. In order to celebrate this partnership,
we would like to invite you to join us for the grand unveiling of this project on June 15th from 11:00am until 3:00pm.
Feel free to bring your whole family and any friends who might be interested to join in on the festivities.
Minister of Energy Bob Chiarelli and Member of Parliament Mauril Belanger will be arriving at 11 for opening speeches, after which there will be games and events for all ages. There will also be a BBQ, bake sale, refreshments, and raffles. All proceeds from this event will go to build a much-needed play structure at Eileen Tallman Co-op.
Eileen Tallman Co-op is located at 109-850 Seyton Dr. We encourage you to bike, bus, or car-pool to this event. We look forward to see you there.
---
Catch Us at These Upcoming Event: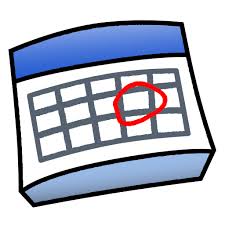 Saturday, June 15th, 11:00 a.m. - 3:00 p.m.
- Solar Carnival
Saturday, July 6th, 0:00 a.m. - 0:00 p.m. - Co-op BBQ
Know of any other events we should be at?
Drop us a line!