I can't believe it's almost been a year since I've last reached out to you. I hope you are well, living each day with passion and love.
It's been a very busy year with lots of wonderful encountered experiences to share with you. I have so much to say, which I will in due course but for right now, I'm excited to tell you my second ever solo exhibition opens in a couple of weeks at my second home - Albemarle Gallery!
I N T E R L U D E S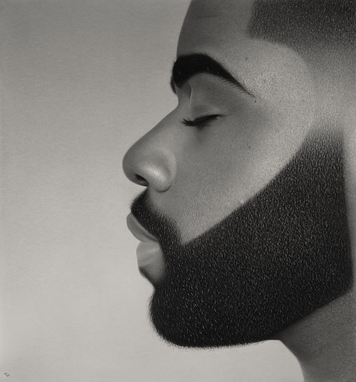 Interlude
Graphite, charcoal & black coloured pencil on Lambeth Drawing Cartridge 170gsm Paper
75 x 70 cm (29.5 x 27.5 in)
An Interlude is described as a short moment or an interval of events like musical performances or the acts of a play. In this new series of portrait drawings I explore the short breaks to moments of reflection and solitude, capturing the quiet essence of inner peace and stillness that radiates from the subjects.
Relationship with the sitters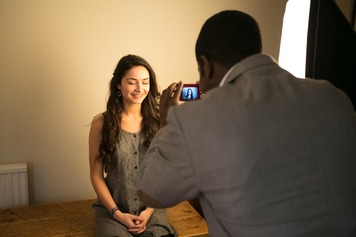 Courtesy of Anna Kunst

In order to capture the sitters' Interlude it was of utmost importance that they were in an environment they felt comfortable in. Whether taking photos or making sketches of the models at their favourite park or visiting their own personal space, I found that by being in a comfortable and familiar setting it was easier for the models to channel those feelings of calm, tranquility and stillness that were then translated on paper. The resulting gestures and expressions that one can see in this collection are my interpretation of their inner harmony as well as the beauty of their solitude.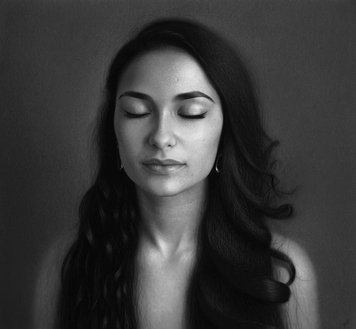 Maya's Interlude II
graphite, charcoal & black coloured pencil on Lambeth Drawing Cartridge 170gsm Paper
70 x 54 cm (27.5 x 21.5 in)

In the process of completing this series I felt a greater degree of inner peace and calm. I truly hope this feeling will be in harmony with you, reminding you to take a moment to breathe and align with your deeper self.

For inquires please contact the Albemarle Gallery:
Address: 49 Albemarle Street, London, W1S 4JR
Email: info@albemarlegallery.com
Signed Interludes Catalogue


I would like for you to be the first on having a signed copy of my new 44 page catalogue Interludes.
Just click the above image to order!
I can't thank you enough for your support and kind encouraging words. It brings me so much joy to share my passion for drawing with you.
All my love and best wishes!