Happy New Year All!!!
I can't believe it has been 3 years since I last had the pleasure of reaching out to you on here.
Life is truly a sublime journey! It has a rhythm which flows and changes as quick as a heartbeat.
The end of the 2016 (which was when I last reached out to you on here) became the beginning of a brand new chapter and experience of life for me. After my second solo show "Interludes" in September of 2016, a couple of months had past where I woke up one morning in December (the 21st to be exact) and had an overwhelming desire to travel up to the Lake District in North West England. That desire became a compelled action which led me to spending 70 days in complete silence basking in the presence of the beautiful Buttermere Lake in the Lake District. With no media devices or communication with people I became so much more aware of this eternal present moment and felt completely at one with nature. Cognitive thinking became subsidiary when observing the rhythm of breathing and the harmony of nature's flow.
As soon as I got back to London I immediately attended to my drawing desk and drew my very first landscape piece of the Buttermere Lake overlooking Fleetwith Pike at the Lake District.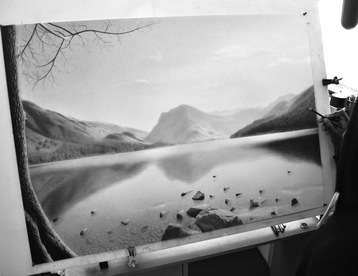 Fleetwith Pike from Buttermere Lake in the Lake District
Graphite and Charcoal on archival paper - 70 x 100cm
Later on in that year (2017), I spent most of it in silent contentment reflecting over with gratitude the journey I had embarked on as an artist - with great hopes of sharing more of my art with the world. And sharing more with the world I did! As the Houses of Parliament contacted me with regards to a commission of drawing one the first Black Members of Parliament, Bernie Grant. A drawing of which has now made a bit of history by being the first ever pencil portrait commissioned by UK Parliament and hung in their permanent collection. I will share more of this in separate newsletter as well as having the honour of being commissioned to draw British model, Naomi Campbell the year after.
For now, I am truly glad to be back here informing and enlightening you about my art journey. I thank you wholeheartedly for your continued support and I wish you the very best for 2019!
With love and gratitude,
Kelvin