From the very core of my heart, I want thank you all for following my journey over the past year as I built on my latest collection "Interludes". I understood that some of you may have been a little perplexed as to why I was drawing portraits of people with their eyes closed. My main intention for the closed eyed expression was to encourage one to turn inwards and discover their greater potential within. I believe that each and every being on this planet has something very special and unique about them - a "gift" or a "talent" they could use to share, heal and inspire the lives of others. Through practicing stillness and seeking moments of solitude away from the outer world - in my experiences, I found I was able to gather my own thoughts independently and form courage to actualise the passion I have within. The voluntary solitude also helped me acquire inner peace, clarity as well strength to continue to embark on my love for drawing despite the setbacks and discouragements I encountered along the way.
I wholeheartedly thank each and everyone of you who was able to view my Interlude collection in person over the past couple of months at the Albemarle Gallery. The love and support was unbelievable! Wishing you all much love, peace and many inspiring moments of stillness.
This young lady with me in the image above goes by the name of Charlotte Lidster. She is one of the many gifted art students I had the pleasure of seeing at the gallery during the exhibition. I was honoured and moved - not only by the incredible level of skill she possessed but by the fact that she is studying me for her GCSE at secondary school.
It's so surreal to know that young art students are studying me at schools. I still consider myself a young art student in this school of life.
It is my ultimate success and joy as an artist to know that I may be of some inspiration to others. It's incredibly heart-warming and encouraging.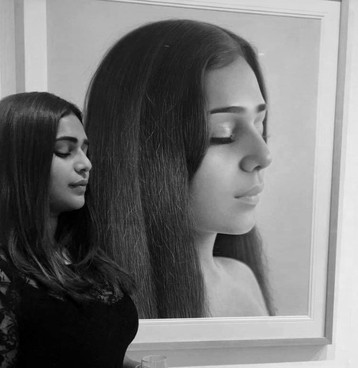 Jas with her Interlude Drawing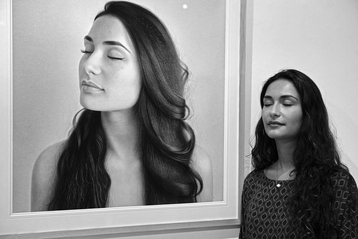 Maya with her Interlude Drawing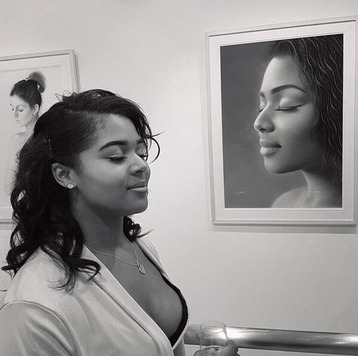 Kerry with her Interlude Drawing
A special thank you to my wonderful subject models! What good is the artist without his muse(s)?