Copernicus Center
5216 W Lawrence Ave
Chicago, IL 60630
Phone: 773-777-8898
Office Hours: M - F
9:30 am to 4:30 pm
Office Staff
Managing Director
Gregg Kobelinski
Event Coordinator
Patrizia Fusch
Marketing
Dominika Przybyl
Special Events
---
---
---
DONATIONS
Needed &
Appreciated
Please help the Copernicus Foundation in its continuing support of culture, community, and the performing arts.
FOUR ways to help:
1. Google Wallet on our
you must have or create
a Google account.)
2. Send a check:
Copernicus Foundation:
5216 W Lawrence Ave,
Chicago, IL 60630
3. Choose "Support the
Copernicus Foundation"
when purchasing tickets
to an event. (Vendini
Ticketing)
4. Become a MEMBER of
the foundation.
See member information
below.

MEMBERSHIP
Membership has benefits!
Each level of membership offers more to you; while you support the work of the Copernicus Foundation at the same time.
Membership Levels explained at the link below:
---
---
---


Pierogi Eating Contest

Hurry and register for this fun event on May 4th at 3:00 pm.
~Must be 18 years or older ~Limited to the first 15
contestants to complete ~Entry Form Prize awarded
to 1st place finisher
---
---
---
COPERNICUS PICTURE PAGE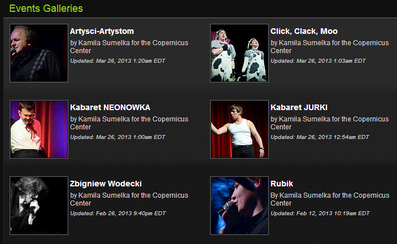 See pictures from our concerts and events
---
---
---
Please Check-in at the Copernicus "CENTER"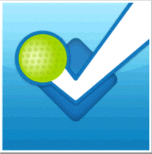 We''ve claimed our numerous foursquare accounts created by different patrons, all with different labels. Please check-in at the Copernicus "CENTER" - - -
not "foundation," "theater," "cultural center," or "gateway."
Thanks! We''ll see who becomes our new Mayor.
---
---
---
VIP TICKETING
Tickets purchased through the Copernicus Center website or
Facebook Page (link)
guarantee faster entry into the theater.
Just bring your printed ticket to the specifically marked VIP Line and your tickets will be quickly scanned at the door.
Click on "Get Tickets" button to purchase tickets to upcoming events.

Spring has FINALLY arrived. We hope you join us in celebrating by attending Chicago's first springtime festival, MAJOWKA. Much like the Taste of Polonia, this festival holds something fun for all members of the family. There will be great food, performances, kid's programs, and cultural presentations. Hope to see you there!
-The Copernicus Center Staff
---
Mayfest - May 4 & 5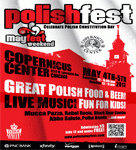 Enjoy Polish food favorites like pierogi, potato pancakes and kielbasa; an array of imported beer; loads of special activities for kids and nonstop music on both indoor and outdoor stages!
Admission: $5
12 years & under are FREE
Mayfest - Saturday, May 4
Noon-1:00 The Music Company

5:30-6:00 Nu Bambu (Latin)

8:30-9:30 Nu Bambu (Latin)
8:30 PERFECT (Additional Fee)
1:00-2:00 Mary Macaroni

~music, balloon sculpting

2:00-4:00 You Can Be My Angel

~clowns, balloon fun, face painting

4:00-4:30 Bubbles Academy (live music, games)

4:30-6:00 ABC Dance Academy

~hip-hop & ballroom dancing
Mayfest - Sunday, May 5

Outdoor Stage
Noon-1:00 Ted Tomczak's Take Five

1:30-3:00 Media Sound Band

3:30-5:00 Black Bear Combo

5:30-7:00 Przystanek Polkie Granie

7:30-9:00 Rebel Roots with Gorale
2:30-3:30 Wawel & Paderewski Choir

4:30-5:30 PaSO Music Academy

6:30-7:30 Polonia Ensemble
1:00-2:00 Miss Geri's School of Dance

2:00-3:00 Blake Alexander (magic show)

3:00-3:30 King Krakus Awards

~young artists exhibition

3:30-4:30 King Krakus & Dragon

~Little Stars children's theater

4:30-5:30 You Can Be My Angel

~clowns, balloon fun, face painting

5:30-6:30 Dance Fever Academy

- Przepeioreczka ~ballroom-folk


Subject to change - Please check online schedule for updates.
SCHEDULE LINK
---
---
---
Even MORE Perfect!
Additional Concert Date, May 3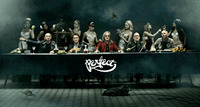 With the May 4th concert virtually sold out, we are happy to announce a second concert date for the famous Polish band, PERFECT.
Tickets are now available for Friday, May 3, 2012.
This is the last chance for those who have not yet bought
Tickets
to hear the greatest hits of these Polish rock icons. This is their last tour in the United States.
---
---
---
Even More Good News!
Beloved Tributosourus books a show for May
May 24, Fri 8pm: Tributosaurus becomes The Beatles, Vol. 6 White Album
Tickets are ONLY available online (box office sales available the night of the concert). The seating is assigned, so you'll want to get yours ordered as soon as you can to reserve the section you want.
---
---
---
Rentals at Copernicus Center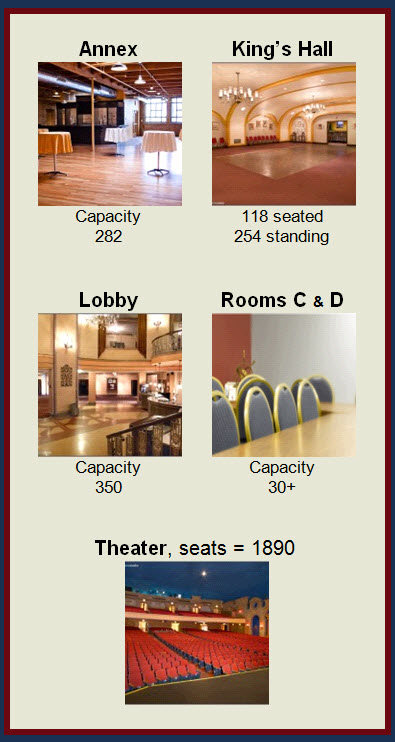 Check our CALENDAR for available dates
HERE, or
call Patrizia at:
773-777-8898 ext 102
---
---
---
Virtual Copernicus . . . Wow!
Take a Tour
Wojciech Kalembasa, a video expert and gracious Copernicus supporter, has blessed us with his talent.
You may now take a virtual tour of the Copernicus Center from Google maps. This interactive technology is impressive and made possible through Mr. Kalembasa's company,
Lights Camera Pixels, LLC
. Their website is
HERE
.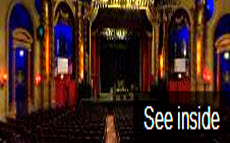 When you Google search words -
Copernicus Center Chicago -
a
SEE INSIDE box
appears in the column on the right. Click on the box, and you will enter the virtual theater. Move around using the white arrows or by clicking on the picture in the direction you would like to move. This tour includes the entrance, full lobby, upper lobby, theater, and annex.
FANTASTIC! Thank you Wojciech & Lights Camera Pixels.
---
---
---
Upcoming Events
Check the online
Event Page
&
Calendar
for open booking dates, CHANGES, and confirmed events.
Click on Event Title below for more information.
T = Buy now at Copernicus ticketing
May 3, Friday, 7pm: Newberry Consort Pre-Concert Lecture (Annex)
May 27, Mon. 6-10pm: FOKANA Fundraising Event (Theater Show)
June 2, Sun. 5:30-9:30pm: Musical Concert
June 8, Sat. 8-10:30pm: Kabareton
June 16, Sun 8-10:30pm: Sorry, I''m Greek! Comedy Lakis Lazopoulos
July 13, Sat 7-10pm: Annual Indian Festival
July 20, Sat. 7-8pm: Santa Rosa Documentary (Reception follows)

T = Confirmed Ticket Sales via Copernicus online ticketing.