Highlights of Our Year
As we look forward to exciting new campaigns and collaborations in 2016, we also look back with gratitude and joy at all that we have accomplished with your help in 2015.

In addition to greatly expanding our global grants program, we also launched a companion website, Humane Facts, formed amazing new partnerships, and gave presentations on the animal agriculture-hunger connections.

Below we highlight a few standout projects that you helped make possible in 2015.
Stay tuned for details about next year's plans in our January e-newsletter.

---
A Well-Fed World Global Food Sustainability Conference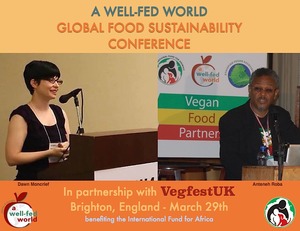 In March, with organizers VegfestUK in Brighton, England, we were thrilled to convene the first ever A Well-Fed World Global Food Sustainability Conference.

This new conference focused on food sustainability at the local and global levels, with particular attention to the destructive consequences of animal agriculture.

AWFW Founding Director Dawn Moncrief discussed the negative impacts of animal-based food production and consumption on global hunger and climate change.

International Fund for Africa President and Co-Founder Anteneh Roba focused on veganism and animal concerns in Africa. A fundraiser was hosted on behalf of IFA's Ethiopian vegan school lunch program (more details below).
---
Ethiopian Vegan School Lunch Partnership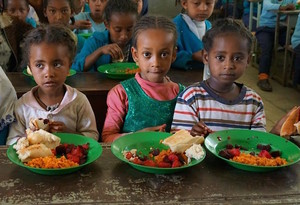 This year saw us forging and strengthening major partnerships, including our work with the International Fund for Africa.

With your support, we helped raise nearly $100,000 (which was then doubled by a matching grant) for their vegan school lunch program, which provides nourishing meals to impoverished students.

Amazingly, with the matching grant:
$10 = 10 weeks of vegan school meals!

The program also plants school vegetable gardens, builds campus bakeries, implements health and wellness services, and more.

The matching grant continues into 2016, so please help by sharing and/or donating as you are able. Increased funding allows more students to participate.

---
Veganic Farmers & Food Justice Partnership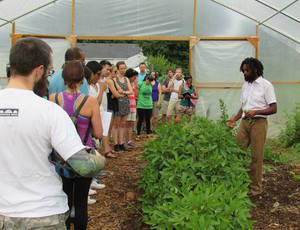 Another important partnership for us involved joining forces with Atlanta-based Grow Where You Are and MaituFoods.

This team of veganic farmers and food justice activists specializes in teaching how to grow backyard and community gardens that drastically increase access to fresh produce in urban food deserts.

They also work in the areas of food sovereignty, ecological restoration, community health, and vegan advocacy.

Through our partnership, we are expanding use of veganic growing techniques (methods that are both organic and free of animal-based fertilizers and inputs).

Veganic agriculture is especially important as it both counters the misconception that animals are needed for farming and reduces the financial benefits of using animals.

Stay tuned for news on the development of Atlanta's first-ever veganic CSA.

---
Humane Facts Website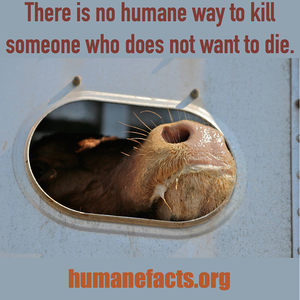 In July, we re-launched our Humane Facts campaign as a comprehensive, stand-alone website geared at non-vegan food consumers who care about animals and want to make more compassionate choices.

Humane Facts is a user-friendly place to direct people interested in learning more about humane food labels and loopholes.

This powerful resource details which animal protections are included under specific food labels, and (more importantly) highlights which cruelties are still permitted.

The site combines easy-to-read facts, photos, video footage, and summaries with links to detailed research.

The harm of dairy and eggs is also extensively highlighted. Our Better Choices page closes by providing tips, recipes, and free vegan guides.

---
Climate & Food Security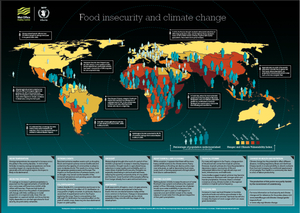 Animal agriculture undermines global food security because of its highly inefficient and inequitable use of global resources, and because it releases immense amounts of climate-disrupting greenhouse gases.

Climate change is a hunger risk multiplier that disproportionately impacts low-income countries and exacerbates existing food and resource inequities (see interactive map).

Published in conjunction with the UN Conference on Climate Change (COP21), our new Climate Change & Food Insecurity page explores the dangerous consequences of leaving animal agriculture out of discussions and policies geared at curtailing climate change.

Our new blog highlights successful plant-based feeding and farming projects that we support at home and abroad, and explores why, now more than ever, efforts to reduce global hunger should focus on sustainable plant-based approaches wherever possible.

We are also proud to have sponsored our partners at Brighter Green to participate at COP21. Read their impressive and informative COP21 write-up.
---
Plants-4-Hunger Birthday Fundraiser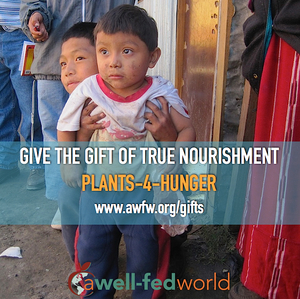 Finally, December marks A Well-Fed World Founding Director Dawn Moncrief's birthday, and to celebrate, we're holding a birthday fundraiser for our Plants-4-Hunger program.

For ALL of December, your donations to Plants-4-Hunger will be doubled.

Plants-4-Hunger provides a compassionate, year-round gift-giving alternative to hunger relief programs that use animal products or send live animals as "gifts" for food.

We send 100% of donations (200% for December) to four hand-picked programs that feed people without using animals.

This year's projects support vegan school lunch programs in Ethiopia and Guatemala, delivery of warm meals to people in dire need in India, and community food gardens in the United States.

These programs provide both immediate assistance and long-term community solutions to improve food security and nutrition. Click here to donate or learn more.

---

~thank you for caring and happy new year~