Stanford Libraries has joined the OpenGeoportal project in order to provide an open-source federated web application to rapidly discover, preview, and retrieve data from multiple repositories. Preparing geospatial data for web-scale discovery requires a metadata architecture that capitalizes on existing GIS knowledge domains to allow for data discovery and analysis in a variety of ways. Stanford Libraries has begun to implement a series of international metadata standards which allow for flexible management of geospatial information.
Will a journal article always be a journal article?
The March 28 issue of the journal Nature looks into the future of scientific publishing. But it's not all about open access and whether or not online, author-pay publishing can cut journal costs. Real-time filtering algorithms could change the concepts of journals and articles. Predatory open-access journal operators are scamming researchers and publishing poor-quality research articles that may not have been sufficiently peer reviewed. And libraries -- including Stanford's -- are reinventing themselves to help researchers with a new kind of publication, the data set.
The Anthropocene and the Stanford Digital Repository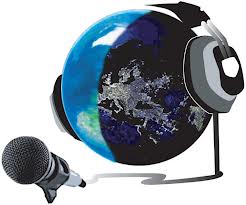 An.thro.po.cene: /ˈanTHrəpəˌsēn/ noun The current geologic age, viewed as the period during which human activity has been the dominant influence on climate and the environment. -- Oxford Dictionaries
Great things are going on at the Stanford Digital Repository (SDR), and when great things are going on, word is sure to get around. Earth Sciences PhD student Mike Osborne is the creator and co-producer of Stanford's "Generation Anthropocene" podcast. Mike learned about the SDR's digital preservation services from our colleagues over at HighWire Press and is now working with us to preserve audio and transcripts of the more than 50 episodes that have been produced thus far.

Preservation of the podcast episodes is still a work in progress, but the very first deposit -- featuring episode #55 "The (Mad) Science of Geoengineering" with Stanford climate scientist and Visiting Professor Ken Caldeira -- can be accessed at http://purl.stanford.edu/tt473rm7734.
Spring has Sprung: Branner Library's New Website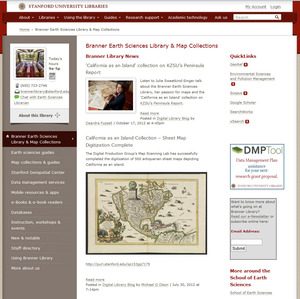 In April, we unveiled our new website for users. Check it out at this link: library.stanford.edu/branner

This dynamic new website features specialized library materials for the School of Earth Sciences faculty, students and staff. The site includes course information and reserves, easy access to top databases, and information about our many workshops. Our links to notable collections, ongoing news and our social media are easy to access as well. Finally, the site also gives prominence to the many diverse services we offer at Branner including:
We hope you like the new design! Please let us know if you have any questions or comments – you can let us know by emailing us at brannerlibrary@stanford.edu
Upcoming workshops & events
GPS & Mobile Data Collection
May 3, 2013, 1:30-4:30 pm
Come learn about the different options for collecting GPS data available on campus. This workshop will involve hands-on data collection with a variety of devices. No previous GPS or GIS experience required. Registration: gpstanford.eventbrite.com Note: This workshop is full at the moment, but you can add yourself to the waitlist in case a seat comes available.

GIS for Decision Making
May 8, 2013, 1:30-4:30 pm
This hands-on workshop emphasizes how geospatial technology is used in decision making with real-world scenarios. The workshop will provide an introduction togeospatial analysis tools developed by two world-class research institutions: InVEST, created by the Natural Capital Project, part of Stanford's Wood Institute and CityNature, developed by the Bill Lane Center for the American West.
Registration: gisdecision.eventbrite.com

Introduction to Python for ArcGIS
May 10, 2013, 1:30-4:30 pm
This hands-on workshop is intended for students, faculty and staff who are familiar with GIS and geoprocessing tools and want to learn how to automate tasks and create their own scripts in the ArcGIS environment. Open to all departments. No previous programming experience is necessary, although basic knowledge of ArcGIS and geoprocessing tools is highly desirable. Registration: pythongis.eventbrite.com

Mendeley Workshop for Geoscientists
May 1, 2013, 12:00-1:00 pm
Branner Library Teaching Corner
2nd floor of the Mitchell Building
Mendeley Workshop for Geoscientists
May 8, 2013, 12:00-1:00 pm
Braun Hall (Geocorner), Room 227
Energy Information Workshop
Branner Library Teaching Corner
2nd floor of the Mitchell Building

Branner Coffee Break
June 3-7, 2013, 9 am-12 pm
Dead Week, Exams, Quals on your mind? We have free coffee and snacks for you. Weekdays in the Branner Library Lobby.

Ongoing Geospatial Training Workshops
occur throughout the quarter including Introduction & Advanced ArcGIS, and Basics of Google Earth. For more information visit: http://bit.ly/geotraining
---
News briefs
Chat Online with a librarian
Did you know that you can chat with a librarian for research assistance? Visit our library website for a list of librarians to contact for help.

DMP Tool
In 2011, the NSF started requiring grant proposals include a two-page a Data Management Plan (DMP). Now the library has a DMP Tool in place with localized and contextual Stanford-based help to get researchers up and running with a DMP.
Stanford Data Publication
Do you have an upcoming publication? Do you have additional data associated with that publication? Would you like to make that data available online at its very own persistent URL (PURL)? Our data services group and the Stanford Digital Repository may be able to help! Contact Science Data Librarian Amy Hodge. Pilot projects are currently underway!