School's out for the summer, and things are just heating up for Safe Routes to School in the news. Here's a recap of the past week's headlines and a reminder to register for two upcoming conferences.

Americans Expect Schools to Lead in Preventing Obesity


Ninety percent of Americans believe their local K-12 school plays the biggest role of any sector in fighting obesity, according to the results of a Field Research poll released last week.

Most Americans agree that obesity is not just a personal issue, but that schools and community organizations have an important role to play.

The study also found broad-based support for policies aimed at building more sidewalks, bicycle lanes, paths, and trails to make it easier and safer for kids to walk and bicycle to school, as well as increasing physical activity opportunities during school, encouraging schools to serve healthier meals, and providing access to clean drinking water. Read the full results of the study here.
Spring Success with Fire Up Your Feet!
Following an exciting launch on February 28 with our Let's Move! Active Schools partners, families and schools across the country challenged themselves to walk, bike, and get physical activity in daily life with the Fire Up Your Feet activity challenge. Together, families and schools logged a collective 292,400 minutes of activity and more than 7,000 miles. WAY TO GO!
Check out the winning schools and learn more about Fire Up Your Feet here.
Fire Up Your Feet returns to schools this fall from October 1-31, 2013. New schools and participants can register at any time at fireupyourfeet.org.
Register now for the Safe Routes to School National Conference, August 12-15 in Sacramento and the 2013 Walking Summit, October 1-3 in Washington, DC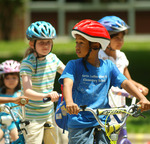 Early bird registration for the Safe Routes to School National Conference ends July 14. Don't miss out on workshop sessions, mobile tours, inspiring presentations and networking opportunities to help you start or expand your Safe Routes to School program.
Register today!
When you register for the conference, you can also register for the National Partnership's free Annual Meeting on August 12.

Now is also the time to register to attend the 2013 Walking Summit, October 1–3 in Washington, DC!
Join national and local leaders to engage in inspiring conversations and sessions that will build capacity, develop strategies and showcase best practices to increase investments in walking and walkability.
Register now!