Hello!
We know it's been a long time between emails - years, in fact! Fr Mike Fones was
made Student Master for the
Dominican Province and Sherry's been keeping uber-busy with all the travel, teaching, and writing a book: Forming Intentional Disciples.
We have lots of information to pass along so please, read on!
---
Making Disciples Seminar

The next Making Disciples Seminar will take place in Colorado Springs, June 23-27.
Making Disciples is a four-day workshop that trains parish leaders to foster an awakening of personal faith in Christ and intentional discipleship.
Would you like to see:
Your parish filled with enthusiastic worshippers?
Lapsed Catholics returning to the practice of faith?
Growth in stewardship and giving?
Parents actively passing on the faith to their children?
Faith formation classes filled with eager participants?
New ministry leaders?
More priestly and religious vocations?
A vibrant, life-changing RCIA process?
The evangelizing awareness and skills learned in Making Disciples are being used by diocesan and parish leaders as part of Catholics Come Home outreaches, in RCIA, evangelization, young adult and campus ministry, gifts and vocational discernment, and in
nearly any kind of ministry situation imaginable.
These skills are also being used by Catholics with family, friends, and co-workers in secular settings.
Details
Time: Sun, June 23, 6:00 PM to Thurs, June 27, 12:00 Noon.
Cost: All-inclusive, $850; Commuter Rate: $550
Registration Deadline: May 17
To register: contact Austin Eli,
austin@siena.org
Link for more information
Download the brochure
---
Forming Intentional Disciples is making waves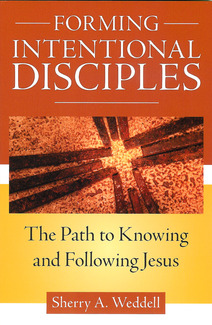 Sherry's new book, Forming Intentional Disciples - The Path to Knowing and Following Jesus, was published in July 2012 by Our Sunday Visitor. From humble beginnings, the book has made a dramatic impact on the Catholic world. The book is providing insight, enthusiasm and hope for almost everyone who reads it. It has received very enthusiastic responses from bishops, pastors, diocesan and parish staff, and individual members of the laity.
The book has been written about on many Catholic blogs. Brandon Vogt listed it at #7 in his
15 favorite books of 2012
. On the
Catholic World Report website
Mark Brumley included it on his 2012 top books list. Also this month, two bishops have discussed the book on their blogs:
Bishop Paul Etienne of Wyoming:
Vocation: What's Yours?
Bishop Blase Cupich of Spokane, WA:
"God has no grandchildren"
In the Diocese of Lansing, a one-day workshop on Forming Intentional Disciples for a parish has become a diocesan level event with the bishop offering free attendance to every priest, deacon, and lay leader in his diocese.
The workload generated by the book's continued success is both exciting and overwhelming. Sherry will be on the road for the next 10 weekends in a row and in Australia and Singapore for the whole month of May. The whole year is booked solid.
The timing of the book's publication in conjunction with the Year of Faith has certainly been a factor in the high level of interest. But the fact that so many people have responded with such excitement and enthusiasm shows that the Holy Spirit is at work.
Click here to purchase a copy of Forming Intentional Disciples
---
Living the Catholic Faith Conference
Sherry Weddell is one of four keynote speakers at the upcoming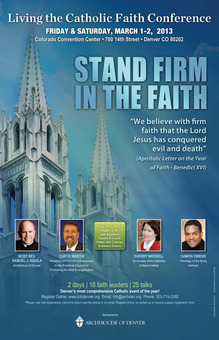 Living the Catholic Faith
Conference in Denver, March 1 & 2.
The keynote address on Saturday, 9:30 a.m.
 will be:
"God has no grandchildren: Evangelizing post-modern Catholics
". In addition, Sherry will present a workshop, Friday, 11:00 am: "
Setting the Whole World on Fire!
"
Click here for the whole conference schedule
---
Check us out on Facebook!
Catherine of Siena Institute has a Facebook page! Become a fan today – and tell your friends!

Support the Institute
The Catherine of Siena Institute is a religious non-profit organization with 501(c)(3)status. We are entirely self-supporting; we don't receive any financial support from any diocese or from the Western Dominican Province. Your donations and in-kind gifts are essential to our ongoing operations.
Please consider participating in planned giving with the Catherine of Siena Institute. As you write your plan for the future, please consider helping us expand our efforts in the formation of intentional lay disciples. Call (888) 878-6789 for more information.