---
---
SPRING EXHIBITIONS
---
Guilford Art Center
The Artists of Gallery One and Friends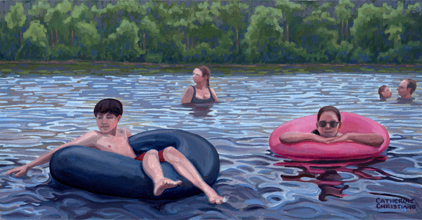 "Gallery One" is a cooperative group of mid-career artists working in a variety of media and styles from representational to abstract in photography, painting, printmaking, sculpture, and ceramics. For this current exhibition at the Guilford Art Center they are joined by a number of additional Connecticut shoreline artists. This is a beautiful and interesting exhibition. I have included a selection of stone lithographs and two additional media variations of the Uncas Pond image painted over stone lithographs.(See "A Note from the Artist" below.)

Opening Reception: This Sunday, Mother's Day, May 11, 2 - 4 pm, refreshments
Exhibition Dates: May 11 - 25
Artists' Talks: Sunday, May 18, 2 - 4 pm, light refreshments
Catherine Christiano will be staffing the gallery Fri, May 16 and Thurs, May 22 10 am - 1 pm, if you wish to stop by.
Guilford Art Center Gallery, 411 Church Street, Guilford, CT 06437
Hours: Mon - Sat 10 am - 4 pm, Sun noon - 4 pm
---
Community Cooperative Nursery School Art Show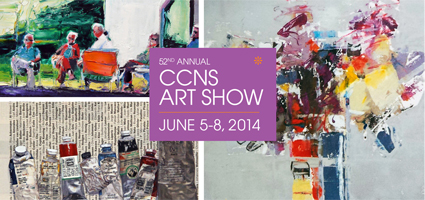 Featured Artists:
Catherine Christiano
Judy Friday
Helen Cantrell
Don't let the name fool you, this show, which includes over 80 artists, packs a serious amount of art into one long weekend. I've been working since September on preparing the work for this show, 75 pieces in total. My works include a range of sizes and price points, from postcard size landscapes to my most recent oils on newspaper and large oil figure pieces. Because this is a fundraising exhibition for the school, 40% of any purchase is tax deductible as a charitable contribution. If you cannot attend the exhibition, works may be viewed and purchased through their website.
http://www.ccnsartshow.org/
Exhibition Dates: Thurs, June 5 - Sun, June 8
Opening Night: Thurs, June 5, 7 pm - 10 pm, $40, valet parking
Fri, June 6, 6 pm - 10 pm, $15
Sat, June 7, 2 pm - 8 pm, $15
Sun, June 8, 12 pm - 4 pm, $15
Community Cooperative Nursery School, 4 Trolley Place, Rowayton, CT 06853
---
Lyme Academy College of Fine Arts
ArtsBall in Bloom, a benefit for scholarships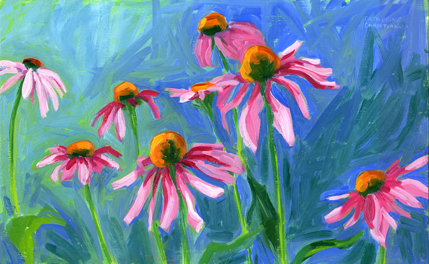 "Arts Ball in Bloom:a Night in the Garden of Art" is an important fundraising event for the Lyme Academy College of Fine Arts. This lively evening includes cocktails, dinner, dancing, and a silent auction of art and vintage collectibles. This year's silent auction includes my oil study "Cone Flowers". All net proceeds benefit student scholarships.
Saturday, June 7, 5:30 - 11:00 pm
Lyme Academy College of Fine Arts, 84 Lyme Street, Old Lyme, CT 06371
---
Art Essex Gallery
Ongoing at Art Essex Gallery is a display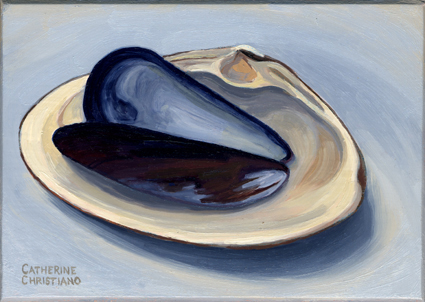 of some of my postcard sized paintings, including some shell still lifes and a sampling from the popular Old Lyme beach cottage series. Also on exhibit are a few still lifes on newspaper.
Art Essex Gallery, 10 Main Street, Essex, CT 06426
Hours: Wed - Sun 10 am - 6 pm
---
A Note from the Artist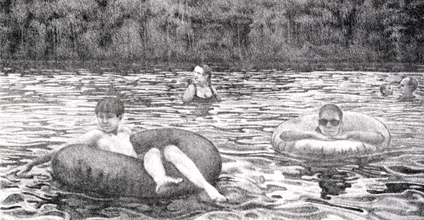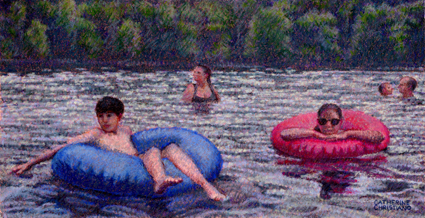 Two shows that I am participating in this month include my Uncas Pond paintings. I have been working with this image since 2011 and, only just this month, completed the large, 3 by 6 foot canvas. The painting is shown below on the easel in my studio; it will be included in the CCNS Art Show in Rowayton, CT in early June.
I thought it would be interesting to show you some of the smaller Uncas Pond works created in advance of the large scale painting. It was several years ago that I had the idea for this image of kids swimming with inner tubes and began to gather photographic reference material. This image was particularly difficult to develop because the photos that I decided to use as a basis were pretty rudimentary. The first Uncas Pond piece created was a stone lithograph (above left), 5 3/4 by 11 inches. At this small scale I was able to work out the composition and delicate silvery tonal qualities of the water. I then took several of these lithographs and experimented with color by layering pastels over the black ink (above right). Finally, I applied oils over varnished lithographs, varying the color in each painting (see image with the Gallery One announcement above). What is nice about exploring possibilities with different media at this small scale, is that various aspects of the painting can be resolved without a large investment in time and materials and hopefully, the transition to the large scale canvas is facilitated.
Three of the small scale Uncas Pond works, a stone lithograph, oil, and pastel, are on view in the Artists of Gallery One and Friends exhibition at the Guilford Art Center in Connecticut through May 25. The CCNS Art Show will include an oil over stone lithograph painting, unframed stone lithographs, and the large canvas, June 5 - 8.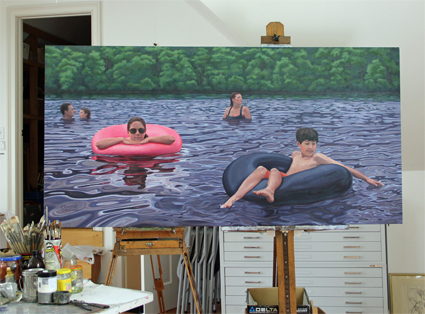 ---
Image Information from the top:
The Narcissist is You #5 (detail in banner image), oil and metal leaf on panel, original work is 18 5/8" x 19 1/2", 2008. Photo credit Rick Scanlan.
Uncas Pond #5, oil over stone lithograph on paper, 5 6/8" x 10 7/8", 2014.
Cone Flowers, oil on panel, 8 x 12 3/4", 1995..
Seashells #1, oil on panel, 4 1/4 x 6 ", 2005.
Uncas Pond, stone lithograph, 5 3/4 x 11", 2011.
Uncas Pond #2, pastel over stone lithograph, 5 1/2 x 10 7/8", 2012.
Uncas Pond, oil on canvas, 36 x 72", 2014.
All images are copyrighted by Catherine Christiano, all rights reserved.