THE GIFT OF A RESIDENCY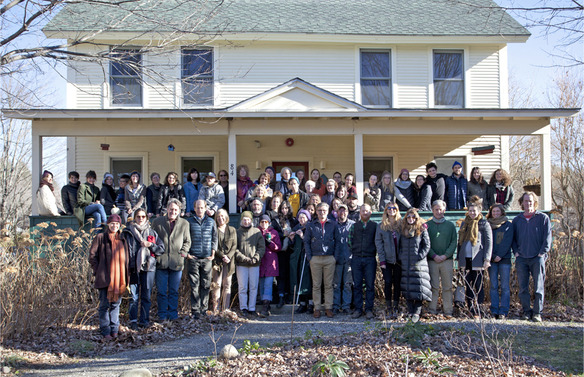 In late October I loaded up my minivan with studio equipment and supplies and drove 4 1/2 hours north to the small quintessential New England town of Johnson, Vermont, not far from the Canadian border to participate in a residency for visual artists and writers at the Vermont Studio Center. For years I longingly listened to artist friends describe their interesting experiences at different programs around the world, unable to pursue one myself due to personal responsibilities at home. Finally, with my children now more independent, I applied to the Vermont Studio Center for a month-long residency and just a few months later found myself leaving Old Lyme during the height of its fall foliage season to arrive in scenic Johnson with its trees already bare for the winter. During the long scenic drive I contemplated the time that lay before me.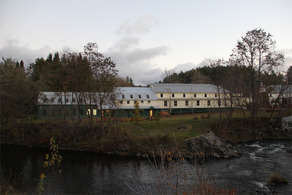 There were fifty of us arriving during the course of that first afternoon. We were given a campus tour and led to our rooms and studios. My studio building, the "Wolf Kahn Barn", I was told used to serve as the community gym. It is a long utilitarian affair with numerous studios located down long corridors on two floors. On the ground level was my space with large windows that faced the Gihon River, a bridge, and VSC's iconic red mill building beyond. It was spacious, white, and empty, with the exception of two long tables, a chair, a stool, and an easel. It is daunting enough to face a blank canvas and, even more so, I discovered, an empty studio. Thankful that I had done the preliminary work for some new paintings beforehand, I began settling in, pinning reference materials to the blank walls and arranging the tables and easel in anticipation of how the light might fall. During the first evening, at a reception followed by dinner we were introduced to the staff, the community protocols, and gradually began to meet each other.
Over the first few days I settled in and found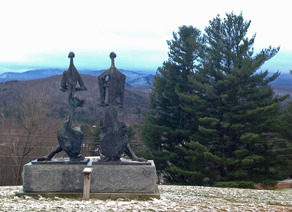 a routine that optimized my time in the studio. Having experienced the energy of art school, I was initially surprised but deeply appreciative of the tranquil atmosphere and learned to work using earbuds to listen to the music, podcasts, and audio books that help sustain my focus. There was a consistent group of us present early at breakfast each morning when the liveliest conversations seemed to take place about our artistic journeys and struggles, interesting opportunities, the art world, recent news events, or the previous evening's speaker. Late in the day, I often broke away from my work to join a yoga class or hike up the hill to Johnson State College to take in the gorgeous view of the mountains in the late afternoon light, returning in time for a dinner that I gratefully did not have to plan and prepare. Evenings that included lectures by visiting artists and writers, slide talks and readings by the residents, and open studios helped me to appreciate the talent, diversity of backgrounds, and artistic voices of the people around me and also generated a spirit of sharing within a supportive community. Being so accustomed to my own studio methods, training, and arts community in Connecticut, I found it interesting that I was the only one from my state and a bit curious that others were just as intrigued by me as I was with them.
On the last day, I loaded all of my materials back into my minivan, careful to arrange everything to accommodate my still-wet canvases, then added my name to the signatures on the door frame of the studio, now once again very white and empty, and said my goodbyes. As I drove back south, I reflected that the residency, as I had anticipated, provided the gift of a large block of uninterrupted studio time and the opportunity to connect with visual artists and writers, and also, unexpectedly allowed me to step outside of my "skin" to gain a perspective of my work within a broader context.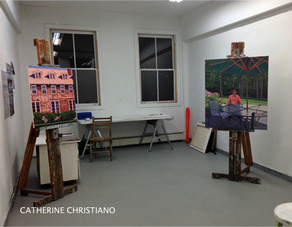 Click on the photo at the left to follow the link to my studio Facebook page to view a selection of photos of artists' studios taken during the final open studios evening of the November 2015 residency!
Image Information from the top:
Catherine Christiano, Zinnias (detail), oil on panel, 11 1/2 x 11 1/2 inches, 2015.
Catherine Christiano, Uncas Pond, oil on canvas, 36 x 72 inches, 2012.
Howard Romero, Vermont Studio Center, November 2015 residency artists.
Catherine Christiano, view of the Wolf Kahn studio building at the Vermont Studio Center.
Catherine Christiano, view from Johnson State College, 2015.
Catherine Christiano, studio at the Vermont Studio Center, November 2015..
Did someone pass this newsletter on to you? Join our mailing list!
Newsletters are sent approximately three to four times a year.

Interested in more frequent studio information and event reminders?
Like the studio's Facebook page!