Dear PUSH Members & Neighbors,
Time flies when you're advocating for social justice. Not only are we entering another month, but we're nearing the end of another year. We're knocking on 2016's front door and we're hoping to carry some of the momentum from the previous year into the new one.
Read on to see what happened last month and what's coming up.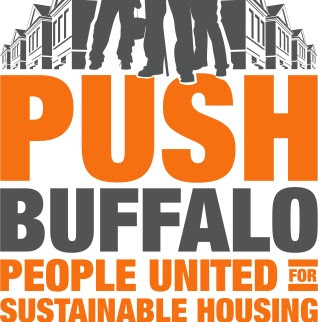 PUSH Holiday Party 2015


Our Taste of PUSH free community dinner held at Pilgrim St. Luke's Church located at 335 Richmond Avenue (near W. Utica St.) in Buffalo NY was a smash hit. Join us for our holiday party which starts at 3pm, on December 19th and is again being held at Pilgrim St Luke's Church. Do you want to be a member of PUSH Buffalo? It costs just $5, and you can sign up at this meeting.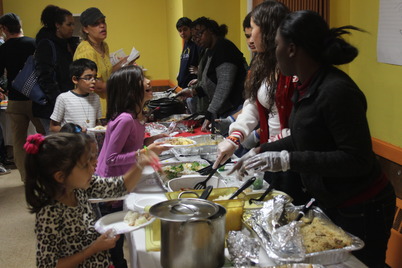 HEAP 2015 Opening Day Cupid Shuffle Flash Mob
Every year in Buffalo when HEAP (Home Energy Assistance Program) opens, the line stretches outside, down the street, and around the corner. HEAP is a good program, but as we have seen for years it's not enough. Energy is life, and in America the energy crisis is a crisis of affordability, a crisis of environmental implications, and a crisis of life and death. The HEAP line is a cold and stark reminder of why we've taken on this energy fight. We gathered outside the HEAP office located at 478 Main Street (near Mohawk St) in Buffalo, NY on the opening day of the 2015 heating/electrical season which was Monday November 16th. We did a Cupid Shuffle flash mob, gave out hot cocoa and more. If you're fed up like we are and you want to get involved, contact John Washington at 716-884-0356 or john@pushbuffalo.org to join the fight.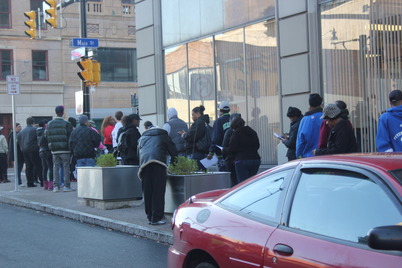 Welcome Nicki Rodriguez to PUSH Buffalo
Hi everyone! My name is Nicolalita (Niki) Rodriguez. I am new to PUSH this year as a social work intern through the University of Buffalo. I have worked as a social worker over the last few years working with low-income families, troubled youth, as well as those with developmental disabilities. I am very excited to be working with PUSH this year and assisting community members with housing issues, social service applications, and helping to link members to appropriate resources. My hours at PUSH will typically be Thursdays and Fridays and I can be reached via email at, nicolali@buffalo.edu. I am looking forward to meeting everyone! Please feel free to stop in and say hi!!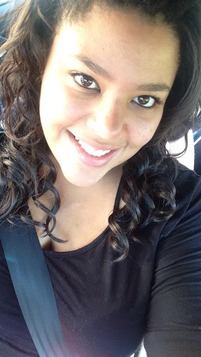 PUSH & YouthBuild USA Recruiting for paid youth worker training
PUSH is currently working with YouthBuild USA to recruit young men and women from our communities that are interested in building trades. is an excellent opportunity for youth to learn skills that will benefit them for the rest of their lives. In addition they will receive help obtaining their HSE Diploma, certifications in different building trades and earn money while doing it. This is a program that PUSH has used in the past to create opportunities for several workers who are now employed through our hiring hall. For more information call Robin Barker at 716-418-8500 ext 114, or email rbarker@tscwny.org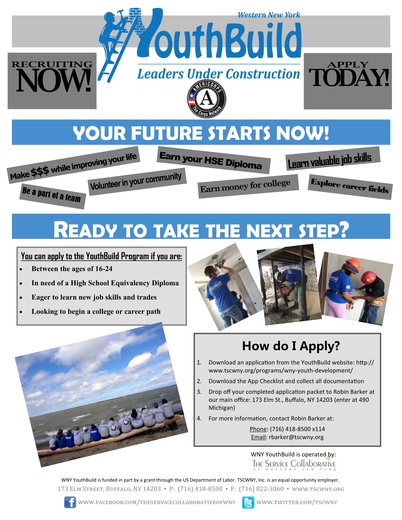 PUSH Buffalo 2015 Board Candidates
To take part in the PUSH Buffalo 2015 Board of Directors elections, you must be a member of PUSH Buffalo. The election for this year takes place at our Holiday Party/December Monthly Meeting which is Saturday December 19th, 2015. See upcoming events below for more details.