Celebrate our achievements and
learn where we're headed.
Jackson Hole Conservation Alliance


Annual Celebration
St. John's Episcopal Church
$5 suggested donation
Cash Bar


Schedule of Events:

5:30 p.m.
Alliance Open House

6:30 p.m.
What has the Alliance done in the past year?

7:00 p.m.
Alliance Annual Awards and Acknowledgements
Hat's Off Award: Tim O'Donoghue
Conservationist of the Year: Dan Smitherman

7:15 p.m.
Wild Neighborhoods discussion
led by Steve Kilpatrick
of the Wyoming Wildlife Federation
8:00 p.m.
Closing
Freedom of Information Act requests filed Nov. 30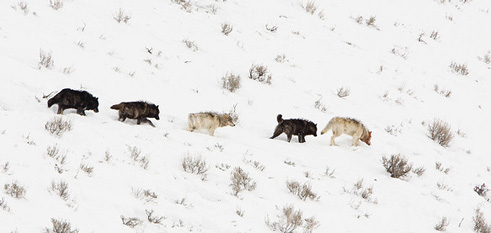 Yellowstone wolves on the move © Will Sebastian / Flickr Creative Commons.

The Jackson Hole Conservation Alliance filed two Freedom of Information Act (FOIA) requests Friday to learn more about how wolf hunts in Montana, Idaho, and Wyoming are impacting wolves in Grand Teton and Yellowstone national parks.
The news comes after Yellowstone officials announced that at least five park wolves outfitted with radio collars here shot after wandering outside the park boundary.

"Wolves that wander in and out of Grand Teton and Yellowstone play a crucial role in the ecosystems of those parks," Jackson Hole Conservation Alliance Wildlands Director Cory Hatch said. "The presence or absence of wolves affects everything from elk and coyotes, to willows and songbirds."

"It's imperative that we know how these hunts are impacting America's most magnificent wild places," Hatch continued.

Unfortunately, Wyoming's wolf law has hindered free flow of information about Wyoming's wolf hunt, so the community has few options to learn about what's happening with wildlife on public lands.

"We hope information from the FOIA requests will shed some light on the wolf hunt so we can better protect park wildlife," Hatch said. "It's one way the Alliance is working locally to ensure that wolves have a permanent place in Jackson Hole."

DON'T POACH THE POWDER!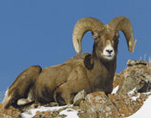 Did you know that Grand Teton National Park bighorn are at risk of extinction? Help protect these magnificent animals. Stay out of their space during winter closures starting Dec. 1, 2012.
Download closure maps.
(PDF)
Contact Amy or call
307-733-9417.