Stuck in a herd of bison?
Learn about the Wild Neighborhoods we're living in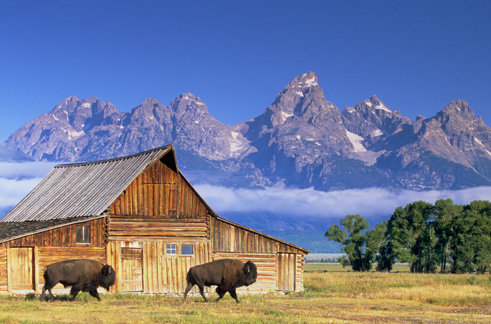 Bison communting past the Moulton Barn. © Henry Holdsworth.

In Teton County, life is a little different. When we're late for work, it isn't because we're stuck in traffic. More likely, we're stuck in a herd of bison. Raccoons don't spill our garbage; grizzly bears do. We love living surrounded by wilderness, but we hate that moose, elk, and deer destroy our landscaping and that wildfire threatens our homes. How can we have our cake without our cake eating the shrubs and the pets?
The Jackson Hole Conservation Alliance, our partners, and four Teton Science School AmeriCorps interns are working on an answer. Over the next several months you will hear about the Alliance's new program: Wild Neighborhoods. Our Wild Neighborhoods partners will collaborate with homeowners and homeowners associations that wish to live in harmony with the natural world.

As we work with our partners to develop the program, AmeriCorps volunteers from Teton Science Schools have volunteered to begin evaluating neighborhoods and gathering information from homeowners. With their work as a foundation, we aim to customize recommendations for each homeowners association in Teton County that wishes to participate. For more information about Wild Neighborhoods, or to schedule an introductory meeting between Wild Neighborhoods organizers and your homeowners association, please contact Amy St. Pierre or Cory Hatch at 307-733-9417.

Don't forget to attend the Alliance's Annual Celebration on Wednesday, December 5 at St. John's Episcopal Church's Hansen Hall.


Join us for our Annual Celebration!
Keynote speaker: Steve Kilpatrick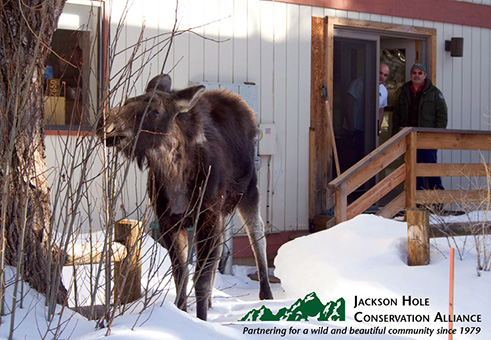 Wyoming Game & Fish representatives respond to a call about a moose in the yard. Photo by Mark Gocke / WGFD.
Jackson Hole Conservation Alliance


Annual Celebration
St. John's Episcopal Church
$5 suggested donation

The Jackson Hole Conservation Alliance invites you to help us celebrate a successful year and honor community members who truly make a difference. This year's Annual Celebration will feature a discussion led by Steve Kilpatrick of the Wyoming Wildlife Federation focusing on the Alliance's new program, Wild Neighborhoods. The Wyoming Wildlife Federation is one of nine other local organizations partnering with the Alliance to help the community live safely and compatibly in an area where wildlife and wildfire are always at our doorsteps. In addition to the discussion, we will also be presenting our two annual awards to two very deserving community members!
Schedule of Events:

5:30 p.m.
Alliance Open House

6:30 p.m.
What has the Alliance done in the past year?

7:00 p.m.
Alliance Annual Awards

7:15 p.m.
Wild Neighborhoods discussion
led by Steve Kilpatrick
of the Wyoming Wildlife Federation
Miss last week's issue on wolves?
Read it online.

Even little dogs can poach
the powder.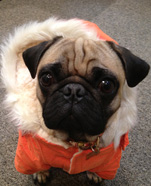 Did you know that bringing your dog into the backcountry can stress out moose? Help protect these magnificent animals, stay out of their space during winter closures starting Dec. 1, 2012.
Download closure maps. (PDF)
Contribute to the Alliance's work to protect Jackson Hole's Natural Resources.

Contact Amy or call
307-733-9417.