Wolves and hunting in Wyoming:
Alliance advocates for trophy game management of wolves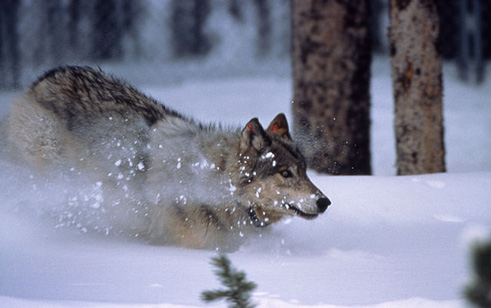 Yellowstone wolf running in snow in Crystal Creek pen in January 1996. Barry O'Neill / USGOV-INTERIOR-NPS / Wikimedia Commons.

Wyoming should eliminate the unchecked killing of wolves as pests and rely on science-based trophy game management of the species throughout the state, Jackson Hole Conservation Alliance officials said today.

The news comes as Earthjustice, representing several organizations, filed a lawsuit that challenges the removal of Endangered Species Act protections for wolves in Wyoming.

While the Alliance didn't join the lawsuit, "we support its primary goal: trophy game management of wolves for the entire state," Alliance executive director Trevor Stevenson said Thursday.

Wyoming's predator zone—an area encompassing 85 percent of the state where wolves can be killed at any time without a license—flies against the spirit of the Endangered Species Act, Stevenson said. "The reintroduction of wolves to the Greater Yellowstone Ecosystem is an Endangered Species Act success that should be cause for celebration," he said. "Yet, in most of Wyoming, wolves went straight from federal protection to being killed as vermin."

"The unchecked killing of a species so recently removed from the Endangered Species List is unprecedented," Stevenson continued. "Wyoming's predator zone is an insult to millions of Americans who want this iconic species returned to the Northern Rockies landscape."

On the other hand, trophy game management—regulated hunting supervised by the Wyoming Game and Fish Department—is a proven, fair method of wildlife management used for numerous species, from black bears to elk, moose, and deer. Currently, wildlife managers supervise a trophy game wolf hunt in the northwest corner of the state.

"For decades, sportsmen have responsibly and effectively managed Wyoming's wildlife," Stevenson said. "Trophy game hunting allows state officials to increase quotas where wolves cause problems while still maintaining a viable population."

The Alliance staff will continue to work with a broad range of partners to benefit the species. Currently, the Alliance is coordinating locally with other non-profits and the Wyoming Game and Fish Department to monitor and improve the wolf hunt.

"We're focused on careful management of wolves that spend most of the year in Grand Teton National Park, but that may roam beyond park boundaries into open hunt areas," Stevenson said.

"More work is needed to ensure that all wildlife, predators included, have a permanent home in Jackson Hole and the Greater Yellowstone Ecosystem," Stevenson continued.

Bridger-Teton National Forest Parcel:
Defeated as SPET measure, what comes next?

The following appeared as a Letter to the Editor in today's edition of the Jackson Hole News&Guide.

On Election Day, Teton County voters soundly defeated the town's purchase of 10 acres of Forest Service property on North Cache Street.

The voters had their say. The parcel now goes to a public auction set for next spring. It's likely that a successful bidder would pursue a zone change to develop an intensive mixed use to recoup their investment.

The outcome means more important work for the community and the Jackson Hole Conservation Alliance.

First, Jackson Hole residents and elected officials must do everything possible to keep the Bridger-Teton National Forest Supervisor's Office here in Jackson.

The community has made these arguments before, but now there's a new twist: Regional Forester Harv Forsgren has announced his retirement effective Jan. 3.

The community must tell Forsgren's replacement how vitally important the 70-plus Supervisor's Office employees are to our community. Not only do these public servants contribute to our economy, but these men and women also volunteer at our fire departments and our non-profits. They attend our churches. Their children go to our schools.

Further, the employees of the Supervisor's Office play a crucial role in how we care for our public lands. There's little doubt that moving these people out of Jackson would hinder relationships with local Park Service, Wyoming Game and Fish Department, National Elk Refuge, Town of Jackson and Teton County personnel.

There's also little doubt that our community's influence over Bridger-Teton policies would wane with the increased distance.

Second, we must help town officials decide the best way to zone the North Cache property to best preserve Jackson's wildlife, scenery and community character.

The comprehensive plan recognized that a conveyance into private ownership was possible. It even states that development of non-public uses could require an amendment to the comp plan. Public engagement will be very important in determining what kind of uses would be allowed, along with the size and intensity of future development next to the National Elk Refuge, elementary school and recreation center.

We need to be preparing for these discussions right now.

Sincerely,

Melissa Wittstruck, Community Planning Director
Cory Hatch, Wildlands Director
Jackson Hole Conservation Alliance

Don't harsh
my mellow.
Don't poach
the powder.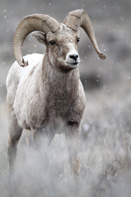 Did you know that the bighorn sheep herd in Grand Teton National Park is genetically isolated? Help protect these magnificent animals, stay out of their space during winter closures starting Dec. 1, 2012.
Download closure maps. (PDF)
Big horn sheep photo © Timothy C. Mayo.
Contribute to the Alliance's work to protect Jackson Hole's Natural Resources.

Contact Amy or call
307-733-9417.