Announcing the Finalists for the 2017
Spirit of Enterpreneurship Awards
™
Friday, May 5, 2017, 5:30-8:30 PM
Coral Casino
On the evening of May 5 at the Biltmore's Coral Casino, Lynda Weinman, founder of lynda.com, will ask: "The envelope, please..." and reveal the 11 outstanding women entrepreneurs who will receive the 2017 Spirit of Entrepreneurship Awards. The winners were selected from a field of over 70 nominees in Santa Barbara and Ventura Counties by independent judges who do not live in the area and are not connected with the Spirit of Entrepreneurship (SOE) Foundation.

The 33 finalists will be recognized for their achievements at the Spirit of Entrepreneurship Awards dinner on May 5. All are shining examples of the great diversity and ingenuity of women entrepreneurs, and all the finalists are in fact winners.

One recipient was selected by the Foundation board and announced prior to the Awards for the indelible impact she has made on our community as a woman business owner: Pamela Webber, who will be honored as the Rock Star: Life Achievement winner for 2017 at the gala dinner. Knowing nothing about tourism, Pamela founded what has now become the Santa Barbara Hotel Group in the 1950s, and grew it into five unique properties: The Inn by the Harbor, Lavender Inn, Best Western Plus Encina Lodge & Suites, Best Western Plus Pepper Tree Inn, and Brisas del Mar Inn at the Beach.
The 33 finalists for the 2017 Spirit of Entrepreneurship Awards are:
Agricultural/Wineries:


Ashely Farrell, Ashley Farrell Landscape Design, ashleyfarrelldesign.com
Melissa Sayer, Matilija Law, matilijalaw.com
Deborah Shaw, Deborah Shaw Restoration & Landscape, dshawlandscape.com

Emerging Business:
Carey Bradshaw, Hooter Holster, hooterholster.net
Yvonne Erwin, My Yard Card, myyardcard.com
Alexis Schomer, RepWatch, repwatch.co

Green/Social Entrepreneurship:
Heather Hochrain, EVMatch, evmatch.com
Marine Schumann, Brighten Solar, brightensolarco.com
Kristine Sperling, Makes3, makes3.com

Health:
Jacqui Burge, Desk Yogi,
desk-yogi.com

Emilee Garfield, The Loft: Emilee's Pilates & Yoga, emileegarfieldcoaching.com
Melodee Meyer, Martial Arts Family Fitness, kickboxers.com

Hospitality/Tourism:
April Hoff, Camping Adventures, campingadventuresrentals.com
Tara Jones Haaf, Eat This, Shoot That!, EatThisShootThat.com
Nirasha Rodriguez, The Food Liaison, thefoodliaison.com

Media/Communications:
Lindsey Carnett, Marketing Maven Public Relations, marketingmaven.com
Gillian Christie, Christie & Co.,
christieand.co
Raiza Giorgi, Santa Ynez Valley Star/SB Family Life, santaynezvalleystar.com

Nonprofit:
Lynn Houston, A Different Point of View, adifferentpointofview.org
Debra Manchester, The Family Therapy Institute of SB, ftish.org
Janet Reineck, World Dance for Humanity, worlddanceforhumanity.org

Professional Services:
Hannah Jenner, Hannah Jenner, athletespeakercoarch.com
Alelia Parenteau, Surf Like a Girl, www.surflikeagirl.org
Deborah Sweeney, MyCorporation, mycorporation.com

Retail:
Reyna Chavez, Scrubs on the Run, scrubsontherununiforms.com
Fay Doe, Underground Hair Artists, undergroundhairartists.com
Angela Rosales, Very Ventura Gift Shop & Gallery, very-ventura.com

Science/Technology:
Marta Alvarez, YCE, Inc., yceinc.com
Kristin Denault, Fluency Lighting, fluencylighting.com
Payal Kamdar, vSolvit, vsolvit.com

Wholesale/Manufacturing/Global Trade:
Jeanne David, Outer Aisle Gourmet, outeraislegourmet.com
J'nelle Holland, Hot Cherry Pillows, hotcherrypillows.com
Kirsten Kemp Becker, Becker Studios/Millworks, millworkssb.com
---
LIMITED TIME! Offer Ends April 7th
Ticket + Program Ad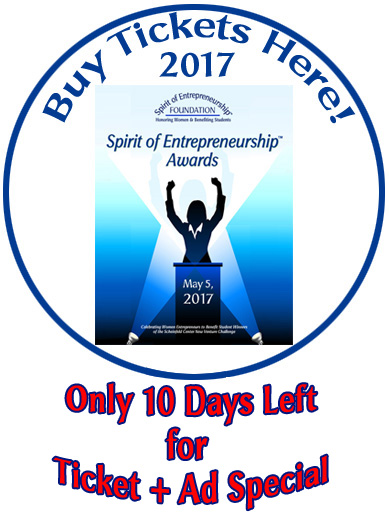 Buy one ticket at the regular price and for only $75 and receive a full color 4" x 2.5" ad in our beautiful printed program. Buy 2 combo tickets and get a 4" x 5" ad. And we'll even design it for you free of charge! Purchase your tickets online and you will be contacted about your ad.

Check out special rates for advertising in the program here. Free design service is included. And free ads are included for ALL our Premium and Table sponsors. Reach this special audience of over 300 top entrepreneurs in Santa Barbara and Ventura while supporting student entrepreneurs to build a successful future for us all!
General tickets available until May 1, 2017
Special rate for students too!
Questions? email info@soefoundation or call 805-682-8380
---
The Spirit of Entrepreneurship Awards Support High School & College Entrepreneurs in SB County!
Once again the proceeds from the Spirit of Entrepreneurship Awards event will be benefiting of high school and college student entrepreneurs in Santa Barbara County. The students, who receive cash prizes (in the form of seed money) and scholarships, are the winners of SBCC Scheinfeld Center's New Venture Challenge one-day business pitch awards. The top three student winners at each level are selected by judges a week before the SOE Awards and attend the Awards dinner and ceremony as the Foundation's guests.

Additionally, all the student finalists will have the opportunity to display their products or services before the Spirit of Entrepreneurship Awards dinner at our Student Startup Showcase. Learn more about it here: http://www.soefoundation.org/startup_showcase.php
---
We are very proud to have Montecito Bank & Trust as our Premier sponsor, along with Southern California Edison, Bank of the West, Cox Communications and the many other generous businesses, organizations and individuals who help make the Spirit of Entrepreneurship Awards possible. We welcome to Zaca Mesa, our official event Wine Sponsor.

For a complete list of our generous sponsors, please visit http://www.soefoundation.org/oursponsors.php
---
---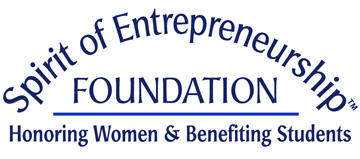 About the Spirit of Entrepreneurship Foundation
The Spirit of Entrepreneurship Awards™ event is hosted by the Spirit of Entrepreneurship™ Foundation. The event is unique in that student entrepreneurs are inspired by successful role models in addition to winning cash prizes as seed money for their businesses as well as scholarships. At the same time, outstanding women entrepreneurs are honored with beautiful engraved awards from Tiffany. The proceeds from the event go toward funding the student awards the following year.
For information about making a tax-deductible donation to the Spirit of Entrepreneurship Foundation, a 501(c) corporation, to help us support our mission, click here. You can also call us at 805-682-8380 or email us at info@soefoundation.org.

---
SOE Foundation News

Thank you to everyone who supported and attended the 2016
Spirit of Entrepreneurship Awards

We look forward to seeing you on
May 5, 2017 at the beautiful Coral Casino

Thank You to Our Great Sponsors!

---


To see more of our sponsors, click here.