In This Issue


Help finance Northwest Seaport programs by giving safely & securely online, or scroll down for our mailing address.
---
Dear Northwest Seaport Supporter

Happy New Year! Northwest Seaport is excited to share this news with you. Visit the fleet at the Historic Ships Wharf during programs, chantey sings, volunteer work parties and more. Upcoming Events.
---
OVER 3000 VISIT TUGBOAT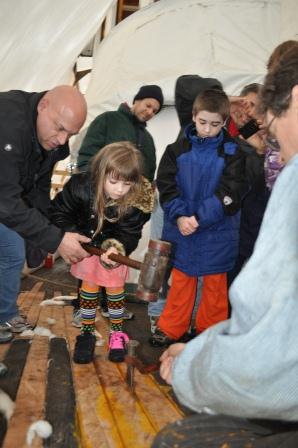 Record number of visitors boarded the tug Arthur Foss during MOHAI's Grand Opening celebration week. Smiling people streamed onto the Historic Ships Wharf and boarded the tug, steamer Virginia V and other visiting vessels. Photos.
---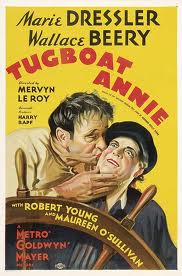 TUGBOAT ANNIE MOVIE SCREENING
Feb 24 12-5pm. Northwest Seaport collaborates with MOHAI on their screening of the 1933 film Tugboat Annie during Celluloid Seattle Day. Board the famed tug "Narcissus" (Arthur Foss).
---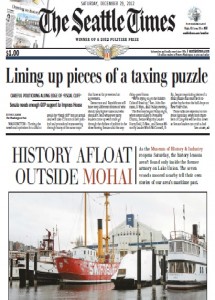 HISTORIC SHIPS WHARF MAKES HEADLINES
The Seattle Times highlighted the "vintage vessels" and cumulative history these ships represent. Jack Broom wrote, "There's plenty of history tied up outside MOHAI."

---
MARITIME MUSIC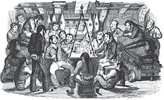 Feb 8, 8-10pm at CWB. Dan Roberts is song leader for February and will keep the sing-a-long rolling along. February Chantey Sing at The Center For Wooden Boats.
---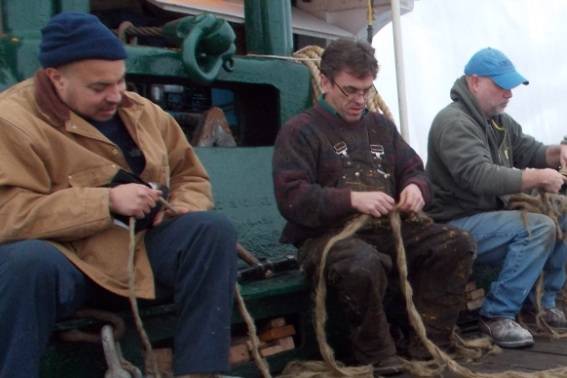 VOLUNTEERS JAM AT WORK PARTIES
Feb 2, 10am - 4pm. Volunteers attending scheduled work parties aboard Arthur Foss have made vital contributions to deck and engineroom projects.
---
JOHN GRADE DISCUSSES WAWONA SCULPTURE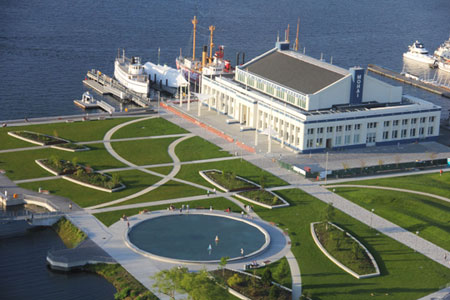 Jan 24, 7pm at MOHAI. The sculpture Wawona was created from salvaged timber from the hull of the historic ship of the same name. Artist John Grade will speak about the process of creating and installing this large-scale work. MOHAI program with limited seats.
---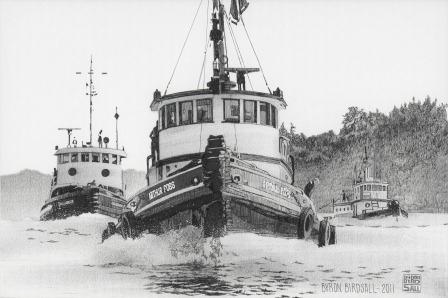 BYRON BIRDSALL PRINTS
Purchase artwork by Byron Birdsall featured in 2012 Foss Maritime calendar. $20 prints (8.5x12.5") are available. Mr. Birdsall kindly made the original available for tug visitors to view this holiday season.
---
LIGHTSHIP RECEIVES HOLIDAY LIGHTS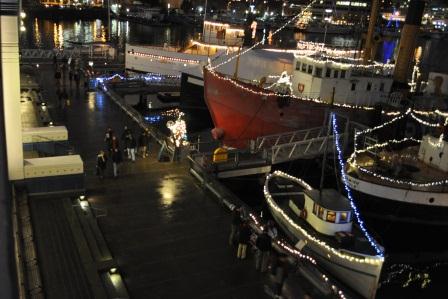 Northwest Seaport turned on more than 2000 feet of lights decorating the historic Lightship No.83 Swiftsure. South Lake Union community members and wharf visitors gathered for the scheduled lighting. Photos.
---
MEMBERSHIP AVAILABLE ONLINE


Northwest Seaport makes it easy to renew or become a new member. Simply complete the online form and follow PayPal instructions. Show your support of the activities, vessels and services you deem valuable for the community. Membership information.
Your support has been generous! The annual campaign ends soon, and we kindly wish to remind you to mail or online donate today to strengthen our services to the community.
Annual campaign information
.
Click to give online, securely and safely with credit card or PayPal account (you don't need an account to give).

Mail a check, made out to "Northwest Seaport"
Northwest Seaport
PO Box 9744
Seattle, WA 98109
Sincerely,
Northwest Seaport