Dear Northwest Seaport Supporter

Here's a quick link to Upcoming Events. Summer is here! Update your calendar, buy tickets for July 4th fireworks aboard Arthur Foss, and learn about progress on Seaport's floating fleet.
---
4TH OF JULY ABOARD ARTHUR FOSS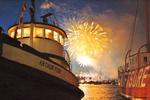 July 4, 8:30 - 11:00pm.
Enjoy a spectacular view of the 4th of July fireworks, drinks and dessert from the deck of the historic tugboat Arthur Foss! Includes dessert and non-alcoholic beverages. Drinks available for purchase. Event supports Northwest Seaport.
---
WHERE IS THE LIGHTSHIP SWIFTSURE?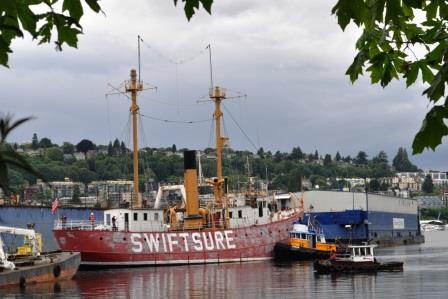 Northwest Seaport is in the midst of a major project to put an entirely new and historically accurate upper deck on its National Historic Landmark vessel, Lightship No. 83 Swiftsure to ensure its continued preservation. When visiting Historic Ships Wharf, we think you'll notice something...missing.
---
FREE ADMISSION (Today!)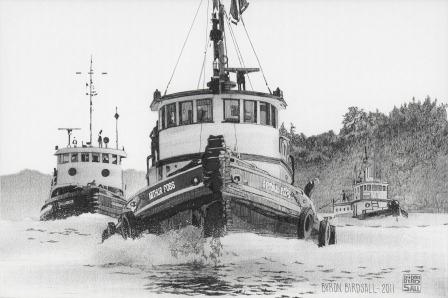 June 6. Tug open 12-5PM.
It's First Thursday again!
Visit tug Arthur Foss at Lake Union Park and Historic Ships Wharf to view ongoing work. Under the cover where restoration happens.

---
SHIPWRIGHT CONTINUES WORK ON TUG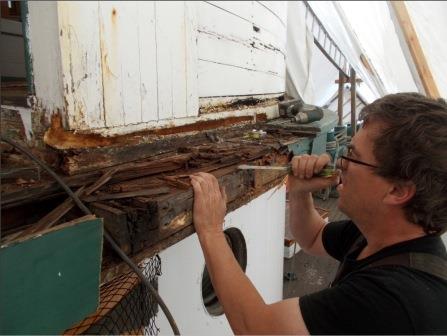 Brian Johnson of Ocean Bay Marine continues restoration work on Arthur Foss. View the progress Thursday and during Open Museum Ship weekend hours. Brian and crew are keeping the public informed by dedicating time to answering your questions. Don't be surprised to see a tool become active in your hand.
---
MARITIME MUSIC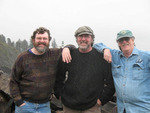 June 14, 8-10pm.
June Chantey Sing at Immanuel Lutheran Church. Chantey Sing with the Whateverly Brothers. This madcap band features none other than Dan Roberts, Chris Glanister, and Matthew Moeller. The Bros are well-versed in chanteys but also change up original and other maritime songs to fun-pitched level. Join the Sing!
---
NAUTICAL ARCHAEOLOGIST-IN-RESIDENCE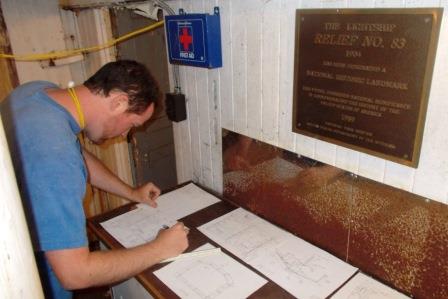 Saxon Bisbee, a Maritime Studies graduate of East Carolina University, is Northwest Seaport's most recent professional-in-residence working and living aboard the floating fleet. Recently, Saxon helped document Swiftsure's deck houses, and continues to work with shipwright Brian Johnson on Arthur Foss projects.

---
FLO LENTZ ACCEPTS MARITIME HERITAGE HERO AWARD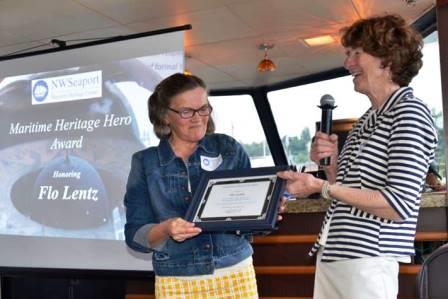 Flo Lentz accepts the 2013 Maritime Heritage Award from Northwest Seaport and in the company of other community heroes and dedicated individuals contributing to maritime heritage in the Northwest. Over 40 people attend the evening's event aboard Argosy Cruises vessel CELEBRATIONS.

---
VOLUNTEERS NEEDED FOR LAKE UNION WOODEN BOAT FESTIVAL.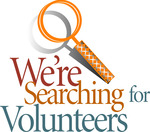 Help introduce Arthur Foss to the public during July 4-7 festival hours. Museum Ship Docents and Hosts are needed.

---

Renew your membership today. Complete easy online renewal process or mail check, made out to "Northwest Seaport." Thank you!
Northwest Seaport
PO Box 9744
Seattle, WA 98109
Sincerely,
Northwest Seaport