Dear Northwest Seaport Volunteer
Why are you receiving this? It's an insider's Look to NWS Volunteer News...Scroll on down.
Like it? Become a Northwest Seaport Volunteer Today:
CLICK HERE
...back to our regular program...
Calling All Volunteers!
SAVE THE DATE: May 11th (Mothers Day)

Northwest Seaport is happy to begin our partnership with the Seattle Propeller Club to produce the 2014 Vigor Industrial Seattle Maritime Festival Family Fun Day at Lake Union Park. We'll need you...and invite mom, sister and daughter to join the fun:)

---
VOLUNTEERS BEGIN WORK PARTIES ABOARD LIGHTSHIP NO. 83 "SWIFTSURE"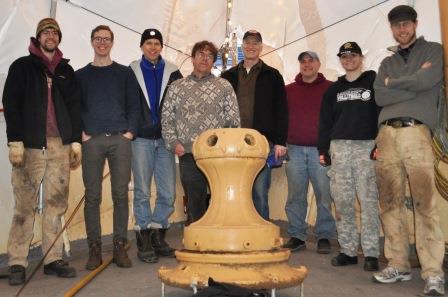 About 10 volunteers showed for the inaugural volunteer work party aboard Swiftsure to support the "On Deck!" project. Pictured here at the ship's capstan, crew members smile after an afternoon of workbench building, skylight removal and much, much more. Afterward, some crew shared grub and then listened to a presentation by representatives from the Lightship No. 118 "Overfalls."
---
VOLUNTEERS AT LIGHTING OF THE LIGHTSHIP SHINE AND INTRODUCE NEW DOCENT TOUR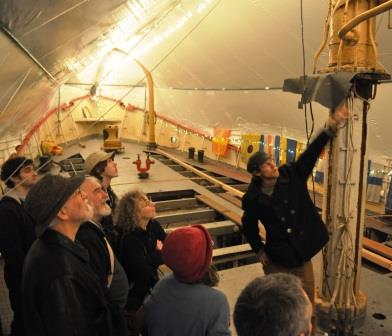 Late last year, NWS volunteers and staff provided lightship visitors with a station-based tour experience. Visitors boarded Swiftsure approximately every 10 minutes and rotated through three shipboard stations: #1. Lightship Basics, #2. LV83, & #3. LV83 Restoration. Back on the wharf, volunteers and staff helped introduce visitors to benefits of NWS membership. All rang in the holiday spirit with the annual Vulcan-sponsored Lighting of the Lightship at sunset.
---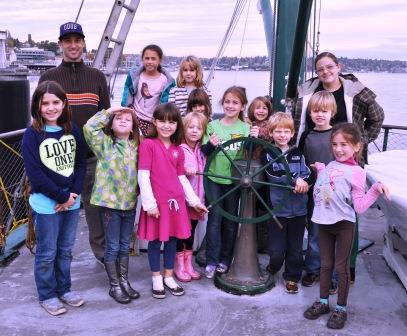 FREE FIRST THURSDAY: OPEN SHIP MUSEUM
March 6, 1200 - 1600
High Need: Docents / Boat Hosts
Lake Union Park is filling with visitors on the first Thursday of every month. MOHAI is adding more marketing. NWS needs docents and boat host to make a multi-month commitment to support the demand. It's an excellent opportunity to build docent experience, help friend-raise for NWS and train to become a school group tour guide, for example. Join us!
---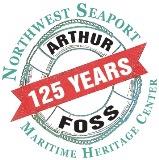 ARTHUR FOSS TURNS 125!
Stay tuned at our website and Facebook for exciting events celebrating Arthur Foss's 125 years of tow and public service. For example, on March 6, the National Park Service invited Northwest Seaport to screen the world of premiere of the documentary, "Arthur Foss: Iconic Tugboat of the Northwest" Tickets are still available, however more than 90% have already been reserved.
---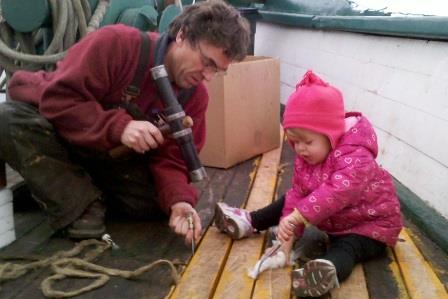 VOLUNTEER WORK PARITES
March 1, 10:00 - 1600.
Many more Saturdays to come.
First Saturdays of each month are becoming traditional volunteer work parites. Other Saturdays are also opportunities, so stay tuned to NWS's website and Facebook page for news and posting of these opportunities. Learn and enjoy working with Engineer Steven Baker aboard Arthur Foss and Shipwright Brian Johnson aboard Swiftsure and NWS staff/volunteers. Bring lunch dish to share, and please register by using Seaport's online CONTACT form.
---
---

CONNECT AND STAY INFORMED
Northwest Seaport Facebook is where daily photos, news and fun is found. "Share" our posts often after becoming a NWS FB friend.

Also....
---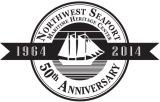 $50 for 50
Northwest Seaport membership is an expression of your community and financial support to this 50-year old organization whose ships and public service have positively impacted positively countless families. A $50 family membership provides the following: Purchases two cans of marine-quality paint; pays for one month of WiFi service at ships; pays for two hours of staff time to organize volunteers; supports paying rent, electricity, phone, and internet services at land-based office. Basics of any small nonprofit.
Thank you for your support!
---
Northwest Seaport sincerely appreciates all you do. Please, consider becoming more involved during this exciting year of celebrations.
Forward this email to friends.


Again, thank you all for all you do!

Sincerely,
Northwest Seaport