Dear Northwest Seaport Supporter

Here's a quick link to Upcoming Events. Mark your calendar for some evening jazz next week, a tugboat overnight, chantey sing aboard Arthur Foss and a volunteer work party. Lightship is currently at Lake Union Drydock Co. for rehab work and makes The Seattle Times front page today.
---
JULY 18 FUNDRAISER WITH JAZZ ON THE DOCK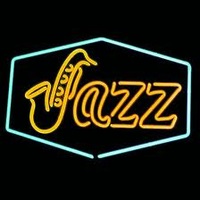 July 18, 5:30pm.
Join Northwest Seaport supporters and the Lake Union Rotary Club for a fun evening event on the lake. Listen to some great jazz, drink some good wine, and support Northwest Seaport with $20 donation all at the same time. All proceeds from the Happy Hour will support Northwest Seaport.
---
TUGBOAT OVERNIGHT PROGRAM LAUNCHED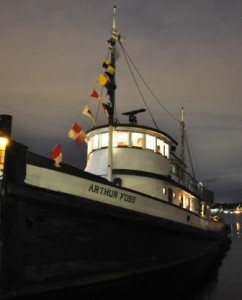 With new linens, pillows, blankets and towels, Arthur Foss berths will fill this season with overnight visitors feeling all cozy and snug. Overnighting on such a historic vessel allows you to soak up a Lake Union sunset and rise easily with the lake's mist. Also, rent the tug for a daytime event, birthday, family reunion or happy hour. Call us today...206.447.9800.
---
LIGHTSHIP GRACES SEATTLE TIMES FRONT PAGE (Today)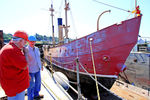 Veteran reporter Jack Broom shines light on the bright future for Swiftsure: "New life on Lake Union for brave old lightship Swiftsure." Check out Greg Gilbert's photos and Lazaro Gamio's luminary illustration of ship, vessel's timeline, map of lightship stations of Washington's coast. Northwest Seaport unveils opportunities for community engagement once Swiftsure returns to Lake Union Park. A Must Read.

---
WHO WILL STOP THE RAIN PROJECT?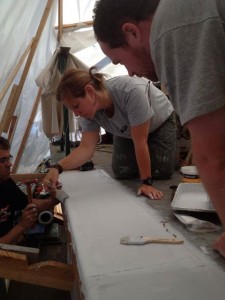 Keeping any wooden boat watertight against the rain is an essential and ongoing task. This is particularly true for the historic tugboat Arthur Foss. "Who'll Stop the Rain?" is a multi-year Northwest Seaport preservation project of the vessel's decks funded by 4Culture, the cultural services agency for King County.
---
MARITIME MUSIC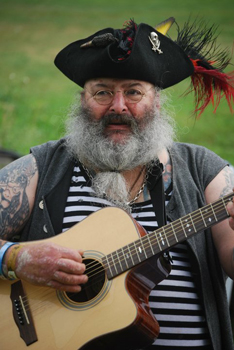 August 9, 7:30-9:30pm.
Buccaneer scallywag Tugboat Bromberg will lead the August Chantey Sing aboard the tugboat Arthur Foss. Tugboat Bromberg hails from that piratical port of Poulsbo and is best known for his gravely voice, his original songs, and dressing and living the characters of pirate, merchant seaman, and tugboat man. Join the Sing!
---
RV JOHN N. COBB TEMPORARILY JOINS NWS FLEET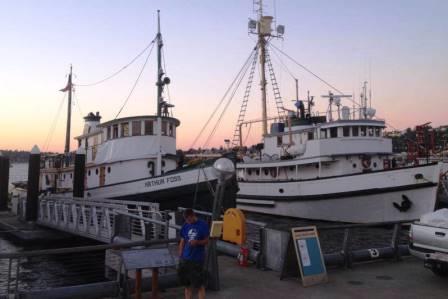 Seaport board members Captain Michael Francisco and Shannon Fitzgerald are orchestrating this visiting vessel program with the Seattle Maritime Academy. The wooden ship attended the recent festival and continues to be on view at Historic Ships Wharf for viewing. Both Francisco and Fitzgerald are associated with NOAA for whom this vessel provided decades of service.

---
TUG ARTHUR FOSS and RV JOHN N. COBB WELCOME THOUSANDS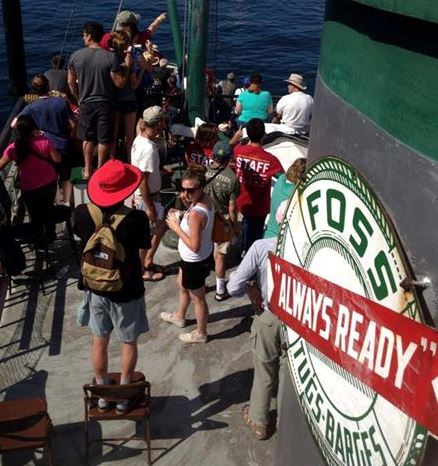 Nearly 4000 visitors came aboard Arthur Foss and John N. Cobb during Annual Wooden Boat Festival. Tug's Washington Iron Works engine ran daily; children aboard laughed with Pirate Lou; guests admired July 4 fireworks; and, unexpected visitors included an Arthur Foss skipper's daughter.

---
AMAZING VOLUNTEERS KEEP FLEET OPEN AND RUNNING DURING BOAT FESTIVAL.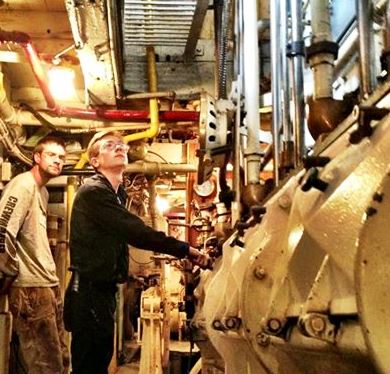 Northwest Seaport's awesome volunteers helped remove the tug's cover, repaired and ran the tug's engine, greeted people at the gangway, assisted visitors aboard, provided shipboard tours, served hors d'oeuvres and drinks and kept the vessels looking clean... and much more! Thank You, Thank You, Thank You!! LOPEZ ISLAND CREAMERY also delivered again on their commitment to the 2013 Ice Cream Social and NWS Volunteer Benefit -- Super Scoop Thanks!

---

Become a Northwest Seaport member today. Join others who recently completed our easy online process or mail check, made out to "Northwest Seaport." Thank you!
Northwest Seaport
PO Box 9744
Seattle, WA 98109
Sincerely,
Northwest Seaport