biondivino
wine boutique
This Tuesday and Wednesday


February 11th and 12th


best of north and south


two great winemakers

!
| | |
| --- | --- |
| Sabino Lofreddo of Campania's Pietracupa | Isabella Oddero of Barolo's Oddero |
| | |
A very special and exciting week coming up here at the shop as we prepare to welcome two of our favorite winemakers on back to back nights. Sabino Lofreddo of Pietracupa and Isabella Oddero of Oddero are both are at the top of their respective appellations, with two very different sets of wines representing the best of Northern and Southern Italy.



Tuesday


Sabino Lofreddo is a man's man - and a master of Fiano d'Avellino and Greco di Tufo, Campania's two most famous white wines. If you do not already know the wines of Pietracupa... or you have met and fallen in love with his wines from his previous visits or... if you
love Fiano and Greco or have never heard of them or ever tried them before...
these are two of the best versions you will find anywhere. He is a true hands-on winemaker with small, high quality holdings, Sabino is inlvolved in every step of the process, working as viticulturalsist, enologist and sometimes even delivery driver. His wines have broken new ground for Campania, the first Fiano ever to win Gambero Rosso's wine of the year, and the first traditional, non-oaked Greco to win tre bicchieri. Sabino also makes excellent aglianico in the full, hearty, mountain style, which he will be pouring as well.
We hope you can make it for these truly special Campanian wines!
Sabino will be presenting:
2012 Pietracupa Fiano d'Avellino $32.
2011 Pietracupa Greco di Tufo $32.
2010 Pietracupa Aglianico 'Quirico' $32.
6-8pm
$10 tasting
those unable to make the tasting may purchase the wines from our website here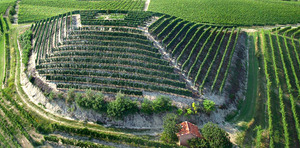 We adore Isabella. As does every male wine buyer out there that I know. She came with Maria Christina 7 years ago when we first opened and had an incredible tasting with them. So, when we found out Isabella Oddero was going to be in town we jumped at the chance to do a tasting with her. Winemakers in the Langhe for over a hundred and fifty years, the Oddero family owns prized parcels in some of Barolo and Barbaresco's most sought after crus. Like many long-time winemaking families, they have great respect for their vineyards and work them organically using them most up to date techniques. In the winery aging is carried out in 4000-7500L botti, the time tested way to bring out the best in nebbiolo. We will be sampling their vineyard blended Barolo, still one of the best deals in the region, and two of their cru wines, one Barolo and one Barbaresco. Few wineries operate in both zones so it is a treat to taste them side by side from the same producer. Oddero is also one of the few to botti-age both their Barbera and Nebbiolo bottlings.
Isabella will be presenting:
2010 Oddero Barbera d'Alba $20.
2010 Oddero Nebbiolo d'Alba $27.
2009 Oddero Barolo $50.
2008 Oddero Barbaresco Gallina $63.
2007 Oddero Barolo Villero $74.
6-8pm
$15 tasting
those unable to make the tasting may purchase the wines from our website here
Upcoming - Save the dates!
---
Friday, February 14th - Pastries and other delicious goodies for Valentine's day with Le Dix Sept
!
4-7pm
(order ahead available)
---
Saturday, February 22nd -
First time in the US!
Winemaker tasting with Walter Massa of Piemonte's Az. Ag. Massa
---

biondivino wine boutique
1415 green street
415.673.2320
sales@biondivino.com
---
| | |
| --- | --- |
| | |