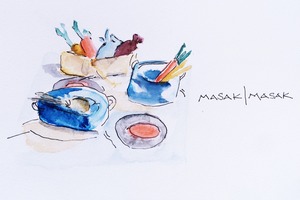 ________________

masak | masak
[mah-sah-k | mah-sah-k] - origin: malaysia
noun
1. to cook (verb); pl. a child's imaginative game of cooking
2. emily lai's exquisite malaysian inspired cuisine
_________________
MASAK-MASAK POP UP
WED | FEB | 4TH | 2015
||||
STUFFED TOFU CURRY WITH

MATOU BREAD
8
shrimp | long beans| scallion | chili | coconut
CHAWANMUSHI
5
vital farm egg | shallot | sesame oil
NASI ULAM
13
rice | kaffir | shallots | betel leaves |vietnamese mint | okra | sambal belacan
BEBEK BENGIL
18
duck, 3 ways | tumeric | ginger | rice | sambal matah
'ICE CREAM' PUDDING
5
tapioca | st. benoit milk | vital farm egg
A SELECTION OF WINES BTG
10
_________________
the story:
i had the great fortune of meeting emily when i was living in manhattan at the west village restaurant, fatty crab, when it had first opened. emily would make these delicious little bites called 'mochi cake', that instantly became a staple on fatty's menu after chef zak pelaccio tasted them & fortunately, she would always share them with me. we became fast friends and as fate would have it, a few years later, we both ended up in san francisco and in russian hill. not only is emily an exceptionally talented chef, she is truly one of the most humbly sincere, hardest working, mother to twins and wife, as well as one of my dearest friends - as she says 'i have a desire to work' and she means it - and 'i just want people to enjoy good food'. many of her dishes take days and weeks to prep. the outcome is beyond outstanding and seriously some of, if not - the best asian inspired cuisine i have ever had. here is a sampling of what is to come...
* menu items are a la carte and a selection of wine by the glass will be available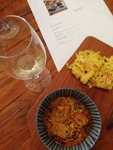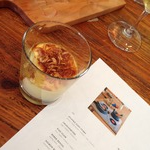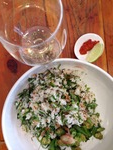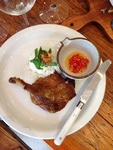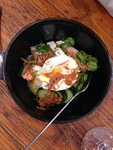 Born in Kuala Lumpur, Malaysia, and raised in the restaurant business, Emily officially began her restaurant career in New York City. Working exclusively for chef Zak Pelaccio, she opened and managed both Fatty Crab and 230 Fifth for him. At Sam Mason's Tailor, also in New York City, Emily was a member of the opening team before becoming a manager. After returning to San Francisco, she worked as Catering Coordinator for Memphis Minnie's BBQ before starting Covered Dish Productions catering company with her current Executive Chef & Co-Owner, Jon Rietz, and later on opened Cedar Hill: Kitchen and Smokehouse, a Southern restaurant with a specialty in Southern BBQ. She currently owns The Rib Whip, two Southern BBQ food trucks.
masak|masak

@biondivino
wednesday february 4th

from

5-10 PM
1415 green street @ polk, san francisco
(seating on first come availability)
---