Our apologies, in our previous edition, there were several technical issues with links. They have since been corrected.
Bridge Day is almost here! We hope to see you in Nicholson this Sunday at the Nicholson Women's Club annual Bridge Day event on Main Street.

Come say hi to us at our table.


---
Check out our latest brochure on Nicholson, the Nicholson Bridge, and the Viaduct Valley Way Scenic
Byway!
Click
here
.
---
For more information, click on the
Come One, Come All!
Nicholson's Bridge Day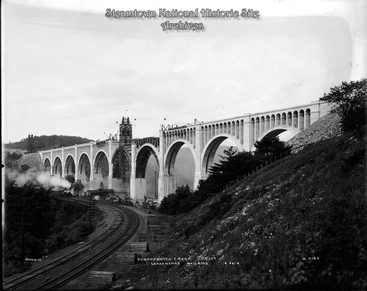 This Sunday, September 14, 2014
9:00 a.m. - 4:00 p.m.
Main Street
Nicholson, PA 18446
A day filled with musical and stage performances; over 60 vendors offer crafts, collectibles, food, children's games raffles and more. Chicken barbecue starts at 11:00 a.m.
Call 570-942-6747 with questions or vendor information.
Endless Mountains Model Railroad Club
will also have a model railroad display at the Farmer Supply. Plus, you can purchase their HO Scale Boxcar, details below. A portion of the proceeds will benefit us. Thank you EMMRR Club!
---
Other Upcoming Events
!
Next Nicholson Heritage Association Meeting:
Wednesday, September 24, 2014 at 7:00 p.m.
First Presbyterian Church
65 State Street
Nicholson, PA 18446
Martin's Creek Artists Annual Art Exhibit
Saturday, October 4; 9 a.m. to 4 p.m.
United Methodist Church

64 State Street
Nicholson, PA 18446
For more info, please call 570-942-6995 or 570-942-4489.
---
Wrap-up of Second Public Meeting
on our Railroad Station Initiative.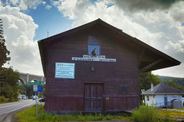 On Thursday, August 14, 2014, at 2:00 p.m., we held our second public meeting on our railroad station project at at the Nicholson Fire Company Hall (thank you Nicholson Fire Company!) at Main and Walnut Streets in Nicholson. Light refreshments were available, thanks to the Inn the Beginning. Click here for a summary.
The Nicholson Tourism Center at the Historic DL&W Railroad Station is moving forward and we now wait to hear if the project is a recipient of a Transportation Alternatives Program grant, which would cover the renovations of the historic station. While you may have not seen much outside work being done on the station, it's because we've been laying a solid foundation in order to ensure the project is a success! Keep your fingers crossed!

The Nicholson Tourism Center at the Historic DL&W Railroad Station will promote tourism and attract visitors to the region by being a visitor's center linking to the Viaduct Valley Way Scenic Byway and Steamtown, as well as a provide a place for community events.

Media covering the second public meeting:

Wyoming County Press Examiner – August 25, 2014 – Public gets earful at station
Scranton Times Tribune – August 15, 2014 – Public gets earful on railroad station plans
WBRE WYOU TV – August 14, 2014 – Renovations to Historic Railroad Station on Track
The Carbondale News – August 13, 2014 – Local historical group to hold public meeting on historic railroad station effort
Times Leader – August 12, 2014 – Meeting set to discuss Nicholson railroad station
Scranton Times Tribune – August 11, 2014 – Community Events List
Times Leader – August 11, 2014 – Group plans public meeting on historic rail station rehab