Dear Friend,
Happy New Year! Did you make any new year's resolutions? Only 11 and a half more months to stay strong.
Clear your calendars: the 100th anniversary celebration of the Nicholson Bridge will take place in Nicholson on September 11-12-13, 2015! Hope you can make it, even stay around for a day or two before or after to see other historical sites and area attractions that NEPA has to offer. More details on the right.


---
Upcoming Events
Next Nicholson Heritage Association Meeting:
Wednesday, January 28, 2015 at 7:00 p.m.
First Presbyterian Church
65 State Street
Nicholson, PA 18446
Group formed to establish a community garden in Nicholson. First meeting is on Saturday, January 31, 2015 at St. Patrick's Hall, Main and High Streets.
---
Check out our brochure on Nicholson, the Nicholson Bridge, and the Viaduct Valley Way Scenic Byway! Click
here
.
---
Interested in making a donation? Click
here
.
---
Nicholson Bridge 100th Anniversary Celebration Planned for
September 11-12-13, 2015!
Clear your calendars! On September 11-12-13, 2015, Nicholson will celebrate the 100th anniversary of the Nicholson Bridge, also known as the Tunkhannock Creek Viaduct or the Tunkhannock Viaduct. Built by the Delaware, Lackawanna & Western Railroad (DL&W), construction on the Tunkhannock Creek Viaduct began in 1912 and its completion, dedication, and ready for use took place on November 6, 1915. Abraham Burton Cohen was the project designer and George G. Ray was the chief engineer. Nicholson is a small
rural town nestled in Wyoming County and the Endless Mountains of Northeastern Pennsylvania; only about 21 miles north of Scranton on Route 11.
There will be plenty to do in Nicholson and the surrounding region, with events for the celebration currently being planned. Information is available at
http://www.nicholsonbridge100th.com
, including a Google map showing area accommodations. As a reminder, the schedule is subject to change, so check back for updates, which will include events and activities as they get confirmed.
For starters, the celebration will begin Friday, September 11, 2015, night.
Then, on Saturday, September 12, 2015, the official program will take place in the morning, a parade in the afternoon, and Main Street will be closed all day for entertainment, food, and History on Main Street, where area historical groups have been invited to show off their items! Additionally, the Association is working on walking historical tours for both weekend days.
Finally, on Sunday, September 13, 2015,
the Nicholson Women's Club will organize their annual Bridge Day, where crafts, vendors, and food will be available on Main Street.
The logo by George Penyak of Scranton was chosen as the winner by the Association to commemorate the anniversary and celebration. Congratulations George!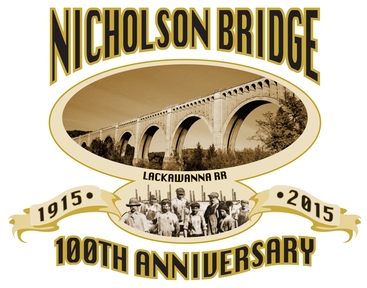 Visitors could see other area attractions or even stay longer than the pla
nned three days of events to see the Martins Creek Viaduct (also called the Kingsley Bridge) in Kingsley; the Viaduct Valley Way Scenic Byway (which runs from Tunkhannock to Lanesboro through Nicholson); the Starrucca Viaduct in Lanesboro; the Steamtown National Historic Site, the Anthracite Heritage Museum and Iron Furnaces, the Electric City Trolley Museum, all in Scranton; and numerous other historical sites and activities to do in the Endless Mountains. See endless options at the Endless Mountains Visitors Bureau website:
http://www.endlessmountains.org/activities/5
.