Dear Friend,
Wishing you a Merry Christmas and Happy New Year, from our families to yours!


---
Next Nicholson Heritage Association Meeting:
Wednesday, January 28, 2015 at 7:00 p.m.
First Presbyterian Church
65 State Street
Nicholson, PA 18446
See you there!
---
Have you seen
Aerial Access
' Flyover of the Martins Creek Viaduct?
Click image to view:

They recently also did a flyover of the Starrucca Viaduct?
Click image to view: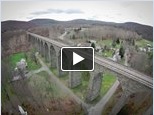 As a reminder, they already did a Flyover of the Nicholson Bridge. To see it again, click image: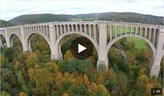 Don't forget to visit us on our website for history of the bridge. Click
here
.
We also have
Steamtown National Historic Site
Archive photos of the construction of the Nicholson Bridge. Clink
here
.
---
Check out our brochure on Nicholson, the Nicholson Bridge, and the Viaduct Valley Way Scenic Byway! Click
here
.
Year End Donation?

Interested in making
a year end (tax deductible) donation?
PayPal accepted.
For more information, click on the
---
---
ICYMI: Railroad Station Grant!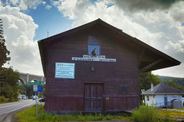 We and the Wyoming County Commissioners (as the project sponsor in order to get the grant) were pleased to announce that the Nicholson Tourism Center at the Historic Delaware, Lackawanna and Western (DL&W) Railroad Station received an $821,276 Pennsylvania Department of Transportation Transportation Alternatives Program (TAP) grant for rehabilitation work! These funds will ensure that the 1849 railroad station is rehabilitated and saved for future generations.
The Nicholson Tourism Center at the Historic DL&W Railroad Station will revitalize the region by attracting tourists to the station, the Tunkhannock Creek Viaduct (also known as the Tunkhannock Viaduct or the Nicholson Bridge), Nicholson, Wyoming County, and the Endless Mountains. Additionally, the station will attract visitors to the region by linking to the area's railroading and transportation attractions, including the Martins Creek Viaduct,
Viaduct Valley Way Scenic Byway
, Starrucca Viaduct and
Steamtown National Historic
Site
. Lastly, it will provide a place for community events.
Please spread the word by sharing this email, posting links to Facebook, or by Tweeting;
so others know that we continue to accomplish what some thought was not possible
! Media and updates on project available at:
www.nicholsonstation.org
.


THANK YOU to all our partners who made this happen. We couldn't have done this without you!