Mortified celebrates BACK TO SCHOOL month with a hilarious collection of embarrassing pieces in a salute to the most awkward month in a teenager's life!
To celebrate, we are proud to announce the Mortified premiere of our guest house band: THE CLEFDIVERS! In celebrating all things awkward, they are a nerdy, yet talented and occasionally sexual a capella group creating revisions, re-edits and remixes of 80's classics.
http://theclefdivers.com/
In Oakland we feature our regular house band: The Hip Hop Improv Comedy Masters: THE FREEZE!
http://www.thefreezesf.com/

THIS MONTH FEATURES: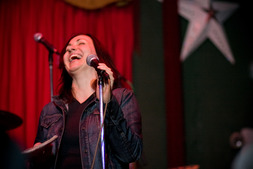 -A young girl writes a letter to Santa, hoping to receive a headbanger dude for Christmas!
- A teen male's attempt at a "Lord Of The Flies" like script where the hero gets the girl, survives a deserted island, and discovers a goldmine of drugs!
-Witness the actual death obsessed horror films created by a 10 yr old!
- A teenage female travels abroad and decides to take home teenage boys as souvenirs!
ALL THIS & MORE @ YOUR COMEDY/SELF HELP ESCAPE: MORTIFIED!
http://www.getmortified.com/
MORTIFIED is:
Hailed a "cultural phenomenon" by Newsweek and featured frequently on This American Life, Mortified is a comic excavation of teen angst artifacts (journals, poems, letters, lyrics, home movies, schoolwork) as shared by their original authors - in front of total strangers. As the largest and longest-running project of its kind, our grassroots comedy collective has spent years sifting through hundreds of otherwise forgotten notebooks while paving the way for a strange new brand of entertainment.
After all, where else can you hear grown men and women confront their past with firsthand tales of their first kiss, first puff, worst prom, fights with mom, life at bible camp, worst hand job, best mall job, and reasons they deserved to marry Bon Jovi?
Participants include a wide range of people, from professional performers (comics, celebrities, singers) to total amateurs (architects, ad execs, salesmen) all in the noble pursuit of personal redemption through public humiliation. Share the shame.
WHO LIKE-LIKES MORTIFIED:
"See it!" (Jane Magazine)
"A comic cringe fest!" (Backstage West)
"Some of the juiciest real life tragedies." (TimeOut NY)
"Self-deprecation taken to a whole new level!" (New York
Press
)
"Never laughed so hard!" (Los Angeles Confidential)
"Heartbreakingly hilarious tales of personal woe & social catastrophe!" (Flavorpill)
www.getmortified.com