The Next Adventure: College!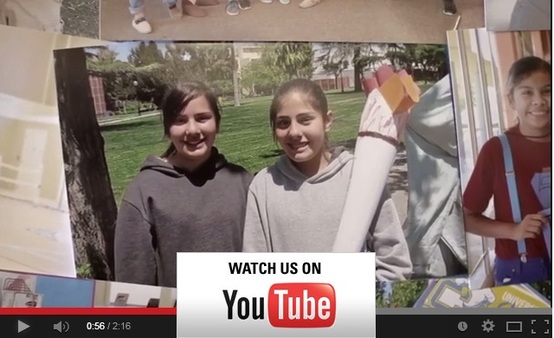 100% of our seniors were accepted to four-year universities!
Acceptance letters flowed in from over forty four-year universities including Beloit College, Brandeis University, Cal Poly Pomona, Fordham University, Loyola Marymount University, McDaniel College, Mills College, Syracuse University, UC Santa Cruz, University of Denver, USF and USC.
After working with us to carefully review their individual budget and financial aid and scholarship offerings as well as the programs at each college. Our Class of 2014 will attend the following schools in the fall:
College of the Siskiyous



CSU Chico
CSU East Bay (4)
San Diego State University
San Jose State University (2)
UC Berkeley
UC Irvine
UC Merced
UC Riverside (2)
UC San Diego
UC Santa Barbara


UCLA

University of Pennsylvania (2)
The joy we feel in sending our seniors off to college is strengthened by the gratitude we have for you, our supporters, who have made their six-year journey possible.
Becoming a Golden Bear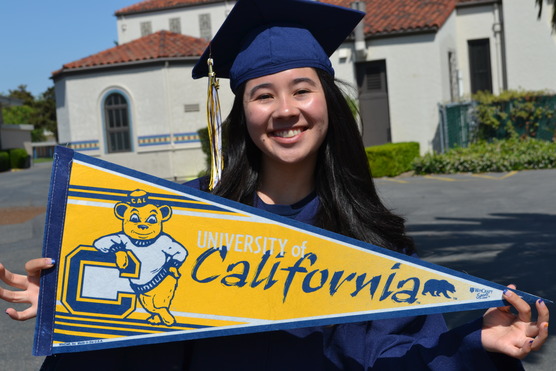 As I stepped across the graduation stage, I looked out into the crowd. Familiar faces from freshman year were missing, validating the stat that 20% of kids in my community do not graduate from high school. Of my fellow graduates, I'm part of the fortunate minority going to a four-year university.
My name is Kelly Peterson and Breakthrough helped me beat the odds to become a Golden Bear.
Even though I worked extremely hard to gain acceptance into UC Berkeley, I know that college enrollment is not simply about smarts, it is about the right guidance. When it comes to attending college, information really is the key. But unfortunately, it isn't equally accessible to everyone. In my high school, my classmates and I were clueless about the college application and financial aid process. We did not know when and where to sign up for the ACTs, how to complete the FAFSA, what classes were best to take or even what a strong personal statement looked like!
Luckily for me, Breakthrough was there to help with the uncertainty. Breakthrough's sights were always set farther ahead than mine. When I was in middle school, they were already thinking of the college prep courses I would take and, when I was in high school, they were thinking of my collegiate career.
This summer, as a Breakthrough intern, I look forward to giving back to the program that has given me so much. Visit me this summer at one of Breakthrough's three summer sites! I can't wait to show you where my six-year journey to college began!
More Than Just a Ripple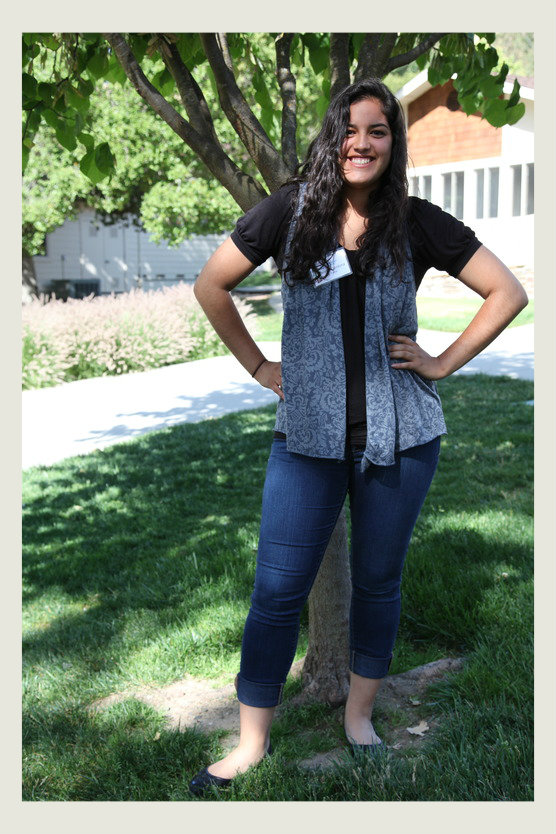 Breakthrough alumna, Jocelyne Cardona, has her eyes set on making waves...
Big waves in Washington D.C.
"Why would I graduate from college and not use the privilege I have to open up spaces for change, including for the voices that need to be heard? That is imperative. That is how I think about my activism," says Jocelyne.
As a graduate of Macalester College, Jocelyne views herself as privileged because she has an education that many, including her parents, do not. She is the very first in her family to graduate college and her two younger siblings, Breakthrough students as well, are following in her footsteps.
Her personal experience enrolling in a four-year university and navigating the higher education system inspired her to pursue a career dedicated to education policy and reform. She is keenly aware that out of the 13 million low-income students nationwide, she is part of the mere 10% that graduate from college. As Jocelyne explains, "In a time when the stratification between those who can and cannot pay for college is increasing, the efforts toward inclusion and diversity, both racial and socioeconomic, need to increase as well. My efforts are to ensure that everyone has a seat at the table and that universities are welcoming places for all students, not just a subset of the population. I can use my educational privileges to open avenues for conversation."
Her first job out of the gate is with the U.S. Department of Education. She acknowledges that her role as Confidential Assistant within the Office of the Undersecretary is just the start. In that position, she is charged with managing the schedules of the Deputies in the Office and administrating their social media accounts. Her work within the Federal Government is just the first step towards the future she envisions.
"It is easy to be drawn to the work in the trenches and the grassroots movements I have been involved with in the past, but I'm eager to learn what is required to influence change on a national scale," Jocelyne said. "Government is just another space that I have to learn how to navigate. I understand the internal workings of the government at a superficial level and seek to one day comprehend it more intimately. Because, it is only then that I can make a real difference."
Preparing Students for the Careers of the Future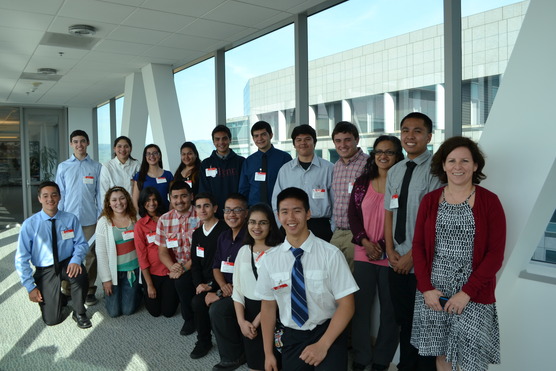 "When I was in college, my role at Adobe did not even exist," explained Tom Nguyen, an Adobe Voice Senior Product Manager, to a group of eighteen Breakthrough students touring the Adobe offices in downtown San Jose.
His statement begged the questions: Are we aptly preparing those eighteen students and their Breakthrough peers for the careers of tomorrow? Are we affording them the experiences and providing them the skills necessary to succeed in our new economy? An economy that further requires intangible skills such as risk-taking and adaptability.
Short answer: Yes.
As part of Breakthrough's carefully designed sequence of services and activities we…
run a Growth Mindset Workshop Series for our middle and high school students.

intentionally provide opportunities for healthy risk-taking, problem solving and creative thinking.

create spaces for collaboration and team work.

connect our students to professional mentors thriving in their chosen careers.

visit companies that house the talent and innovation that pushes our society ever forward. For example, in the spring our high school students, visited Adobe, Anderson Brule Architects, Applied Materials, Barry Swenson Builder, Deloitte and PayPal.
Breakthrough is shaping individuals who will fill the careers of the future. Learn about how you can help us shape the next generation below.
Agami: Investing in Futures
Breakthrough Silicon Valley Executive Director, Melissa Johns, addresses the Agami Foundation at its annual gala.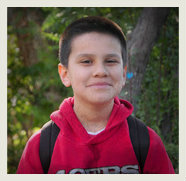 The Agami Foundation has partnered with Breakthrough Silicon Valley to further its mission of "creating lasting socio-economic change through education." Annually, they invest thousands to ensure that students living in poverty receive quality education and degrees of value. Historically, they have only supported students in Bangladesh but, starting in 2013, they selected Breakthrough Silicon Valley as their local partner. By sponsoring two Breakthrough students for a full year, Angel and Rachelle (pictured right), Agami has turned its focus to students in our community. Like their fellow scholars in Bangladesh, Angel and Rachelle have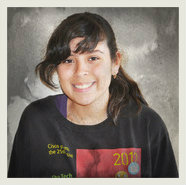 big dreams -
dreams of
rising above their current conditions t
o chart a new
course for them and their families. Whether it is the dream of raising a
family in a neighborh
ood where the sounds of gunfire and police sirens don't ring through the night, like Rachelle, or the dream of living in a home with reliable electricity, like her Bengali peer, the ticket to fulfilling these dreams is the same: an education.
Given their bright futures, it is only fitting that Agami is now part of their journey, since "Agami" is the Bengali word for "future."
Whether you give $25 or $2,500, you can click here to join Agami in investing in young people, just like Angel and Rachelle.
Summer Volunteer Opportunities
Join us in opening our students' eyes to the potential careers of tomorrow and motivating them towards academic success today!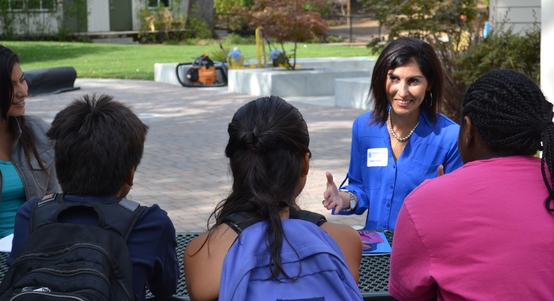 Career Exploration Day Field Trips
What? Host a small group of students at your work place
When? Tuesday, July 22nd, 10:00am – 1:00pm
Where? Your office!
Career Exploration Day connects our students' dreams with a very real work experience. By visiting your company students learn about the professional working world and the doors that a college degree opens. Our students will take the first step in creating a personal vision for their success. To learn more click here.
Career Speakers' Morning
What? Speak to small group of middle school students about your career
When? Tuesday, July 15th, 8:30am-10:30am
Where? Evergreen Valley High School, 3300 Quimby Road, San Jose
or
When? Thursday, July 17th, 8:30am-10:30am
Where? Hillbrook School, 300 Marchmont Drive, Los Gatos
Career Speakers Day connects our students' dreams with an actual professional who shares their academic and professional journey. For our students, who will be the first in their families to go to college, it is important that they meet individuals (like you!) who are successful in their chosen profession. To learn more click here.
Women of Science and Technology Brunch
What? Female STEM (Science, Technology, Engineering and Math) professionals speak to our middle school girls about their careers.
When? Friday, July 18th, 8:30am-10:30am
Where? Hillbrook School, 300 Marchmont Drive, Los Gatos
As a leader in technology and innovation, Silicon Valley's competitive edge is dependent on a highly educated workforce but, shockingly, the Valley has a weak pipeline of homegrown candidates, especially women. Young girls are rarely given the opportunity to meet with STEM professionals. Help change that by joining our girls for a morning brunch! To learn more click here.
Contact Christina Castro, communications coordinator, at 408-287-6357 or ccastro@breakthroughsv.org to participate!
Visit Us This Summer!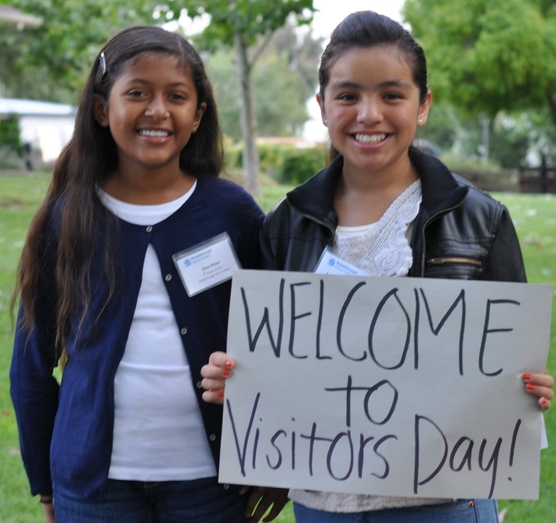 Tomorrow, is the start of our six-week academic summer program for rising 7th, 8th and 9th graders. We
welcome you to visit one of our three summer campuses, Evergreen Valley High School, The Hillbrook School or Lincoln High School, and see firsthand what hundreds of middle school students and 56 high school and college students can accomplish in just one summer!
Tour our rigorous and engaging classes
Hear from our students, teachers and mentor teachers about their experiences and accomplishments
Participate in the daily All School Meeting
Learn how Breakthrough is tackling education inequities
We promise you'll be inspired by our students' stories and you'll leave knowing that you are helping create a new generation of leaders.
Join us for a Visitors' Day on either:
Tuesday, July 8th from 9am to 11am
Evergreen Valley High School (Franklin-McKinley School District Summer Site)
or
Thursday, July 10th from 9am to 11am
Hillbrook School (San Jose Unified School District Summer Site)
If you are unable to attend, we would be delighted to give you a tour at your convenience. Our summer program runs from Monday, June 23rd to Friday, August 1st.
To arrange a visit contact:
Christina Castro
Communications Coordinator
ccastro@breakthroughsv.org
408-287-6357