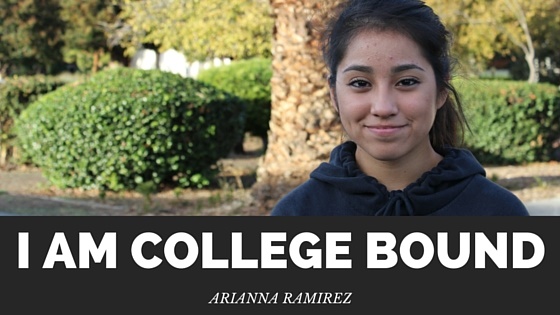 "Imagine yourself walking home from school. You purposefully try to avoid wearing any red or blue because you do not want to draw attention from the gang members in your neighborhood. You walk on the opposite side of the apartment complex to avoid making eye contact with the registered sex offender who lives just a couple doors down. You avoid your druggie neighbor hanging out on the dilapidated staircase to your apartment door. . . This is my world."
And that is how Breakthrough student Arianna Ramirez describes it in her college applications. While many of her classmates didn't care much about learning, Arianna dove into her studies. Witnessing the impact of drugs, crime, and underemployment around her, she wanted more. She wasn't going to end up as just another kid from the east side that didn't make it to college.
This spring, Arianna will graduate from high school as a proud member of the Class of 2016. High school hasn't been easy though, not for a student who has chosen rigorous courses on top of a full schedule. At moments her confidence has faltered, but Breakthrough has supported her through every challenge. And with the encouragement of her Breakthrough mentors Arianna has pursued experiences she never would have imagined on her own, like attending a prestigious summer program at Exeter Academy.
Arianna plans to study law in college and eventually become an immigration attorney. The struggles she sees in her community fuel her dreams – struggles to obtain work permits, find jobs, and to live financially secure. She wants to be an advocate for a population facing overwhelming obstacles, to "become the voice for those who are afraid to speak up."
As her six years at Breakthrough draw to a close, Arianna looks ahead to the next chapter in her journey. The barriers she's reached beyond have made her strong and confident.
Breakthrough students reach far and dream big, but they can't do it alone. A donation to Breakthrough empowers all our students, so that one day, like Arianna, they can all proudly say, "I AM College Bound!"

No doubt you've noticed the media coverage over the last months and years about the Common Core Standards. The new guidelines have radically shifted goals for learning in schools across the nation, presenting enormous challenges for educators. At Breakthrough, we've embraced the Common Core in our After-School Math Program. And while this necessitated a bold redesign, at the same time it made perfect sense. The new standards naturally dovetail with the skills our program seeks to build – creativity, collaboration, flexibility, perseverance, communication, critical thinking – skills that will ensure our students thrive, not only in college, but in an increasingly complex workplace.
You might wonder how a Breakthrough classroom looks. More importantly, it's about how it sounds. Gone are the rows of students, waiting quietly, pencil in hand. In a Breakthrough classroom, you'll notice a buzzing cacophony as kids actively collaborate in small groups. You'll hear focused conversation as students talk through a problem, disagreeing at points then coming together to reflect. You might catch an "aha," as they pinpoint an error, then plunge ahead to revise their solution. The process is interactive, iterative, non-linear. It can be boisterous, even a bit messy at times. Students discuss ideas, strategize, question, rethink. The energy is inescapable.
At the heart of the program is Breakthrough's students-teaching-students approach in which high school and college students act as role models and facilitators. Our math coaches give Breakthrough students room to explore and drive their own learning, offering support when needed, often in the form of a guiding question, much like a project leader would provide at work.
We see student learning solidify through this active, sometimes messy process. Our students are indeed building math skills. More importantly though, they are building skills that will prepare them for the workplace of tomorrow – for jobs that have yet to even be conceived – as the future innovators that will shape our world.

At Breakthrough, our approach embraces the entire family -- each student and their parents. We view our relationship with parents as a partnership; together we provide a solid foundation to bolster students through the many challenges they face on the road to college.
At the same time, we understand that Breakthrough parents often feel ill-equipped to guide their children. Many never attended college themselves, or simply lack time and resources. To support the specific needs of our parents, we offer a series of workshops to guide and support them, just as we guide and support their children. The Parent Education Program features a series of two-hour workshops over six full years. Each session covers a key topic – everything from Saving for College to Social Media and Online Safety, and High School Course Selection to Financial Aid Basics.
As our students progress from middle school to high school, workshops are structured to help parents learn what they need to know at each crucial juncture as well as anticipate what's ahead. In the spring of seventh grade, for instance, we begin to explore high school options, and in the fall of ninth grade, the college admission process is introduced.
Workshops are offered in English and Spanish with some Vietnamese language support as well. Like all of our Breakthrough programs, parent workshops are interactive and activity-based, with plenty of time for Q&A. Parents are always encouraged to contact us when they need one-on-one support – just as their children do – at each step of the way.

On July 27, 2015, Breakthrough Silicon Valley hosted administrators and teachers from across the Franklin-McKinley School District for an Educator's Day. We were honored to have representation from every school within the district. Attendees toured classes and heard from our students, teaching fellows, and instructional coaches about their Breakthrough experiences.
The students were excited to tell their principals and teachers about their summer classes and co-curricular activities such as field trips to San Francisco and UC Berkeley, their career exploration day at Silicon Valley companies, and elective classes that ranged from Scratch Coding to Mock Trial to Persian Dance.
The day helped administrators and teachers fully understand the comprehensive scope of Breakthrough's programming which includes academic support and college guidance to students and families. The Educator's Day allowed us to showcase our summer program and provide administrators a better picture of what their students are up to in the summer.

Our Executive Director, Melissa Johns, sits down with our new Director of Development, Ana Cruz, for an inside look into what has drawn her to Breakthrough Silicon Valley.
Melissa Johns: What makes our work compelling to you?
Ana Cruz: The success stories! Breakthrough students are some of the most inspiring young people I've met. The idea that a young person, at the tender age of 12 years old, chooses to set themself down a road to education, edification, and success -- that's incredibly moving to me. What a gift they're giving themselves, this investment in their future.
MJ: And, tell us a little about your educational background?
AC: I'm a product of the California public school system. I went to public schools throughout my childhood and then earned a Bachelor of Arts from the University of California at Berkeley. I rounded out my education with a Masters in Business Administration, with a focus on Nonprofit and Public Management, from Boston University. I feel very lucky to have the educational opportunities I've had.
MJ: How do you personally connect with the Breakthrough mission?
AC: My personal connection to the Breakthrough mission stems from my family's roots. On one side of my family, I have a legacy of educators. On the other side, there wasn't a lot of education. My dad grew up as a migrant farm worker. He dropped out of high school, but ultimately went into the military and on to college. For him, education was the key to changing everything. I attribute my luck in life to the fact that both of my parents really emphasized the importance of education from an early age. I'm excited to help other families take that path.
MJ: What excites you most about development work?
AC: First, it's all about the mission. Both personally and professionally, I navigate with my values. It's important to me to be doing work that's needed in our community, to be contributing to something bigger than myself, and to move the needle in the direction of social justice and equality. Secondly, I love connecting with other people around their values. Development is all about making those connections. It's both fun and meaningful.
MJ: You're coming into the organization at an exciting time of growth, what is your vision for the organization?
AC: I'm so excited to be joining the Breakthrough team. BSV has an incredible reputation in the community and an impressive track record of success for its students. That's the key piece for me, the fact that Breakthrough is able to help children change their lives for the better, to empower young learners (and future teachers!) to invest in themselves. My vision for BSV is to expand upon those successes, to reach even more students, and to create a community of supporters who also believe that education can change lives.