Silicon Valley Competes to Get Kids to College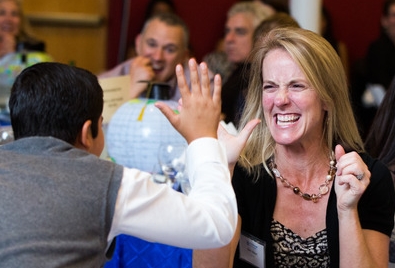 On October 23rd, we packed the house for our 4th annual nail-biting trivia competition, "Are you smarter than a Breakthrough student?" Hundreds joined us for the fast-paced and fierce competition. Here's a taste:
How quickly can you classify a triangle with side lengths of 15, 36 and 39?

Does atomic mass equal the number of protons and neutrons? Or, is it protons and electrons?
When guests weren't stressing over the right answers, they were relishing the chance to meet and mingle with Breakthrough students, who worked the room with ease, flashing their smiles and business cards (Click here for full online album of event photos!).
After two intense rounds of trivia, we heard the tie-breaker: What is 336 divided by 8? Hush filled the room, then seconds later the winning table shouted "42!" and erupted in celebration. Meanwhile, our students huddled together, put their game faces on, and bravely took the stage for the championship round.
Ultimately, the Hillbrook School's team of teachers, administrators, and one pizza maker, squeezed out a victory – but we all know that everyone was a winner that night. When we heard the very moving presentation from four Breakthrough students and an alumna, it was easy to remember why we were really gathered together that night. Check out the student presentation here!
This annual event exemplifies the culture of Breakthrough, and we are honored that so many supporters joined us to celebrate our success and fund our work. If you were unable to make it but still want to support students, like Heriberto interviewed below, it is not too late!
First-Generation College Applicant Opens Up about the Grueling Process
Applying to college can be overwhelming for any student. But it's especially intimidating for an applicant who is the first in his or her family to attend a four-year university. Decisions about where and how to apply, and college affordability issues pose hurdles for first-generation college students. At Breakthrough Silicon Valley, we make the college application process less daunting for students.

We recently sat down with Breakthrough senior, Heriberto Alcantar, who shared his experience of being the first in his family to apply to college.
Breakthrough Silicon Valley: How long have you been preparing to apply to college?
Heriberto Alcantar: Now that I'm about to submit my applications, I realize I've been preparing for this moment since middle school. The application check list is long. Colleges look at all of the classes that you took; the grades in those classes; what you did after-school, on the weekends and in the summer; your ACT scores; letters from teachers, coaches, advisors. All of that does not come together in just one year. By the time some kids think about college, it is too late. They might not have taken two years of a lab science or two years of a foreign language. Luckily, since I was eleven, Breakthrough was making sure that I was in the right classes, monitoring my grades, matching me with tutors when my grades dipped, organizing the ACT Prep and Personal Writing Sessions and helping me figure out next steps – like which colleges to apply to!
BSV: It is great to hear that we kept our end of the bargain! So, which schools are you applying to?
HA: I'm applying to Cal Poly Pomona, Cal Poly San Luis Obispo, CSU East Bay, CSU Monterey Bay, Florida Institute of Technology, Rensselaer Polytechnic Institute, San Jose State University, Santa Clara University, UC Berkeley, UC Merced, UC Riverside and UCLA.
BSV: That is some list! How did you decide on those colleges?
HA: It has been a long process that started the first time Breakthrough took us on a Career Exploration field trip to a local tech company where I met a computer engineer. Of course, I heard of computer engineers but, before that trip, I had never met one. The work he was doing was fascinating to me. Since then, I wanted to be a computer engineer. I started my college search by looking at schools with engineering programs. Then, I started to consider fit. Last spring, Breakthrough took us on a college tour of schools in Southern California. Before that trip, I was convinced that I wanted a small school. I'm shy and didn't think I would fit in at a big school. But, on the trip, we visited one small school and it felt too small. There weren't a lot of people walking around and nobody seemed to be hanging out on the quad or in the library. I realized that I needed a school with more life because even though I'm shy, I need people around me and opportunities to meet new people. I probably would not be applying to a school like UCLA if I did not visit the campus.
BSV
: Has cost been a concern when applying to and deciding where to attend college?
HA: Definitely! I'm still learning what type of financial aid is out there. I'm fearful that my grades are not high enough for merit based aid and scholarships. At least I'm not alone in figuring all of this out. We started learning about saving and budgeting for college and the difference between loans, grants and scholarships at Breakthrough last year. This year, they will walk us through FAFSA and go over the financial aid packages and all of that with me and my family.
BSV: Besides money, what has been the most stressful part of the college application process so far?
HA: Writing personal statements is stressful. A lot of effort is required to write a strong statement. The first time I saw the prompts, I didn't know how to start. I felt like I had to unpack my life and fit it into 1000 words. Just reflecting on my life was tough. I reflected on pieces of my life that most people try to ignore. It is scary to then share that with someone I do not know.
BSV: You have devoted countless hours of time preparing and applying to college. What motivates you to do all of that?
HA: Biggest motivator: my parents. My mom and dad were unable to finish high school and I have seen how they have struggled to raise me and my two sisters. I want to lift the burdens that my parents have shouldered alone all of these years. My hope is that a college degree can lead me and my family towards stability, towards a life without fear of the future. By being the first in my family to go to college, I will pave the way for my younger sisters. More than an example, I want to be a resource. In the same way that I go to Breakthrough with questions, I want my sisters to feel confident coming to me about anything - APs, entrance exams, fee waivers, loans, and whatever else we should know when applying to college!
BSV: Any crucial advice for fellow first-gen students applying to college?
HA: The most important advice that I can share is to never give up on a dream. Over the years, I have heard, "college may not be the best option for you," "you will not make it to college," and "you are not college material." But, for all of those that have tried to shut me down there have been even more that have raised me up. Those are the people that I have kept in my corner. Those are people that are going to be with me when I walk across the stage at college graduation.
Breakthrough Kids Take Over SoCal on the

Ultimate College Tour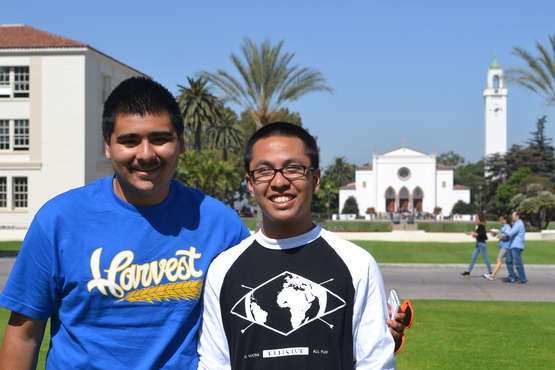 Every spring, we take our junior class to visit colleges in Southern California. Why?
...Because most will be the first in their families to go to college, so all they know is what they've read in brochures or online.




...Because their families don't have the financial means to visit schools on their own. This is the only way that most of our kids will get a chance to see schools outside of the Bay Area.




...Because they're working incredibly hard to take the challenging college prep courses that most of their peers disregard.
In April, we will take our largest class to date - 45 students - to experience 12 schools in person. We must raise $15,000 to cover the cost of this Southern California trip, which is twice what it cost in prior years since we now must charter a bus to get the entire class to Southern California.
Help us make this trip possible - for students like Isaac who dreams of attending USC (and cheering on the Trojans!) but has never seen the campus. Or Alexa, who daydreams about four years of flip flops and study groups in the sun, but isn't 100% sure that she's ready to be 6 hours from home.
Please consider making a contribution to fund the cost of a lunch, a hotel room, or a day's journey on the bus. Any gift - of any amount - helps create this one-of-a-kind experience.
Inspiring the Next Generation of Educators:
An Instructional Coach Perspective
I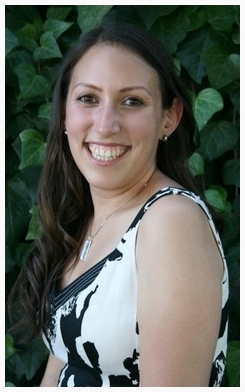 n an important sense, Jaclyn Guzman Zarrella, an award-winning history teacher and Dean of Humanities at Kehillah Jewish High School in Palo Alto, owes her career to Breakthrough Silicon Valley. As a junior at UC Santa Cruz in 2006, she was at a crucial juncture in both her studies and her career planning. Like many college juniors, she was undergoing the "what should I do with my life?" existential crisis. A summer of teaching at Breakthrough Silicon Valley helped her decide.
Out of dozens of summer "teaching" opportunities, Breakthrough offered the only internship that put applicants front and center in the classroom. Jaclyn and her young colleagues were not teacher assistants nor instructional aids but teachers and as such took on the challenges of lesson planning and managing a classroom of middle school students.
Jaclyn found herself leading a classroom of students from a similar background as herself. The daughter of a traditional Mexican-American family, she could identify with students from communities where expectations remained dangerously low. For her and her students it was not uncommon to hear "you can't" or who have been called "white-washed" for picking up a book. And like many of her Breakthrough students, she was the first in her family to attend a four-year university.
Jaclyn's hands-on experience in a Breakthrough classroom gave her a vivid point of reference both in her studies and professional career. "I had a leg-up on many of my peers, who lacked the experiential knowledge," explained Jaclyn.
Upon graduating from the University of California at Santa Cruz with a Master of Arts in Education, she found a home at a start-up private high school in Palo Alto, where she applied her Breakthrough inspirations to small classes oriented toward college preparation.
This past summer, Jaclyn returned to Breakthrough as an Instructional Coach. "I needed to feel the spark of education again and Breakthrough is a great place to do that. As an Instructional Coach, I received intensive training to support the teaching fellows. As I helped them create lesson plans, engage challenging students, and assess student work, I was able to reflect on my own teaching practices and methods. As she shared with the new crop of young educators, "I'm here for selfish reasons – to rekindle my own passion and hone my craft!"
For more information on how to apply to be a Breakthrough Teaching Fellow or Instructional Coach, visit www.breakthroughsv.org.
Breakthrough Welcomes New Talent to the Team
Like any educational program, Breakthrough's effectiveness is most significantly influenced by the people executing our programs. We are thrilled to welcome three experienced educators to our staff this year. The three new hires collectively boast close to three decades in the classroom. In June, we hired Ariel Morris as our new Director of Curriculum and Instruction (DCI). Ariel joins our team with 11 years of teaching experience and a tremendous skill set to ensure that we maintain high-quality, engaging, and academically rigorous summer and after-school classroom instruction during a time of expansion and growth for our program. As part of a three-person executive team, she is responsible for setting the strategic direction of our growing organization.
Working on the ground with students and families are our two new Middle School Program Coordinators; Christina Tran-Kenyon, who is managing programs at our Franklin-McKinley School District site, and David Tarula, who is managing programs at our San Jose Unified School District site. Both are extraordinary math educators, who led math classes in public and charter schools in the most underserved of California communities. Like many of the students that we serve, Christina and David are first in their families to attend college and are fluent in Vietnamese and Spanish, respectively.
The talent that Breakthrough brings on board not only has the expertise to develop and implement effective programming, but also the cultural competency necessary to build trusting relationships with students and their families.

Upcoming Volunteer Opportunities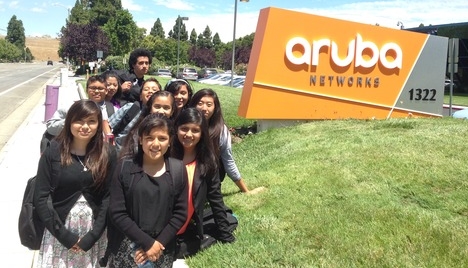 Resume Writing Workshops
Volunteers will provide detailed explanations, as well step-by-step processes, for creating an effective resume and work one-on-one with students as they craft their resumes.
Tuesday, January 13th, 6:00pm-7:30pm (Breakthrough Silicon Valley Office)
Wednesday, January 28th, 6:00pm-7:30pm (Breakthrough Silicon Valley Office)
Mock Interview Workshop
Breakthrough will hold a Mock Interview Workshop for sophomores and juniors, many of whom are applying for summer jobs and internships. The mock interviews help our students learn how to develop interview strategies, answer challenging questions, improve upon their communication skills and reduce stress before their actual interviews. Volunteers will interview our students in the mock interview sessions.
Saturday, January 31st, 9:00am-12:00pm(Breakthrough Silicon Valley Office)
Financial Literacy Workshop
In partnership with The Glow Foundation, Breakthrough offers a Financial Literacy program in which small groups of students are matched with knowledgeable financial literacy mentors that share their expertise in personal financial management (i.e. budgeting, interest, credit) and college financial planning (i.e. financial aid, college expenses). GLOW provides the curriculum and training to all of the mentors, who walk students through the process of opening a savings account, designing a savings plan, budgeting, building credit, applying for financial aid, and strategically choosing a college based on their personal financial situation. For more information, please visit http://breakthroughsv.org/financial-literacy-mentor/.
Tuesday, February 24th, 6:00pm-8:30pm (Breakthrough Silicon Valley Office)
Wednesday, March 25th, 6:00pm-8:30pm (Breakthrough Silicon Valley Office)
Tuesday, April 21st, 6:00pm-8:30pm (Breakthrough Silicon Valley Office)
Saturday, April 25th, 8:00am-12:00pm (Breakthrough Silicon Valley Office)
Career Exploration Day Field Trips
Career Exploration Day connects our students' dreams with a very real experience. By seeing what it looks like to work in Silicon Valley, they are taking the first step in creating a personal vision for their success. While their dreams may change, it is important that every student meets individuals who are successful in their chosen profession. Let us know if you or a colleague would like to host a small group of high school students for a morning at your place of work. For more information, please visit http://breakthroughsv.org/host-career-day/.
Tuesday, April 7th, 10:00am – 1:30pm (Your place of work!)
Wednesday, April 15th, 10:00am – 1:30pm (Your place of work!)
Contact Christina Castro, communications coordinator, at 408-287-6357 or ccastro@breakthroughsv.org to participate!
Watch us on Comunidad del Valle!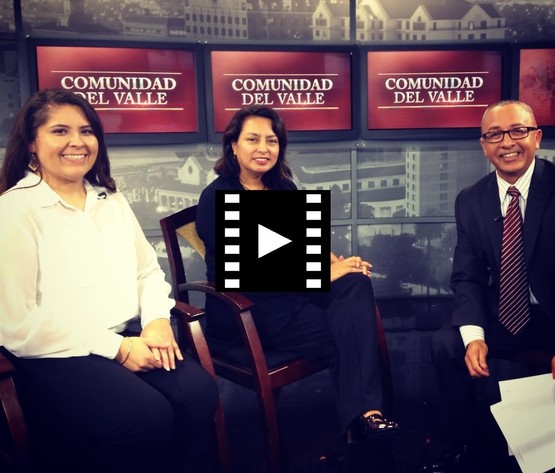 Breakthrough Silicon Valley was featured on Comunidad del Valle, which aired on
NBC and Telemundo.