Hi Learners Chess Parents and Friends,

We are excited to announce that we'll be having three days of winter chess camps this winter break, each with a different theme. Also, registration is now open for next semester. Also, a rare treat, Grand Master Jesse Kraai, will be in town promoting his recently released book, Lisa, a Chess Novel.

Read below for details.

---
Play Grandmaster Jesse Kraai in a Simultaneous Match
and Get a Copy of his book, Lisa, a Chess Novel!
Grandmaster, Jesse Kraai, formerly of New Mexico, will
be in town on Thursday, December 19th from 6-8:30pm. He will do a brief reading from his new book,
Lisa, a Chess Novel
, and then he will be playing all comers in a simultaneous match. You player can sign up to play him and get a copy of the book for $15. This event will take place at UNM School of Law Thursday, the 19th of December from 6-8:30pm (or whenever you or your child's game against GM Kraai finishes).
To get to meet and play a chess Grand Master is a rare treat, as there are only about 60 in the U.S.
Not to mention, Jesse is an emerging author with this new book, which has received great reviews!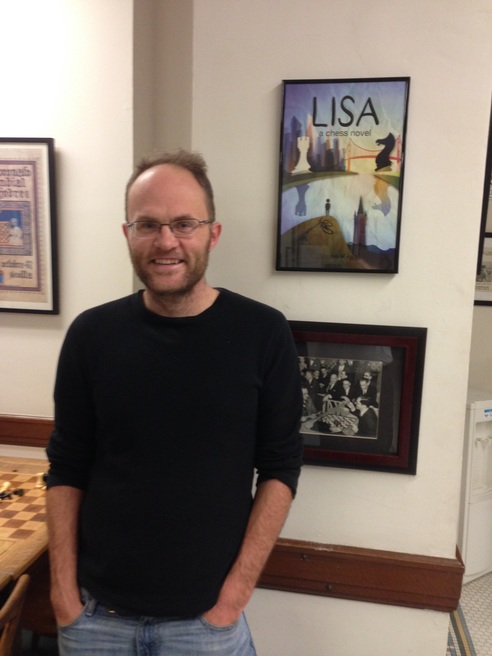 "I don't know the author. I do play chess, virtually every day of my life. I was astonished by this book. It is filled with insight and beautifully written. I hope this author becomes widely known and receives the appreciation due to those with rare talent. This is not just a book about chess: it is literature."
- Anonymous Amazon reviewer


Sign up for the simultaneous match and/or your copy of Lisa, A Chess Novel here.
---
Winter Chess Camps!

As always, our
winter chess camps
are designed for your convenience during the busy holiday season and with specific themes for each one. These camps will take place at UNM School of Law, NACA Building. Each day of chess camp has two half day sessions:
Mornings 9:00am-noon; afternoons, 1pm-4pm.
Monday, December 23rd, Chess Gatherings. $12 per half day.
Our Chess Gatherings, are a place and time where chess kids can hang out with chess coaches and play chess, learn one on one, play bughouse, and other variants. The time is less structured than our normal classes.

These are a good opportunity to get some inexpensive child care for the day before the holiday season kicks into full gear.

Thursday, January 2nd, Chess for Beginner/ Intermediates and Jr. Leaders, $15 per half day.
Is your young player still learning the basics of chess tactics and techniques? Did she/he miss a few chess classes during the Fall and could use a refresher or more practice? If he/she has been in one of our chess learning classes for one year or less, they will benefit from this class.

Is your chess player is more experienced and wanting to develop his/ her Jr. Leader skills and help others learn chess while having fun? Sign them up for this half or full day camp as a Jr. Leader!
Friday, January 3rd, Chess Tournament Camp, $15 per half day.

At this single day camp, we will have brief lectures in between rounds of a chess tournament in the morning and another in the afternoon.

Players can sign up to play in a USCF rated section or in an unrated section of the chess tournament.
Sign up for winter chess camp here.
---
Spring Semester Registration, Now Open!

Many of you all have already signed up and paid for the Spring semester, but if you haven't or you aren't sure, here is how you can sign up for next Spring:
If your child is already signed up this Fall and you want to re-register them, please email Jennie at jennie.learnerchess@gmail.com and let her know your name, your child's name, and for which class you'll be re-registering them.
If your child will be new to their after school program this Spring, please sign them up here. We may add a few new clubs in the Spring.
SPECIAL OFFER: Sign up for next Spring before December 16h and get $5 off.

---
In Case You Missed It:

---