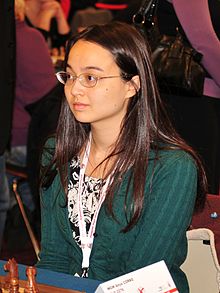 Hi Chess Parents and Friends,
This one just came up today.
Woman's Grand Master Anya Corke
is in Albuquerque this week and she has agreed to play a
simultaneous match
against any and all of our students and other local chess players who would like the challenge of playing her.
It is a rare treat for Albuquerque to host a player of this caliber.
We are incredibly grateful that Anya has agreed to do this event as a fund raiser for Learners' Need-Based Scholarship fund.
She is only in town until this Thursday so the event is this Wednesday. Here are the details:
Who: WGM Anya Corke against all comers (limit 30 players)
What: Play a simultaneous match against one of the strongest woman players in the world!
When: Wednesday, June 18th 2014. Time: 5:30pm-8pm
Where: UNM School of Law, NACA Building (google map)

Cost: Suggested donation of $15 for LCA's Need-based scholarship fund.
Hope to see you there!
Coach Victor
P.S. We are having an end of summer Super Bughouse Tournament/ Party that you can sign up for here.

P.P.S. We still have space in many of our weeks of chess camp this summer. :-)