Sending Mission youth to
college
since 1972
Mi Pasaje Celebrates Class of 2016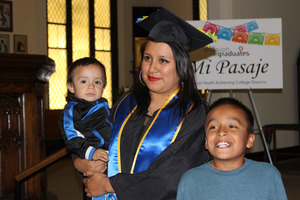 Ely Jeronimo sharing in her college graduation with her younger brothers before speaking to her fellow graduates
For this year's 25 high school graduates, Mi Pasaje was a time to come together with their cohort and celebrate with family. And for our 13 college graduates, Mi Pasaje was a culmination of years of support from their College Connect community.
Student and parent speakers took the stage to share inspiring words. Guest speaker and San Francisco Poet Laureate Alejandro Murguía spoke to the history of the community and its promising future.

Mi Pasaje was a true celebration and the Mission Graduates familia was so proud.
To see all of the night's photos, visit our facebook page.
Summer Program Explores Africa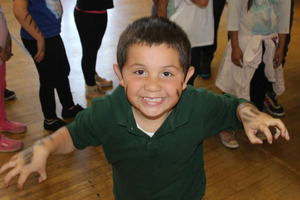 This summer, Mission Graduates Summer Program is taking a trip around the world, learning about new cultures, wildlife, and discovering wonders of the world through STEM.

To kick off Africa week, the programs at Bryant and Flynn created a fun-filled afternoon to learn about this varied continent.

With help from GoogleServe volunteers, the young ones dove into arts and crafts, creating African-inspired jewelry, creating zebra masks, and pinning the tail on the giraffe. Then the event moved outside, to challenge the older grades to a mummy race, pyramid building, ostrich egg tennis, and monkey ball.
See all of the day's photos here.
Inspiring Tours for the Whole Family
This month, the Parent Partner Program wrapped up their Bay Area First-Gen Inspiration Tours, taking families on tours of college and tech campuses. After a great day at Cal Day, they were off to Stanford, SFSU and Google this month.





In Mountain View, families spent an afternoon experiencing life at Google - complete with a tour of the campus, a chance to learn about the history of Google technology, and of course lunch in the cafe!

Another popular trip with our families was visiting Stanford University. The group headed down to explore this prestigious campus in their own backyards.





Touring classrooms, student commons, and having lunch on the main green, Mission District families spent the day learning about life on campus and how they can inspire their student to work towards a college future.



Thank you to all who made these trips possible through our GoFundMe campaign!
Traveling Europe at the Marsh Theater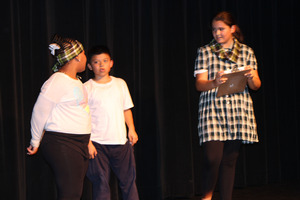 Students worked all week to put together a performance. Here the teacher gets her students ready for quite a school field trip.
Marshall Summer Program 4h and 5th graders took learning about Europe this week to a whole new level.
Thanks to an amazing theater camp at the Marsh Youth Theater, Ms. Charlotte's class spent the week experiencing European culture through song and dance.
Through dance, trapeze, song, and research into fun facts about individual countries, the group prepared for a showcase at the end of the week.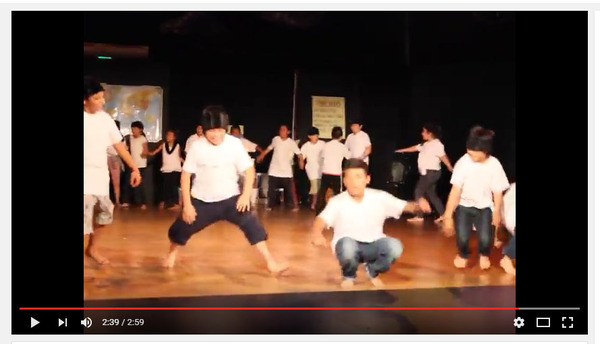 Mission Promise Neighborhood Honors Grads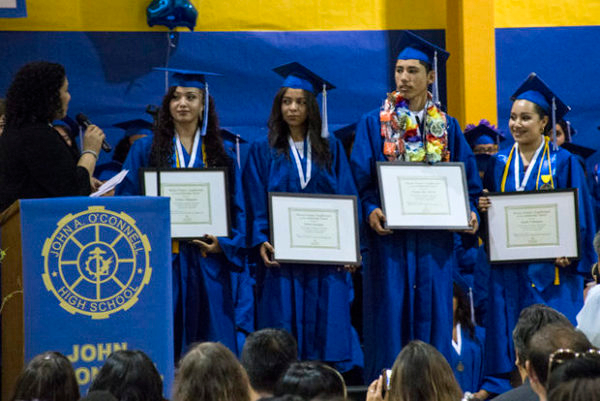 Mission Graduates' College and Career Center team celebrated their first high school graduation this year after an amazing start to new programming at John O'Connell High School.

As a partner in the Mission Promise Neighborhood , Mission Graduates came together with staff from partner organizations around the Mission for a scholarships fundraiser - raising over $10,000 for students graduating from John O'Connell this year.

MG Board Vice President and Mission Promise Neighborhood Family Success Coach Manager Amelia M. Martinez C. was on hand at this year's graduation to share the good news with four lucky O'Connell seniors, making higher education a possibility for more Mission youth.
Making Their Mark Through Art
Summer at the Mission Community Beacon has been filled with academics and enrichment for Everett Middle School Students. After a morning session with credentialed teachers, students are finding new passions through electives.
For the Roots Mural class, students have been working to create a lasting piece of art in the Beacon. After an exploration of what best represents their own experiences, students brought ideas together to brighten up the walls of the Mission Community Beacon.
This collaborative project is in process and we can't wait to see the final unveiling this summer!
Grads Get Ready for College
For the first-gen youth of College Connect, the Maisin Scholars Program, and John O'Connell High School, the last day of school means the first day of preparing for freshman year.
Coming together for a full day workshop, students who will be the first in their family to go to college were given space to explore what it means to reach this milestone.

Through interactive workshops, inspiring speakers, and a chance to get to know students heading off to their same school in the fall, these recent graduates are already showing true dedication to their future college success.
Thank you to GoogleServe volunteers for the support!

Check out all of the great photos here.
| | |
| --- | --- |
| Join Our Family of Supporters | Volunteer With Us! |