Sending Mission youth to
college
since 1972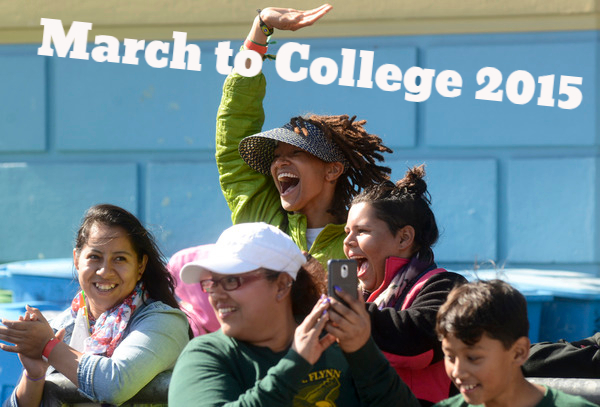 Bryant Students chant "C-O-L-L-E-G-E" up




and down 24th Street.

Students from Buena Vista Horace Mann represent




at the March.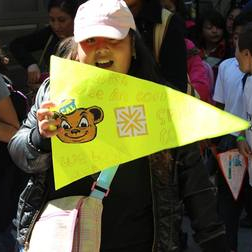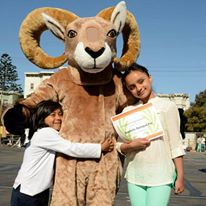 On May 15, 2015, hundreds of Mission students, teachers and families marched throughout the Mission District, declaring their intentions to go to college one day.

A chance to celebrate the college-going culture brewing here in the Mission, the March to College is a favorite event all around. This, year, Mission Graduates students were joined by Jamestown Community Center students to make this year the biggest event yet!

After an impressive march, the student gathered at Buena Vista Horace Mann K-8 for a celebration of their peers who were reclassified as English Language Proficient this school year. An important distinction for English Language Learners, Reclassification sets our students up for college-prep classes in middle school and high school.

And of course it wouldn't be a true celebration without a big family style meal. Our amazing Parent Leaders cooked up tamales, arroz y frijoles for 500!

Thank you to City College of San Francisco, Jamestown Community Center and Telemundo 48 for making March to College 2015 such an amazing event!
College Connect Celebrates 7 New Graduates
College Connect, now in its 8th year, gets the honor of watching some of our very first cohort members achieve an amazing feat - graduating from a 4-year university. This year, College Connect celebrates 7 college graduates and 25 high school graduates at the annual graduation event, Mi Pasaje.

As the graduation ceremonies are taking place all over the country, we wanted to share a few pictures from these special days.
Everson Perez - Cohort 2,

SFSU

Denise Castro - Cohort 3, UC Merced

Diana Cudia - Cohort 3, USF




Eduwiges (Vicky) Rivas - Cohort 2, SFSU



Flynn Extended Day Program Tours UC Berkeley
The 2nd and 5th grade Mission Graduates classes at Flynn culminated their college readiness unit with a bang, traveling across the bay to visit UC Berkeley for an afternoon!

We had fun traveling on BART, particularly watching the view of Oakland on the elevated sections of track.

When we got to campus, we had a blast looking at dinosaur fossils and animals in the life sciences building, looked for statues of the Cal mascot on the oldest building on campus, rolled down 4.0 hill for good luck in academics, guessed the height of the campus bell tower, and walked across the main student organization plaza and through Sather Gate.

The students were particularly excited to see such a big university, and to have a chance to explore a different neighborhood!

~Julian Suhr, Classroom Coordinator
Black Student Union @ Everett Middle School
On any given Wednesday at lunchtime, you can find Everett student members of the Black Union discussing a variety of topics ranging from the history of the transatlantic slave trade to how to build and maintain healthy relationships. All of discussions and activities where focused on building participants Knowledge of Self, Knowledge of History and the \World, as well as to build their sense of Unity and Community.

What a great school year it has been for the Black student Union here at Everett. This year the BSU program hit the ground running doing performances for International Night, as well as the school-wide Be That Change Assembly.
Our success didn't stop there. In addition to the weekly meetings, BSU members had the opportunity to tour several college tours across the Northern California.

Thanks to BSU facilitator Shawn McGriff, who is a member of the Omega Psi Phi fraternity, the students got personalized college tours from his fraternity brothers. These college tours were a chance for students to be exposed to a college going atmosphere as well as see college life first hand. The BSU visited four college campuses this year, San Francisco State University, Stanford University, UC Berkeley, and UC Davis' Black Family Day. Good Luck to all of our 8th grade student members moving on to high school!

~Shawn McGriff, Facilitator/Academic Coach - 100% College Prep Institute

Everett Students Return to Marshall for Math Night
Math is always more fun with new games and new friends at Marshall's Extended Day Program. Last month, students played games with dice, bingo boards and computers to practice their math facts and sharpen their skills.

The Girls Group from the Mission Community Beacon came by, supporting groups of students with their math homework and playing new games. Having former Marshall students back on 15th street was truly a treat and we can't wait to get their help again soon!
USF Students Supporting Students in the Mission
Mission Graduates feels so fortunate to partner with the University of San Francisco Leo T. McCarthy Center for Public Service and the Common Good.

This year, we have had the amazing luck to work with two outstanding Advocates for Community Engagement, Jessica Villa (l) and Mary Cruz (r). Supporting MG staff with USF student volunteer recruitment, these two women have had such a strong impact on our programming.

This month, Jessica Villa was highlighted in the McCarthy centers newsletter:

"Working with Mission Graduates has been such an amazing experience! The most memorable experiences have taken place in the Girls Engineering Math and Science (GEMS) classroom. I am constantly inspired by the classroom coordinator, and the students who work on creative innovative projects, as well as on breaking the barriers for women in the science field"
SAVE THE DATE:
upcoming events

June 3
Summer Program Begins

We've got an exciting summer filled with field trips, science experiments and Camp Read-A-Lot!


June 11
Mi Pasaje Graduation Celebration

We are thrilled to celebrate our 25 new high school graduates and our 3rd Cohort to graduate from college!

Join Our Family of Supporters




Volunteer With Us!