Sending Mission youth to
college
since 1972

Celebrating Mi Pasaje
Once again, College Connect staff, volunteers, students, and families came together in community to celebrate an important milestone for our youth - graduation.

With 9 college graduates and 22 high school graduates to recognize, St. John's Episcopal Church was filled with proud parents and supportive volunteers. We heard from students, parents, and fellow educator Dr. Laurie Scolari, encouraging our students to be successful in college.

Congrats to the Class of 2017!


Taking Time for Art
This summer, Bryant and Flynn students have been very busy, stretching their creative sides in fun new art courses.



For some students, afternoons are spent with a brush in hand, learning about famous artists and practicing their note-worthy techniques. So far Frida Kahlo, Georgia O'Keeffe, and Kandinsky have been on their minds, with more famous painters to come.

And for others, art class is becoming wearable, with a special screen printing class.

Transforming t-shirts into cool graphic tees, each student created a relief stamp that represents their favorite designs.


College Essay Writing Workshops
For our rising high school seniors, the first step is often the hardest - beginning their Personal Statement Essay for college applications. But with the guidance of staff and a dedicated Writing Partner, students from John O'Connell and College Connect are ready to begin drafting their essays.

Meeting once a week during the summer, our students will work on drafts for four UC application prompts with their mentor, preparing for this fall when online applications become available.

Senior year, here they come!

Marshall Jokes Around
Each summer, Marshall students are invited to join a week-long theater camp at The Marsh Theater. Exploring the theme of Summer in San Francisco, students learned dances from the many cultures that make up our city, such as an Irish jig, Carnival , and a traditional Chinese dance from Chinatown.

Trapeze is always a favorite class for students, and this year's performance was filled with improv jokes and skits as well!

Preparing at Parent Institute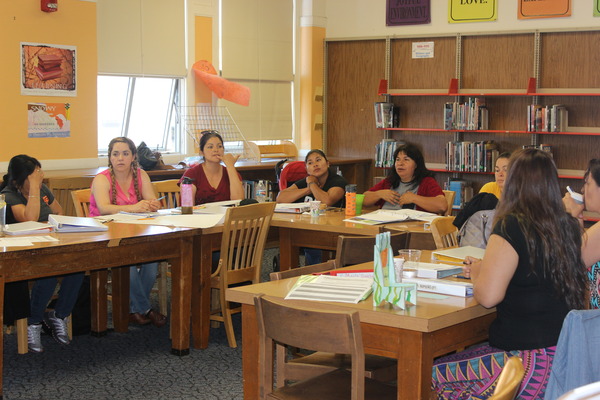 For the parent leaders of the Parent Partner Program, summer is a time to prepare for a busy year of workshops, outreach work, and events.

The leadership team met weekly, practicing facilitation skills, planning out curriculum, and meeting with partners.

With 14 schools next year, they will be ready to hit the ground running in August.

Summer Start-Up Challenge
What does it take to launch a start-up? What problem do you want to solve?

For Everett students in the Mission Community Beacon Summer Program, they had the chance to workshop their big ideas with Google employees during Google Serves Week.

Along with a tour of the San Francisco offices, this field trip was a chance to encourage Everett students to see themselves as future tech entrepreneurs.

We can't wait to see some of these companies and apps popping up in the future!

PPP Goes Camping
Each summer, families from the Parent Partner Program spend time celebrating a successful year. Camping out for a night, our families love coming together to bond, hike, and enjoy a good meal around the grill.

This year, on a beautiful, sunny day (such a treat!), families met in the Presidio for a day of sun, sand, and s'mores before settling in for stories around the campfire.
Summer Reading Rewards
This summer, each hour of reading equaled so much more than a point in a reading log - it meant a slice in a pie!

On the last day of program, Bryant and Flynn students put their pie slices into action, getting to throw a whipped cream pie at their favorite summer teachers!