Career Day at Bryant Sparks New Ideas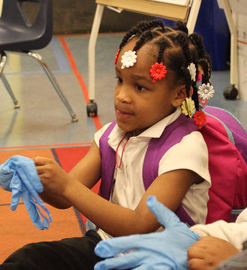 Every spring, the Bryant Extended Day Program gives our students a day to dream of what a college degree could mean for them - a really cool job one day!
Inviting professionals from the community to share a bit about their day, Career Day is always filled with creative questions, hands-on experiments, and gives our students a chance to imagine one day being a diplomat, journalist, doctor, product designer, or sound engineer.
Check out the rest of the amazing presenters here.
Insects Make Math Fun at Marshall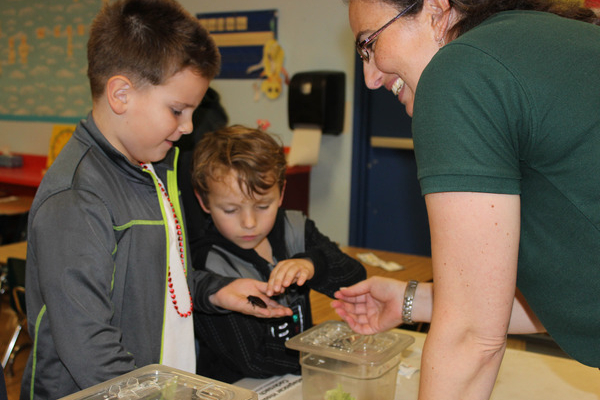 This month, Marshall Extended Day Program students put their math skills to good use - plotting the flight path of the monarch butterfly, finding flies in a spider web, and feeding the ant queen with fractions.
And while they created their own insects using addition, some special friends joined in the math fun at Marshall. Insect Discovery Lab brought along some multi-legged friends to bring the insects in math to life!
See more photos from our buggy math night here.
College Savings Beginning for Families

For all San Francisco students, college saving is beginning now. Thanks to Kindergarten To College, every incoming student begins their path to college with $50 deposit in their college savings account.
This month, our parent leaders headed to their local branch of Citibank with families from Bryant and Flynn Elementary, supporting for many their first contribution to their student's saving account.
Cleaning Up with STEM at the Beacon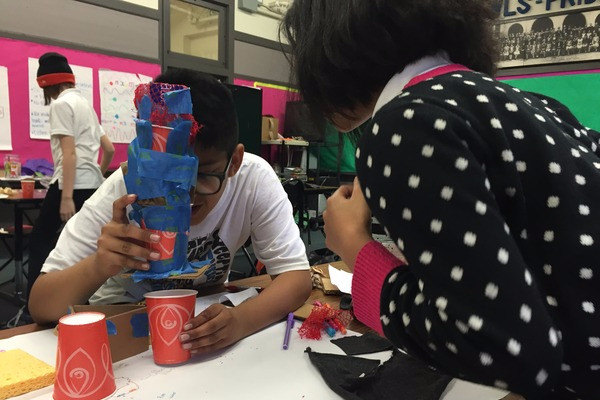 Every week, Beacon students have so many classes to choose from, exploring new interests and getting their hand a little dirty in the process.
In the Beacon's STEM class, students got the chance to explore what it means to be an environmental engineer.
Tackling a real-world problem, the class was tasked with creating a filtering system to remove contaminants from water, relying on trial and error to find a solution to a very important problem.
Flynn Celebrates Healthy Hearts
Mission Graduates Extended Day Program's focus during Valentine's Day was to promote healthy bodies and healthy relationships. Instead of the traditional sugary treats, Flynn Elementary held a "Jump Rope for Heart" event.
Students joined staff in a jump-rope marathon while the music played.
And students kept the healthy hearts going after school, cooling down with some time to write appreciation and affirmation notes to their fellow classmates.
Cash for College at O'Connell High
For high school seniors, applications are only the beginning. Paying for college quickly becomes an important job once the essays are submitted.
For students at John O'Connell High School, the staff in the College and Career Center is ensuring that students find ways to pay for college now. In partnership with JCYC, the team at the College and Career Center met with 50 students and families, explaining the types of funding and then actually begging the process.
Read more about Cash for College on our blog.
Everett Community Talks Immigration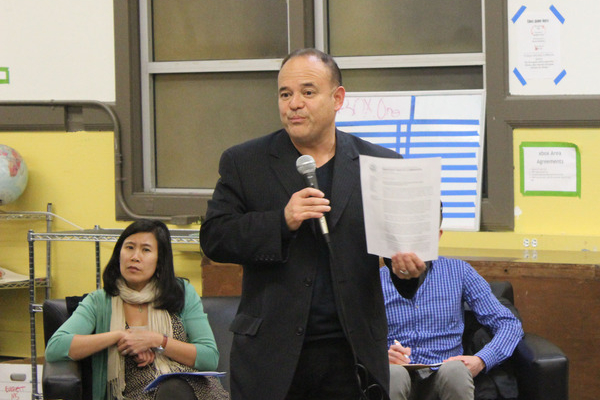 The new year began with concerns around immigration and deportations in the Mission District.
Hearing these fears from families across the community, the Mission Community Beacon and Parent Partner Program came together to hold a community forum on immigration for our families.
A chance to ask questions, here from legal advocates in the community, and even Supervisor Scott Wiener, this forum was an important first step. With advice from lawyers and community organizations like Good Samaritan, parents walked away understanding the importance of making a plan for their family.
Celebrating Black History Month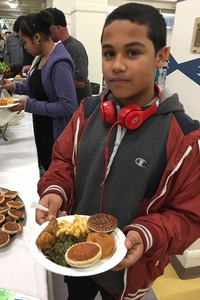 At the Mission Community Beacon, we are so fortunate to partner with amazing organizations supporting youth development in our community. And 100% College Prep / Bayview Association for Youth is playing such an important role in the lives of Everett student this year.
African American students and families came together for a very special dinner hosted by the Black Student Union. A time to celebrate community, the Beacon staff was excited to celebrate alongside these families.
To learn more about the amazing partners working along side Mission Graduates at Everett Middle School, head over to the Mission Community Beacon Facebook page.
Volunteer of the Month: Jessica Villa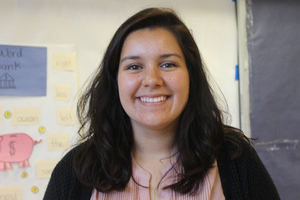 When Mission Graduates' volunteer program is able to connect with future educators, we are excited to watch them grow into future colleagues.

This is definitely true for University of San Francisco senior Jessica Villa.
Joining the MG team through a service learning program at school, Jessica quickly became a part of the team at the Marshall Extended Day Program - even teaching with us during Summer Program.
As an Advocate for Community Engagement through the McCarthy Center at USF, Jessica not only is able to volunteer with our program, but also mentor USF students completing their service learning credits with Mission Graduates, and support them as they put their service into context throughout the semester.
Join Us For Dr. Seuss Day!
Join Mission Graduates at Marshall, Bryant, and Flynn Elementary Schools as we celebrate everyone's favorite author.
Dr. Seuss Day Celebrations will be taking place:

Wednesday, March 2 from 3pm-5pm at Bryant Elementary

Wednesday, March 2 from 4pm-6pm at Marshall Elementary

Thursday, March 3 from 4pm-6pm at Flynn Elementary
It is a fun afternoon of crafts, snacks, and of course, reading!

Interested in reading with our students?

Email Community Engagement Manager Jenna Casey for more details.