Sending Mission youth to
college
since 1972


Warriors Celebrate Healthy Eating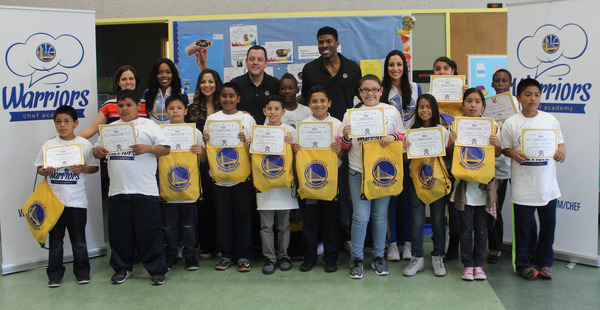 5th graders at Bryant Elementary School have been discovering fun ways to eat healthy foods this semester with the help of 18 Reasons Cooking Matters. With new recipes in hand, students had one final day in the kitchen to show off their chopping skills.

And with special guests from the Golden State Warriors, their graduation from this culinary elective was just a bit more fun. Former Warrior Kelenna Azubuike and members of the Warrior dance team rolled up their sleeves and helped the student prepare a healthy snack for their last day of class.
Cohort 9 Tours 7 Campuses
| | |
| --- | --- |
| | |
| College Connect student Makda shows Cohort 9 around her campus, Pitzer. | Cohort 9 spent some time living like college freshman - including time in the student lounge. |
College Connect students know that Spring Break means dorm tours, sitting in on lectures, and strolls across the quad. High school juniors in Cohort 9 and the dedicated staff of College Connect loaded up vans and hit the road, visiting 7 schools around Southern California.

With stops at UC Merced, Pitzer, Pomona, Occidental, Cal Poly SLO, CSU Monterrey Bay, and UC Santa Cruz, our students got the chance to meet fellow-first-gen students, and see a glimpse of student life.

See all of the photos from Cohort 9's College Tour here.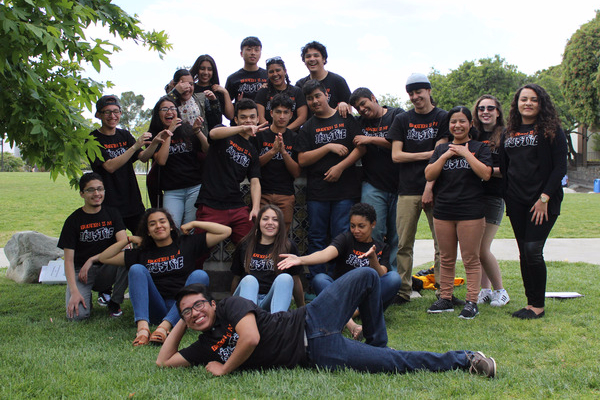 Young Authors Shine at Marshall
Marshall Elementary School students have been busy creating poems, writing short stories, and publishing their ideas for the annual Young Authors Night.

With class-wide projects on display, parents and families had the chance to see their student's work, hear stories and poems aloud, and create new books together.


Family College Tour Inspires Future Bears
College tours are not just for high school students anymore.
The Parent Partner Program celebrated college-going traditions this month, heading over to Cal Day 2016, touring the University of California Berkeley campus, and joining in the fun!

Giving our families the chance to see a future filled with colleges and careers, trips like these make all of the path to college workshops come to life.

This summer, over 100 of the dedicated parents and families will make visits to campuses around the Bay Area, picturing a bright future for their children.

With the support of our community, the team behind the Parent Partner Program successfully funded trips to UC Berkeley and San Francisco State University for 25 families.

Next up, Stanford University and a tour of the Google campus in Mountain View.
Learn how you can help us meet our goal (we're over half way there!) to fund all four tours by visiting our gofundme campaign.
O'Connell Focuses On Careers
Sophomores at John O'Connell High School are busy planning for a meaningful career. Working in labs that focus on growing industries, students often hear about the skills they will need in the future.

Career Day at O'Connell gave students the chance to see what a day in the life of an architect, restaurateur, or law enforcement officer would look like. Sitting in small groups, students could ask these professionals about their path, get advice for their own future, and begin to plan for a fulfilling career.
Parent University Not Just for Adults
Everett students and families know the path to college starts now. At Parent University, they were given tools to ensure they stay on track.






For students, the afternoon was all about understanding college life - a scavenger hunt and a panel of their own teachers gave students a chance to ask questions about what college will be like.






And for parents, this was a time to learn about the resources available to support their families' college aspirations. Representatives from local agencies shared information with parents, and Parent Partner Program promotoras presented a workshop on how to support your student as they prepare for college.
O'Connell Students Check out Campuses
Field trips start to take on a slightly different tone in high school.





For John O'Connell High School sophomores, the College and Career team are taking every chance they can to expose students to the amazing colleges and universities in the Bay Area.




Trips to Holy Names University and Berkeley opened eyes to the amazing places these students may call home in just two short years.



#OurMissionGraduates Takes Off!
With the help of an amazing team of MBA students at the Massachusetts Institute of Technology, the Mission Graduates Facebook page is on fire.

Launching a campaign focused around telling the stories of our students, parents, supporters, and volunteers, the #whatsyourmission #ourmissiongraduates campaign is already making an impact on our community of supporters.

Join in the conversation on Facebook this month and tell us #whatsyourmission.
| | |
| --- | --- |
| Join Our Family of Supporters | Volunteer With Us! |