Sending Mission youth to
college
since 1972
Imaginations Run Wild With STEM
| | |
| --- | --- |
| | |
| Exploring the inner-workings of computers with Piper | Building Giant Geometry structures |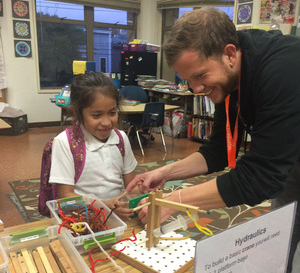 Volunteers helped students build cranes powered by water pressure
The buzz these days at Marshall Elementary School's Extended Day Program has been all about STEM (Science, Technology, Engineering, and Math). And this past Friday, The Lawrence Hall of Science set up shot at Marshall. Students and families explored exhibits, discovering the effects of hydraulic power, electric circuits, and geometry.
Volunteers from Mission District tech company DoubleDutch jumped right in and designed water-powered cranes, wobble bots, and endless mazes, making the entire night a family-fun filled affair.
PPP Creates Family Computer Labs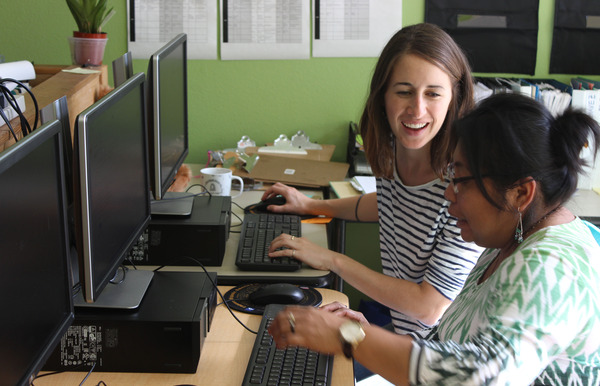 PPP promotoras were some of the first to try out the new lab with their Tech Mentors

As technology becomes more and more of an important tool for families to learn together, the Parent Partner Program is rising to meet the challenge of the digital divide in our community.



Thanks to a generous donation of 10 computers from the League of United Latin American Citizens (LULAC), Mission Graduates now hosts a hub of technology for the community.

With the creation of new family spaces at both the main office and at the Mission Community Beacon, LULAC computer labs have been set up, giving families a place to engage with technology, learn new skills, and discover how to support their child's education through educational resources found online.

| | |
| --- | --- |
| | |
| The Mission Graduates main office has been transformed into a tech hub for our families. | Parents take advantage of the new Parent Lounge, learning technology skills and gathering for meetings. |
Bryant's Month of Literacy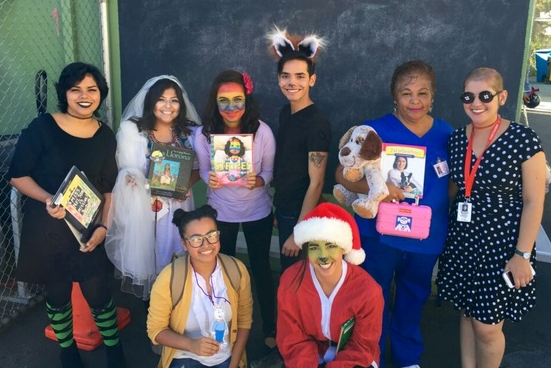 The Extended Day Program at Bryant Elementary turned their love of reading into an entire month, celebrating literacy throughout October with a reading contest, a school-wide Literacy night, and of course, Halloween!

And what better finale to Literacy Month than a literacy-themed Halloween celebration - Bryant staff and students dressed up and showed off their favorite storybook characters!



And The Winners Are...
After another amazing Food for Thought, we are excited to announce the winners of the Food for Thought 2015 Raffle Drawing. Thank you to all who entered - your donations make such a difference in the lives of Mission District youth.
Tech Mentorship Gaining Recognition
The Parent Partner Program has been busy spreading the word about our new Latina Tech Mentorship Program. Not only has the program grown in size this year, but our successes are gaining recognition locally and across the country!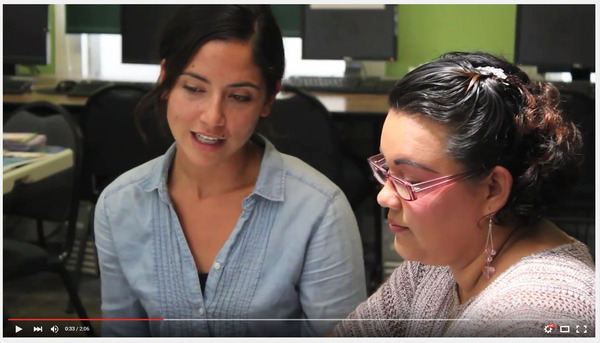 The Latina Tech Mentorship Program was nominated for and took home the prize this month for the Learn Everywhere Award at the Digital Innovation in Learning Awards, presented by EdSurge and Digital Promise.
With over 400 submissions from 39 countries, Mission Graduates is honored to receive recognition for our work to increase digital literacy and access to online educational resources for our families.
Watch our award-winning video here!
And Program Director Eric Cuentos has been taking this message of family literacy through technology on the road, attending and speaking at the release of the "Diverse Families and Media: Using Research to Inspire Design" report at the Stanford Graduate School of Education.
Speaking to his own programs successes meeting parents at their own comfort level, he emphasized the need for the tech community "to create low-tech, high-touch products for families."
The Latina Tech Mentor Program continues to grow and we are excited to begin working with more and more families this year.
Mission Graduates STEAMs Ahead
STEM-tastic Fridays are catching on through Mission Graduates this year. Both the Marshall Extended Day Program and the Mission Community Beacon students headed down to Pier 48 last month for some serious hands-on science.

The STEAM Carnival celebrated the intersection of art and STEM (Science, Technology, Engineering, and Math), and our 3rd-8th graders spent the afternoon exploring. They were challenged to make a recycling system, build robots, create electric currents, and imagine with virtual reality.
Thank you to FOX and Nat Geo MUNDO for ensuring Mission District youth could experience this amazing carnival of arts and sciences. We know the students left ready to continue exploring STEAM!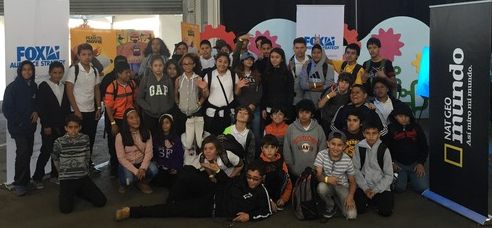 College Connect Interviews Next Cohort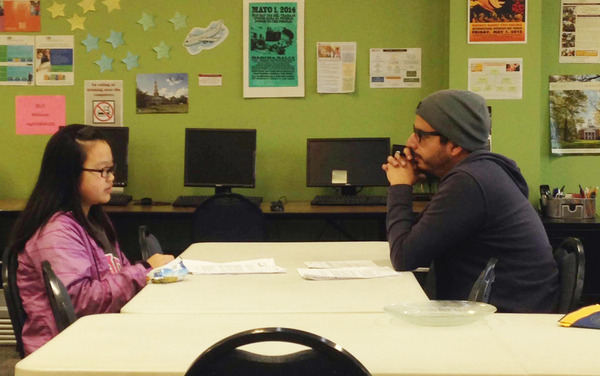 College Success Coordinator Ivan interviews a potential Cohort 9 member
As our high school seniors are busy filling out college applications, the College Connect staff is looking ahead - and forming the next cohort of College Connect first-generation students.

With over 70 applicants for the 25 spots that will make up Cohort 9, the team at CC has a lot of tough decisions up ahead.
Cohort 9 will begin the College Connect program next month, exploring what it means to be a first-generation college student and importance of higher education.

Best of luck to all of our applicants!
Celebrating with Mission Graduates
At Mission Graduates, we love to celebrate the holiday season with our students and families. Throughout the program, family pot-lucks bring our college-bound families together to celebrate a year of community.
And we hope you will celebrate with us. Each year, several of our dedicated supporters bring Mission Graduates into their own holiday celebrations - whether through volunteering at our school holiday dinners, organizing an office happy hour, bringing together friends for a Track Friday challenge, or joining the MG #givingtuesday campaign.

If you are interested in including our students and families into your own holiday traditions, we have a lot of ideas. Connect with Jenna Casey, Development Manager, for ideas or support with your own MG holiday celebration.

Happy Holidays!
| | |
| --- | --- |
| Join Our Family of Supporters | Volunteer With Us! |