Sending Mission youth to
college
since 1972



Celebrating a Love of Dr. Seuss
Each year, we look forward to spending an afternoon immersed in our favorite childhood stories. Celebrating Dr. Seuss' birthday with our three elementary school programs is a day filled with stories, snacks, and creative projects to bring the stories to life.
Flynn students the chance to pose with Cat in the Hat int he Dr. Seuss Photo Booth, and work with volunteers in the classroom on art projects.



At Marshall, Cat and the Hat read aloud to the kindergarten classes, and then joined all of the families for a Dr. Seuss community dinner.
Parent Tech Center Takes Off at Everett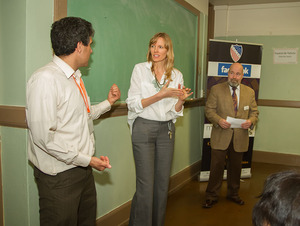 For parents at Everett Middle School, technology is becoming a larger and larger part of their student's education. Papers are composed on googledocs, research is done entirely on the internet, and teacher communications often happen via email.
Understanding many parents lack of exposure to technology in their own lives, the Parent Partner Program is finding new ways to support family engagement through technology.
Through a generous computer donation from LULAC and Facebook, the Parent Technology Center had an open house celebration, inviting Everett Middle School Lisa VanHaren, parent leaders, and community members to join in celebrating this new access point for family technology.
The event is a step in a very important direction for Mission families as they adopt technology into all aspects of their lives. To hear more on the importance of gaining technology skills for our parent leaders, check out the Univision video highlighting this event.



John O'Connell Senior Stories
The College and Career Center at John O'Connell High School is a new program for Mission Graduates, and as our high school seniors begin to receive college acceptance letters, we could not be more proud of what they've accomplished this year. Here is a glimpse of one of our JOC seniors, proving that hard work, motivation, and a little help from the College and Career Center can take you far.
Yvonne works 30 hours a week as the operations manager at Mr. Muggles Dog Boarding, allowing her to leave her high school classrooms at noon and get practical business skills in her community.
Because Mission Graduates is embedded in the Entrepreneurship and Culinary lab at John O'Connell, College and Career Center staff are able to provide support and resources to Yvonne during her first period, ensuring she meets her deadlines.
"I work every day after school, to help support my family, so I am never able to go to the College and Career Center. Instead Jill comes to me, and gives me support during my lab time."



So far, Yvonne has been accepted to SFSU, UC Merced, and Mills College.



Mills College has offered her a $24,000 scholarship!




Marshall Parents Log-On Together
The Parent Partner Program paired up with the Mission Promise Neighborhood education team to help parents at Marshall feel comfortable with the online literacy resource myON.
Over the course of two days, over 30 parents were given the chance to learn more about this important at-home tool. After practicing logging on and finding the right level, we hope that parents feel more comfortable supporting literacy outside of the school day.



Flynn Students Explore the Neighborhood
| | |
| --- | --- |
| | |

While Parent Teacher conference week was underway, the Mission Graduates team at Flynn Elementary took to the streets, checking out the amazing neighborhood we call home.

Hiking Bernal Hill was a favorite afternoon for the students, getting to see the sweeping views of their city while getting some exercise.



STEM In and Out of the Classroom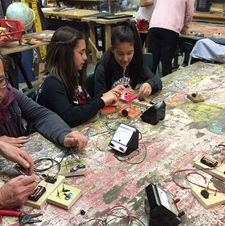 Everett students had the chance recently to put their STEM education into action with the help of Mission Science Workshop.

Heading around the corner to the Mission High location, Mission Community Beacon students explored electronic engineering concepts.
Testing battery strength with oscilloscopes, pairs of students were able to learn to power low-voltage fans via simple circuits.



College Connect Finds Mentors in Deloitte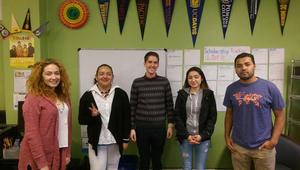 As our alumni numbers grow, it's been very important to support our students in building up their resumes and preparing for internships during college.
The College Connect staff has been busy developing a partnership with Deloitte to match a pilot group of College Connect college students with a mentor for the spring.
These new partnerships officially kicked off last week, with a student orientation to introduce Deloitte and their mentorship program. A Deloitte employee was on hand to go over expectations and learn more about their future mentors.

This week, the mentor and mentee will schedule a phone call to introduce themselves and set goals for the coming weeks. There will be an official kick-off next month when the all the mentees and mentors are together for the very first workshop, which will be about a case study related to the housing situation here in San Francisco.



New Elective: Marshall's Girl Zine Club






Marshall Extended Day Program girls are getting the chance to speak their minds in a new way this spring - through mixed-media "zine" creation.





As many of the zines pronounce, this is a "no boys allowed" elective, with themes are around positive self-image and famous women in history.





Each young editor has created several editions so far, spending time in the computer lab looking for images that match their message, and practicing typing out the copy for the mini-magazine.



Look out for these works of art to be shown at a local gallery in the Mission next month!
| | |
| --- | --- |
| Join Our Family of Supporters | Volunteer With Us! |