Mission Youth March to College
This year, hundreds of Mission District youth came together to show the neighborhood that they are on the path to college. March to College made its mark, filling Mission Street with students and families from schools throughout the Mission.

After shouting "I'm going to college," the party continued with a college resource fair at John O'Connell High School. Students learned about local colleges, played college-themed games, and rallied around a common dream - college futures.

A big thank you to the Parent Partner Program for organizing, and community partners Mission Promise Neighborhood, Jamestown Community Center, Mission Neighborhood Centers, 100% College Prep, JCYC, Mission YMCA, Refugee Transitions, and Boys and Girls Club. And John O'Connell High School for hosting!

Check out all of the amazing photos on our facebook page.
Flynn Flips for AcroSports
The Extended Day Program at Flynn Elementary has been transformed into an acrobatics camp this spring, with students jumping into a new elective with AcroSports.

Learning how to tumble and parkour (safely), our students are having so much fun with their instructors.
College Connect Cohort 9 Graduates
The College Connect staff has been busy this month, attending high school graduations around the city. With 22 seniors walking across the stage, graduation season is always a month of celebrations.

We can't wait to celebrate with this class of first-generation students next week at Mi Pasaje. High school graduation is an important step on the path to college and we look forward to seeing their successes in the next few years.
Bringing Campuses To Life for Families



Each spring, the Parent Partner Program goes on a few field trips of their own.



Visiting local college campuses, our parent leaders are beginning a new family tradition of planting the seed of college early for their students.

At Dominican University, families got lost in a beautiful campus, and explored the student commons.



And while taking a tour of the University of San Francisco with first-generation Latina college students, the whole family was able to learn what college life will look like.
Marshall Poet-Athletes Make National News
Marshall Extended Day Program has a strong team of Poet-Athletes this season, showing their stuff on and off the field.

And two of our poets received national recognition this season, showcasing their poems in the national newsletter for America SCORES.

Congrats to all of Team Marshall for another great season!

Celebrating Scholarship Award Season

Along with acceptance letters and graduation caps, for seniors in our college access programs, scholarship award ceremonies are the icing on the cake.

Our students work each year to find the right college or university, as well as the funding to make their perfect school a reality.

That's why it's so wonderful to take time to celebrate all of their dedication.





At the Maisin Scholar Award ceremony, 10 College Connect students were feted for their hard work.





Thank you to the Writing Partners who encouraged our students as they filled out countless scholarships and the families who are supported their students as they worked towards their college dreams.
Mission Community Beacon Goes Italian
Italian Club is more than just about language. Everett students had the opportunity to learn about a new culture, country, and traditions during their year-long class.

As a special treat at the end of the semester, students made their very own pasta - looks amazing!

Senior Breakfast and Scholarships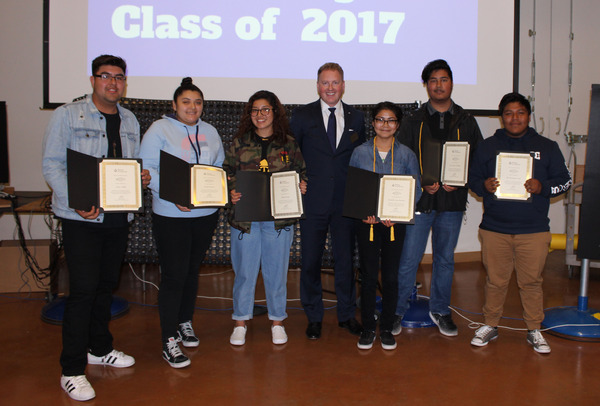 For John O'Connell High School seniors, this year's Senior Breakfast was filled with scholarship awards - the perfect way to celebrate an amazing senior class.

Students were presented awards from Mission Promise Neighborhood, The Masons of California and The Miranda Lux Foundation - making for a wonderful end to their senior year.